December 6, 2021
Levi's® and Atelier Reservé have re-teamed up to challenge what styles define masculinity and femininity with a limited-edition collection out of Europe of genderless garments.
In their second partnership, the two brands have deconstructed and redesigned the classic Sherpa Trucker jacket, graphic sports hoodie and striped flannel shirt into unique, repurposed items that can be worn fitted, oversized or anything in between.
Items in the capsule collection are handmade, offering small variations that make each piece one-of-a-kind. Clothes subtly address gender stereotypes by including graphics from a fictional beauty brand called "Genderless."
"More and more, people are shopping according to their true personal style and preferences rather than what is predetermined to be for 'her' or 'him,'" said Anit Van Eynde, vice president of marketing for Levi's® North Europe. "We are increasingly exploring this space, and this capsule collection with Atelier Reservé is an example of how we're taking traditionally gender specific items and redefining them into something new by reshaping silhouettes, proportions as well as styling."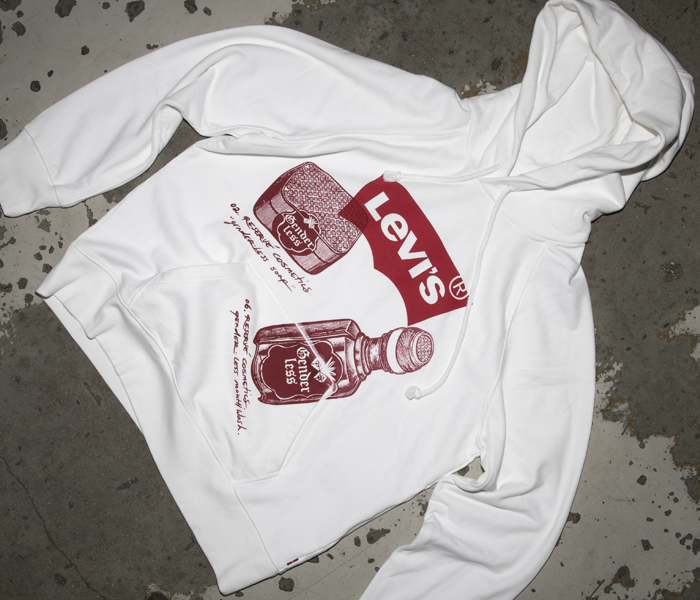 Designers reconstructed the Sherpa trucker jacket, for example, by replacing the traditional stand-up collar with a kimono-style fit and removing the original waistband to create a flowy silhouette.
The collection not only encourages people to play by their own fashion rules, but it also supports Levi's® sustainability strategy. Each garment was created by hand using its own waste materials along with old stock from Levi's® and Atelier Reservé.
The Amsterdam-based Atelier Reservé—created in 2016 by visual artist Alljan Moehamad and designer Deyrinio Fraenk—is known for bringing used and vintage materials back to life using Japanese references and tattoo art-style typography. Alljan said the collaboration with Levi's® made sense because his niche brand has used old stock and vintage Levi's® since its start to create new garments in its distinctive style. Atelier Reservé also collaborated with Levi's® for 501® Day last May.
"They have a durability and natural aging process that we love and need," Alljan said. "In comparison, we could never do what we do with used fast-fashion products of poor quality."
The Levi's® x Atelier Reservé collection is now available at Levi.com, Zalando.com and Citadium.com.