July 30, 2021
The Levi's® brand officially made the cut this week on episode five of Making the Cut, Amazon Prime Video's fashion-focused original series to find the next great visionary designer.
Hosted by Tim Gunn and Heidi Klum, the show features 10 fashion designers from around the globe competing in weekly design assignments in Los Angeles; each winning look is immediately available in Amazon Fashion's Making the Cut store. At the end of the competition, the winning designer will receive $1 million to fuel their brand.
So, where does Levi's ®come in?
When our longstanding strategic partner, Amazon, approached the brand with a unique opportunity to lead and create a dedicated design challenge in season two of the hit show, it was an unanimous "go."
The team at Amazon in conjunction with our design, merchandising, public relations, product development, sales, marketing and creative teams worked together to design the challenge and bring the product to life in the episode. It was important to root the challenge in the Levi's® brand promise of promoting inclusivity and align with our company's core values of empathy, originality, integrity and courage.
After several iterations of challenge ideas, the contestants were ultimately tasked with the "Levi's® Avant-Garde Challenge," which required them to create a two-look collection using Levi's® denim fabrics, sundries and trims. The two designs included a high fashion avant-garde runway look and an accessible, ready-to-wear version of that design.
Designers worked alongside Karyn Hillman, chief product officer, to co-create a design that captures the authenticity of the Levi's® brand, in addition to the originality and innovation of each designer.
And the winner is…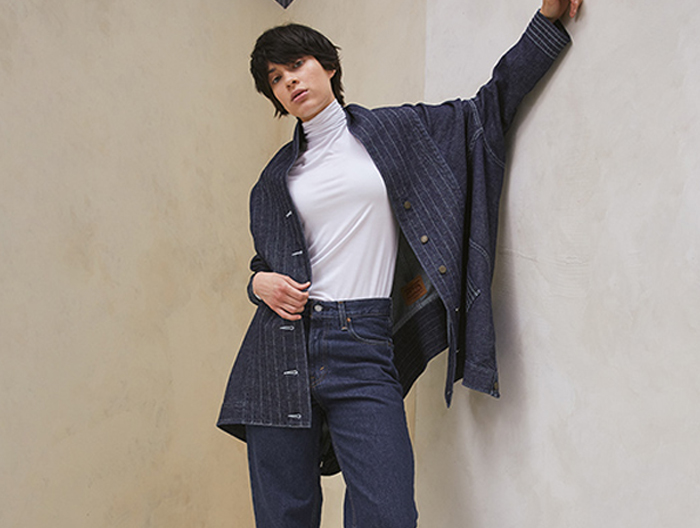 Gary Graham created the winning design, a Levi's® Upside-Downable Trucker.
Gary was inspired by the character Mr. Dark in one of his favorite movies, Something Wicked This Way Comes, for the avant-garde runway look and by the movie, Carny, for the ready-to-wear look.
Gary reimagined the Levi's® Trucker, creating a cocoon shape, which he has experimented with for the past decade. The jacket is versatile and can be worn in two different ways. In one form, it's a short-cropped oversized jacket and then, when rotated 180 degrees, the jacket creates a longer silhouette and a more "cocoon-like" fit, so you can carry the volume differently.
"The shape is designed to inspire creativity and promote experimentation, and since the form is not specific in terms of traditional tailoring, it can fit different body types," Gary said. "It can also be styled in various ways and brought into personal style in fluid ways, much like the iconic Levi's® jacket."
The Levi's® Upside-Downable Trucker Jacket is available for purchase exclusively in Amazon Fashion's Making the Cut store.
"Originality and authenticity are at the core of what we do and that's why we love working with emerging designers," said Karyn Hillman. "Ultimately, we set out to inspire authentic self-expression – creating pieces that are new yet timeless, and something you can wear again and again. Gary's reinterpretation of our Trucker Jacket perfectly infuses his spin into our denim icon, creating something completely fresh and unique."
As Karyn put it, the show was a great way to support emerging designers, celebrate Levi's® rich history, offer consumers an innovative way to shop Levi's®.
Season two of Making the Cut is available to stream on Amazon Prime Video, with two new episodes available every Friday through August 6th.  Check out episode five now to see the Levi's® Avant-Garde challenge and Karyn as a co-designer and judge!