April 6, 2021
Nowhere is Levi's® clothing more representative of the biggest art, music and cultural movements of the last century than in Levi's® Vintage Clothing (LVC). Now, after highlighting everything from the Summer of Love to 1940s surf culture, LVC is turning its attention to the strobe lights and dance floors of late '80s Manchester, England, to celebrate the birth of the rave scene.
LVC's "Loose Fix" Spring/Summer '21 collection is a combination of T-shirts, oversized outerwear and jeans that pay homage to the clothes that were a central part of what became a cultural movement — the acid house scene. Think looks that are part rave, part hippie and part football casual style with nods to '70s era Levi's® flares and baggy jeans. "Loose Fix" also celebrates the era's music, defined by bands like The Stone Roses and the Happy Mondays that combined jangly indie rock, psychedelic guitar riffs and the rhythmic beats of that burgeoning scene into a fresh new sound that went on to be influential worldwide.
Going back to Manchester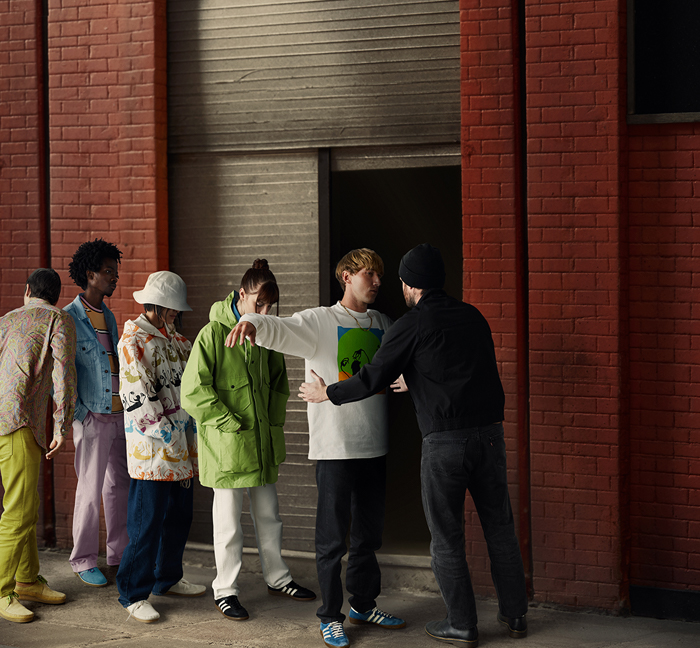 The collection is a passion project of Irish-born LVC Design Director Paul O'Neill. "I was a big fan of that music, which is one of the reasons why I went to university in Manchester in the 90s," he said.
Paul went deep into the Manchester scene to create "Loose Fix," meeting prominent members from the movement and incorporating their stories into the collection. He formed a friendship with the first manager of the Happy Mondays, Phil Saxe, who told him a story about the secondhand market in Manchester in the mid-80s where he sold vintage clothing.
"He started selling vintage Levi's® flares at the request of a few kids who frequented his stall. It was a surprise to him, given the style had fallen out of favor during this period, but within weeks, more and more kids were coming in to buy them," Paul said. "They reckon that was the start of the whole baggy scene."
Paul also licensed artwork by the iconic design firm Central Station, which created album covers and poster art for the Happy Mondays and other bands signed to the revered Factory record label. "Through friends I have in Manchester, I was introduced to Matt and Pat from Central Station. I was able to show them lookbooks I had worked on from previous collections… and they liked what I had done and were really excited about being involved in (the collection)," he said.
Four special-edition T-shirts designed with Central Station featuring Happy Mondays' album covers help bring the authentic Manchester look to life.
Nailing the scene virtually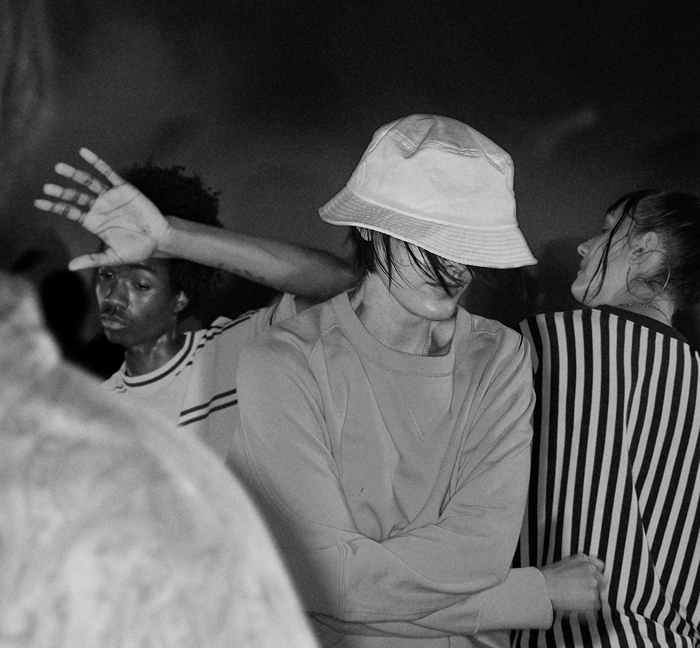 Paul also managed the photoshoot for the accompanying lookbook, an eye-popping recreation of street scenes from 80s/90s-era Manchester. Through the magic of Instagram, he was able to connect with and commission artist Ric Facchin, who had already created miniature models of buildings in Manchester. Ric reconstructed tiny versions of the exteriors of the iconic Hacienda club and other landmark buildings around town.
Through the camera on his laptop, Paul art-directed the photography of the building models in the U.K. and styled the in person photo shoots with models in San Francisco to seamlessly produce images of sweaty dance floors and queues outside of the club.
"Because we couldn't travel to Manchester [to shoot], everything was kind of going to be jeopardized. For the scenes with models, we had to shoot them one at a time and then build up the images so that at the end we had all of these images to overlay and create our final shots."
Their work paid off, resulting in a gorgeous lookbook that's a true triumph of COVID-19-era ingenuity.
As for future LVC collections, Paul said he has nearly 150 years of moments to pull inspiration from. He is always looking to showcase how the Levi's® brand has been a part of a wide range of cultural moments; for him, it's all about how these unique pieces are put together and made to feel current. "I think if you wear a reproduction of a pair of jeans from the 1890s  with a pair of sneakers and a sweatshirt, it can look very contemporary," he said.