February 25, 2021
As we gear up for the launch of Levi's® for Target, available this Sunday, we sat down with Stacy Doren, vice president of marketing for Levi's®, to talk about the new limited-edition collection. While the brand is not new to Target – our partnership actually dates back to 2011 with the launch of DENIZEN® from Levi's® and later expanded to include Levi's® Red Tab at Target in 2019 – this latest collaboration features an array of products featuring more sustainable certifications and claims than any other limited-time-only Target collaboration. Stacy shares more insights below.
This is a wholly new kind of collection for us as it really extends beyond just clothing. How did this collection come to be and how did we land on this direction for this new line? 
Stacy: Target has a rich (and successful) 20-plus year history of design partnerships with brands like Hunter, Lily Pulitzer, Missoni and more – each one with an unexpected twist. So, the teams agreed that infusing Levi's® DNA with Target's strength in home was the perfect combination to really surprise and delight our fans.
Walk us through the highlights of this latest partnership. What can people expect from it?    
The collection features more than 100 items with a focus on timeless pieces for the home. Key categories include dining and entertaining pieces, pillows, throws and rugs, bedding, and pet accessories. There is also a custom lined Trucker jacket in sizes for the whole family.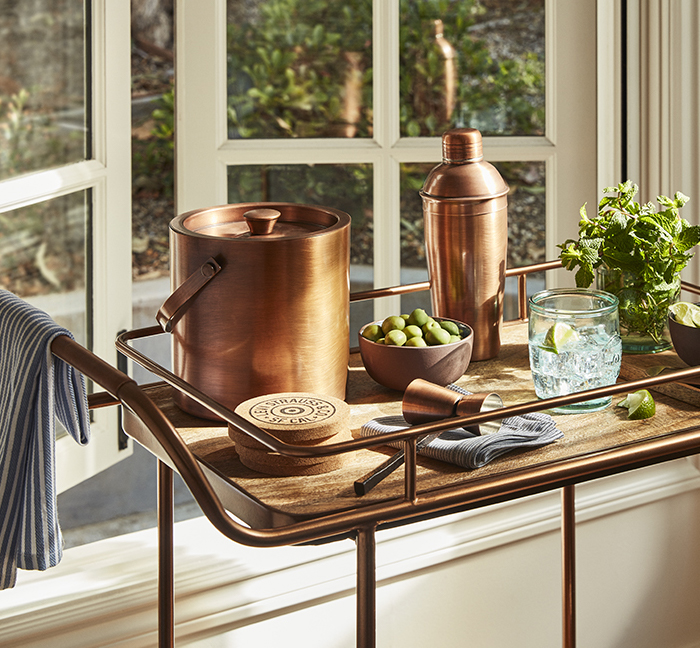 The collection was designed with sustainability in mind. In addition to the stylish and timeless design that you'll want to keep and use for years to come, the collection also has more sustainable certifications and claims than any prior Target limited-time-only design partnership.  We love the synergy this collection has with our overall brand focus on style + sustainability.
Prices range from $3 up to $150 for the more elaborate pieces, like the denim and sherpa butterfly chair and the super cool bar cart made of metal and wood. Most of the collection is priced under $25.
Lastly, you can find the collection in almost all 1,900 Target stores as well as on Target.com. The collection will go live on Target.com around 12 a.m. PST on February 28, and in-store when the store opens. Set your alarms to snag your favorites!
Did the team face any challenges along the way when pulling this collection together and how did they solve for them?  
Yes, COVID-19 brought several challenges that we needed to work through. Yet, while producing a marketing campaign during the pandemic was new for us, one huge benefit was that it allowed us to keep consumers' current mindset even more front and center.
Things like casting and styling were all done virtually and there were strict limitations around who (and how many) could be on set at any given time. Our photographers and film directors had to also star in the campaign (with their friends/families and in their actual homes!) to maintain a COVID-safe environment. Normally, we would have been on set with our marketing partners at Target, but instead there was a live feed available to monitor progress throughout the day, which allowed us to address any necessary changes in real time, and we did nightly virtual check-ins to review the upcoming day. So, a lot of challenges and new learnings, but we're really thrilled with how it all turned out!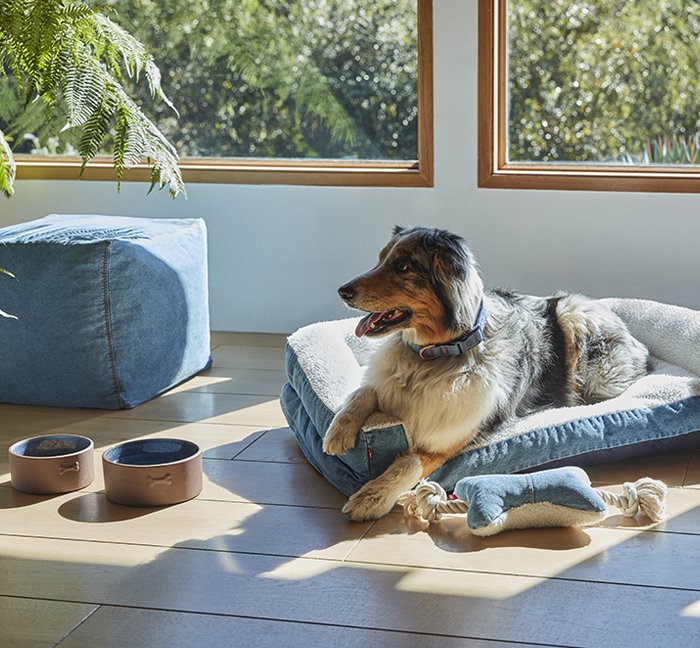 What are your favorite pieces?
It's hard to choose, I really do want it all. I would have to say my favorites are the ceramic serving bowls and platters, as I love to cook and entertain. But the dog bed is definitely on my list as well… seems everyone loves the dog items! I plan to place a very large order on Target.com right when it launches – I've already flagged my favorites in the look book so it will be easier to place the order that night!
Will there be more collections like this in the future? What's next for Levi's® and Target?  
As of now there are no plans for a future Levi's® home collection, as there are other category extensions that are closer to apparel that are lower hanging fruit. While the Levi's® for Target home collection is incredibly special and unique, our focus will be on the continued expansion of Levi's® Red Tab in Target stores through the back half of the year.
Check out the collection before it becomes available at Target.com now.