February 10, 2021
When it comes to the new Levi's® x Pokémon collection, well, you gotta catch 'em all.
The brand's newest capsule collection, which drops on Monday, taps into a late '90s style vibe and delves into the colorful world of Pokémon, evoking the era when kids and adults alike all over the world adventured with Ash, Misty and Pikachu.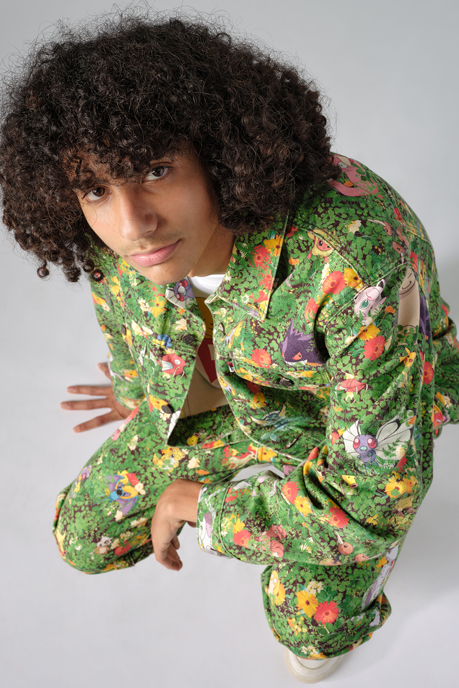 "It's so fun to hear people talk about their love of Pokémon," said Karyn Hillman, chief product officer at Levi Strauss & Co. "The fact that we had this ability to play and create with so many iconic Pokémon and characters was really a special experience. It's such a thoughtful collection that respects and celebrates the world of Pokémon, and it was so cool mixing our icons and history with theirs — it's nostalgic and optimistic, with a little bit of escapism."
Created in honor of Pokémon's 25th anniversary this year, the colorful Levi's® x Pokémon collection features denim, tops, bottoms, fleece, tees and accessories with graphics and prints of the popular characters and woodland settings of the animated series' first season. Notable pieces include a '90s style vintage fit Trucker Jacket and 551TMZ Authentic Straight jean in stonewash indigo, both featuring oversized embroidered Pikachu and lightning bolt patches for Electric-type Pokémon. There's also a range of tees with throwback character art, and an all-over print Trucker Jacket and 551TMZ fit featuring an eye-catching forest design filled with Pokémon.
"The all-over printed Trucker and jeans are two standout pieces," said Jenny Carlin, director of women's tops design who worked on the collection. "The pattern is bright green and very colorful, and we added greenery and flowers to give it more depth. It's fun to look at it and see all the characters we were able to incorporate into the print."
A fun — yet elevated — design approach
While this collection features a similar product assortment to the brand's other recent collaborations, the fun is in the details. The team behind Levi's® x Pokémon went all out on graphic techniques, incorporating all-over embroidery throughout the collection and adding outline embroidery with puffy filling. The team even approached the Pikachu Trucker in a new way. "When we put the style into development, we weren't sure we would be able to develop such a large patch because none of us had done something like that before," said Jenny. "We're really happy with how it turned out!"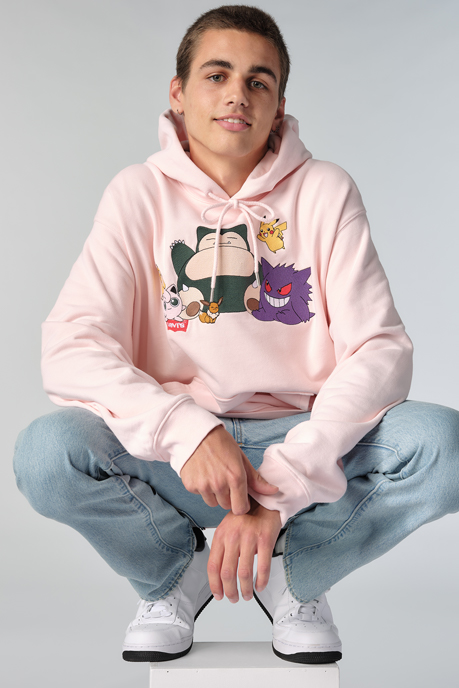 These extra techniques didn't always make things easier, however. "We needed to make sure that we executed the Pokémon characters well. This is pretty easy with just straight up graphics but is more challenging when you use more varied techniques. We had to make a lot of adjustments to get the characters' eyes just right," Jenny explained.
She also noted that the team had to make sure that the collection looked elevated. "I think Pokémon is often associated with little kids, but that's not true. So many adults love it and look back on Pokémon with a lot of nostalgia, so we wanted to make sure we captured that feeling in the collection," Jenny said. "I think the '90s fits helped. It gave the collection a lot more attitude."
Even though she spent months working on the collection, Jenny is still eager to get her hands on the product when it's available next week.
"There's a black hoodie with pink embroidered grumpy Jigglypuffs — I love it," she said. "I'm definitely buying one of those!"
Make sure to catch Levi's® x Pokémon next Monday on levi.com and the Levi's® app!