January 12, 2021
Now more than ever, it's important to remember how joyful life can be as long as we stick together — even when we're apart. That's why we're proud to announce the arrival of our new Levi's® x Disney® Mickey & Friends collaboration, available at our stores and online on Friday, January 15 in the U.S., Canada and Mexico.
With a mix of graphics, embroidered images and quilted details, the collaboration prominently features Mickey Mouse, Minnie Mouse and Goofy and taps into iconography rooted in history for a vibrant and colorful collection. It was one of these images that inspired the collection's theme.
"We found this amazing graphic from the '30s with Mickey and Minnie on the phone, and we just felt like that image said it all," explained Karyn Hillman, Chief Product Officer at Levi Strauss & Co. "We instantly knew that we wanted to do a collection built around the idea of staying connected."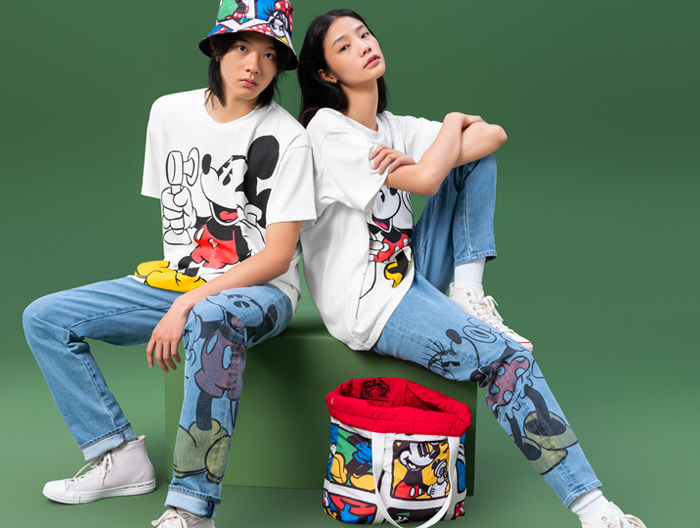 The collection includes a range of denim, tees, hoodies, fleece, jackets and accessories, all featuring vibrant pops of color and retro graphics of Mickey Mouse, Minnie Mouse and Goofy. Disney fans may even notice the Mickey Mouse and Minnie Mouse graphics feature multiple art styles — a nod to the characters evolution and iconic styles over the years. A throwback graphic of Mickey Mouse and Minnie Mouse chatting on an old-school rotary phone is seen on the white graphic tees and the padded reversible Trucker Jacket — highlighting how connections can be made even without the newest technologies!
This is not the first time Mickey met Levi's® in a collaboration. Back in 2018, we celebrated Mickey's 90th birthday with a collaboration featuring Mickey graphics on Levi's® Trucker jackets and 501® jeans. To commemorate the deep history of Disney, in our 2018 collaboration we pulled archival images of Mickey for the graphics.
We are excited to see another way in which Mickey and friends are featured on our garments, this time inspiring nostalgia and connection as we continue to navigate a challenging time while apart. You can catch the collection online at levi.com and on our Levi's® app this Friday.