August 1, 2019
Two icons, peak cuteness.
The Levi's® brand has partnered with one of the world's most beloved characters, and the result is nothing short of adorable. "Hello Kitty® x Levi's®? I think we're going to need another word for cute," said Jonathan Cheung, SVP of Design Innovation at Levi's®.
In honor of the cartoon icon's 45th anniversary, the Levi's® brand has joined forces with parent company Sanrio to create a limited-edition Levi's® x Hello Kitty® collection of streetwear-inspired designs for women and girls, which is available starting today at select Levi's® and Sanrio stores and online at Levi.com and Sanrio.com.
The partnership is a natural fit for two iconic cultural touchstones beloved by generations and considered a mainstay of cool.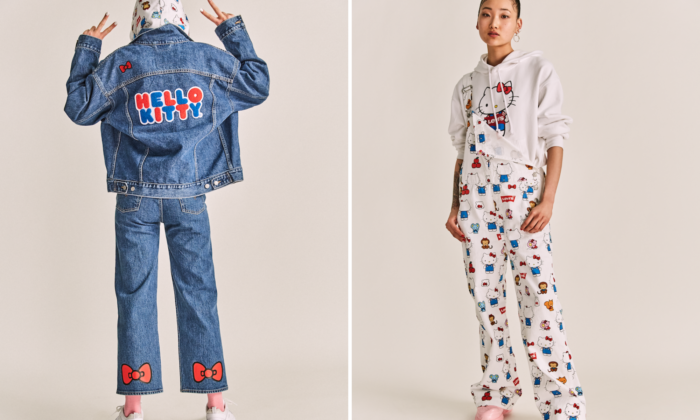 "Hello Kitty® and Levi's® are both global lifestyle brands with impact on culture and fashion," said Jill Koch, Sr. Vice President of Sales and Business Development at Sanrio, Inc. "Our limited-edition collection merges Hello Kitty's® iconic imagery with Levi's® signature styles, offering a super cute twist on their classics.  We are excited to partner with Levi's® on this coveted collaboration and to celebrate Hello Kitty's® 45th Anniversary in style."
The collection is comprised of tees, tops, hoodies and denim loaded with the pretty kitty and her signature art, as well as special Levi's® touches like engraved rivets and back patches in Hello Kitty® red. Some of the most anticipated pieces include white denim Levi's® Baggy Overalls with an all-over Hello Kitty® print, an oversized Dad Trucker jacket emblazoned with Hello Kitty® patches, and an Unbasic Hoodie featuring Hello Kitty® and her friends hanging out on top of the classic Levi's® batwing logo.
Celebrate Hello Kitty's 45th birthday in style with Levi's® styles built for fans to wear and cherish for years to come. 
Find the Levi's® x Hello Kitty® collection now – go to Levi.com, Sanrio.com, or find select Levi's® and Sanrio store locations near you.