May 17, 2019
In November 2018, Levi Strauss & Co. opened its largest-ever flagship at the crossroads of the world, New York City's Times Square. In its quest to redesign and reimagine the shopping experience, Levi's® Times Square delivers a one-of-a-kind shopping experience that celebrates customization, personalization and local New York artists.
The store was designed to build on elements of the latest store design concept while amplifying the stature and global reach of the brand through large-scale design gestures. The duality of the Levi's® brand grounded in heritage and craftsmanship with modern innovation comes through in the design of the space.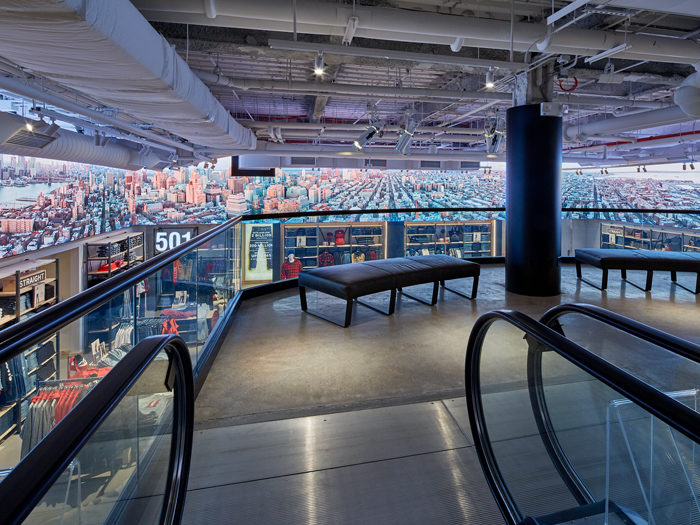 A nod to the original site, The Astor Theater, the overall design is framed up as the Levi's® Global Theater.  "We wanted to incorporate some (modern) nods to the theater into the design such as large format immersive LED screens, mezzanine seating on a viewing platform and theatrical light fixtures," says Jeffrey Eggert-Peluso, vice president of Global Store Design. "The two floors are connected by a switchback escalator, joined at an intermediate mezzanine landing allowing consumers to pause and take in the 180-degree immersive LED screen on the lower level before descending down to the sales floor."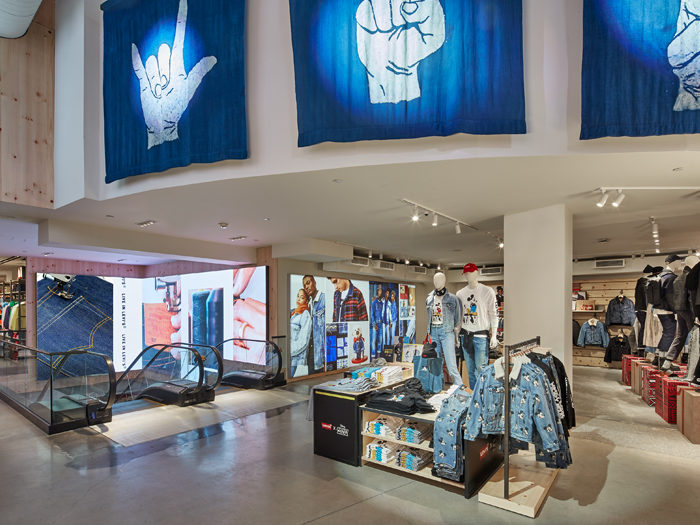 Craftsmanship is highlighted with customized pieces, and the store design deliberately embraces the balance between heritage and modernity. The juxtaposition of the LED screens and the hand-made indigo pieces was purposely created to highlight the brand's embracing of technology and craft.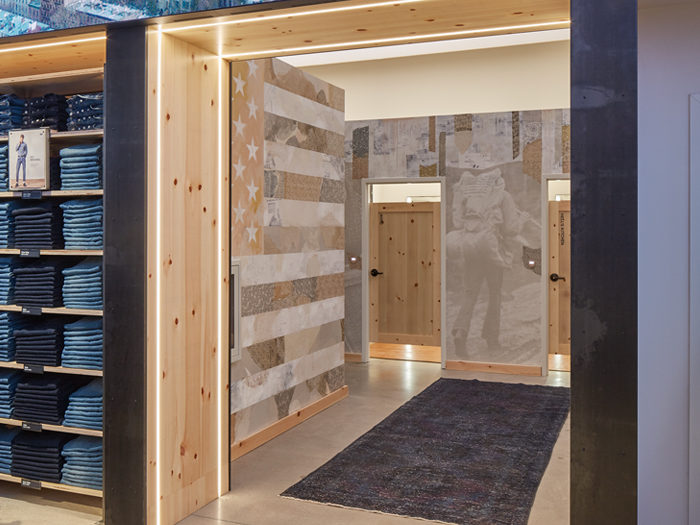 Local graffiti legend, Cey Adams, put the final touches on the space creating a one-of-a-kind collage in the ground floor fitting rooms, literally applying thousands of paper scraps and printouts by hand to the wall.
As one consumer recently put it, "It's Levi's with panache."
Can't get to NYC? Take a virtual store tour on levi.com.