March 7, 2019
In 1939, Virginia Brookbush of Idaho Falls, Idaho, corresponded with Levi Strauss & Co. in letters, detailing vivid descriptions of life on horseback in Levi's® on Western pack trips. They offer a delightful dive into the life of a genuine "dudeen" – the female equivalent to a dude rancher.
On April 18, Virginia wrote about her childhood helping her parents operate the saddle horse concession in Wyoming's Teton National Park. "Every man, woman and child in our outfit wore Levi's," she wrote. The group would circle the Tetons in a week or travel over steep trails to glaciers as the "eastern dudes and dudeens would learn how much nicer Levi's are to ride in and would leave their riding habits in their trunks."
On their return trip, Virginia's party would slide down snow fields. "Some could go down standing up," she noted, "but others used their Levi's very ruffly." But the denim pants always made it through. The Levi's® jeans were also "grand" to climb in as "one is never afraid of the seams giving away when you are taking a high step."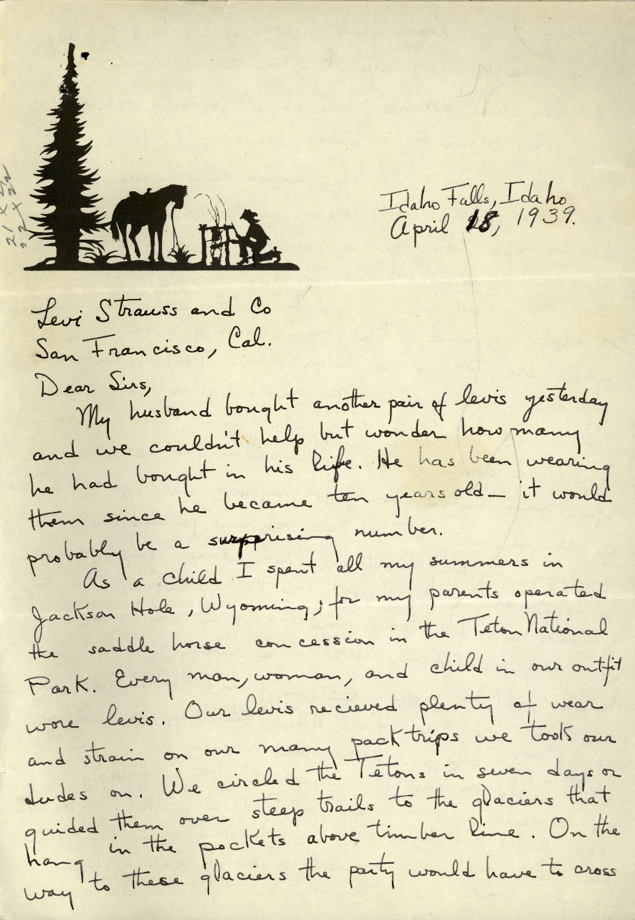 Virginia also described women's clothing preferences on the trail. Although LS&Co. had introduced Lady Levi's® in the 1930s, she wrote that women preferred men's Levi's® jeans "since they fit better." She also praised recent changes to the jeans—from removing the suspender buttons, which she "always pulled out anyway" for a belt—to covering the rivets on back pockets "so they won't scratch the saddle."
Virginia also made one important request. "Fix it so the men will let us wash their Levi's and every woman will thank you." She joked that no man wants faded or shrunken Levi's® so they wear them "until they can almost stand alone."
LS&Co. responded and the correspondence continued over the course of a month. Virginia described using Levi's® sundries to adorn a bunkhouse and cabin. She described the 100 Levi's® oilcloth Guarantee Tickets stitched together to create a border around the bunkhouse curtains. She also named a cabin after her favorite jeans, using denim and rivets to decorate. "You have honored us," LS&Co. staff replied, promising to mail her son a new pair of Levi's® jeans.
LS&Co.'s advertising manager even invited Virginia to visit. "We hope you contemplate a trip to San Francisco during the Fair," he wrote, referencing the Golden Gate International Exposition held on Treasure Island in 1939. "We would be very happy to have you drop in."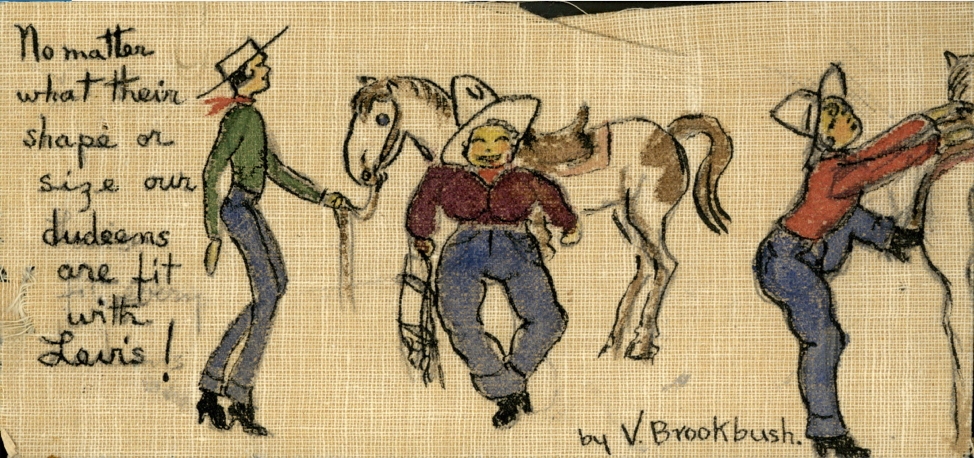 Attached to one of her letters, Virginia drew a cartoon on the back of one of the same oilcloth Guarantee Tickets used to create the curtains in her "Levi's® Cabin." It rounded out a colorful conversation:
"No matter what their shape or size," she concluded, "our dudeens are fit with Levi's!"