August 30, 2018
Model Lily Aldridge has built an impressive career in fashion and attracted a huge following. So when she visited the Levi Strauss & Co. Archives last spring, I was delighted by her modesty despite her fame. I surprised her with an unusual 1970s Levi's® poster. Although she had never seen it before, Lily knew who created it as soon as she walked in – it was designed by none other than her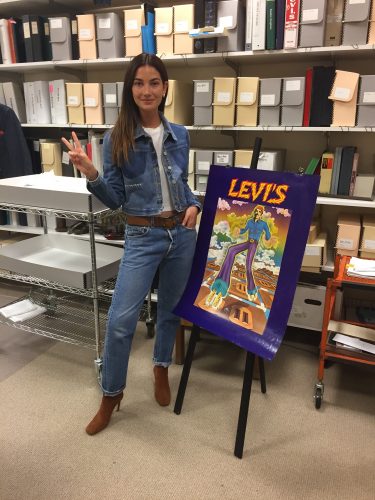 famous father, illustrator Alan Aldridge. It was the perfect way to kick off a conversation about her longtime links to the Levi's® brand.
An accomplished London-born graphic illustrator, Alan Aldridge worked with famous clients ranging from the Beatles to Elton John. He created memorable pop imagery and some of the most well-known album covers. Alan's rendition of the graphic for the Fab Four's song, Revolution, brought the lyrics to life through his colorful design that came to symbolize much of the graphic styles of the 1960s and 1970s.
Around the same time, LS&Co. began commissioning graphic artists like Victor Moscoso, Alton Kelley and Stanley Mouse. They also tapped Lily's father to create a piece. Alan Adridge's Electric Levi's® advertisement is an eye-catching purple poster that features a man stepping out in bell bottoms with plugs for feet. He moves from outlet to outlet surrounded by a shocking yellow silhouette.
Lily was immediately drawn to her dad's poster sitting on an easel in the Archives. "Is this?" she began, but she knew the answer. "My whole family is gonna freak out," she said.  "I can't wait to text them." Because Alan passed away in 2017, finding a hidden piece of her dad's art seemed especially meaningful during our visit.
After photos and an Instagram moment with her dad's work, I showed Lily other Archives pieces ranging from the oldest blue jeans in the world to Albert Einstein's 1930s leather jacket, a Summer of Love-inspired pair of 501® jeans and her favorite garment, 1990s Levi's® Silver Tab baggy jeans covered with bright painted cartoons.
Lily's long ties to the Levi's® brand aren't just relegated to her dad's art – they also go back to her early career. "I was in the 'Walk the Line' commercial with Jamie Dornan," she shared. Shot in Buenos Aires around 2006, the spot features a young couple dressed in Levi's® who are drawn to each other across a city. Set to the tune that Johnny Cash made famous, they walk over and through obstacles in a straight course toward each other. They finally come together as the words "Levi's® Straight Jeans" appear onscreen.
Landing a Levi's® ad is not a surprise for someone who confesses to wearing Levi's® "since forever."
"It was such an iconic commercial; it was amazing," Lily recalled. "It was so cool to be a part of it."
Want to keep up with the LS&Co. Archives and other cool LS&Co. heritage news? Follow Tracey on Twitter, @TraceyPanek, and stay tuned to Unzipped!