August 14, 2018
Call it classic Americana by way of Jamaican cool.
Sometimes the best way to understand American culture is to see it refracted through the lens of an entirely different place and people. For Levi's® Vintage Clothing Fall/Winter 2018, that lens is the 1978 Jamaican film Rockers, and the colorful dancehall and reggae styles inspired by the Jamaican rockers of that era.
Jamaica's love affair with Levi's® is tied to its rich musical history. American fashion gained popularity in Jamaica in the '50s by way of people who traveled to the U.S. to buy Rhythm and Blues records. As ska and rocksteady made way for dancehall and reggae, a distinct Jamaican style emerged of American heritage workwear, sportswear and tailored styles.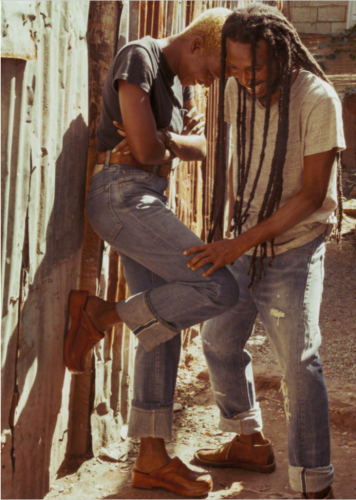 Levi's® Vintage Clothing head designer Paul 'O'Neill describes it as, "A mix of classic American clothes with old man wear from Jamaica."
Working with items found in our Archives, home to more than 20,000 meticulously cared Levi's clothing and artifacts, the latest Levi's® Vintage Clothing collection includes jeans and Trucker jackets in denim and corduroy, trousers, denim skirts, a pair of '70s-style flares that move out from the thigh, and '60s-era patterned knit tees and button-downs. Deep rust red, gold and forest green are featured prominently in the season's palette of '60s and '70s earth tones, alongside the classic workwear shades of indigo and dark blue.
Especially prominent in this collection is corduroy, which is used in a skinny STA-prest trouser, a 14-wale cord jean, an extra thick 4-wale corduroy jean, and a corduroy Trucker jacket that features a patchwork of 11 different colors.
As with all Levi's® Vintage Clothing seasonal collections, iconic reissues and special editions, our designers have the highest standards and use the finest materials to cater to discerning connoisseurs as obsessed with iconic vintage fashion as we are.