February 22, 2018
This Monday, Feb. 26, is the birthday of our founder, Levi Strauss, who would have turned 189 years old. Born in Buttenheim, Bavaria, Levi immigrated to America, where he would later found his namesake company, forever changing the way we would dress by giving blue jeans to the world.
To celebrate his birthday, here are a few fun facts about the man whose first name has become synonymous with Americana culture.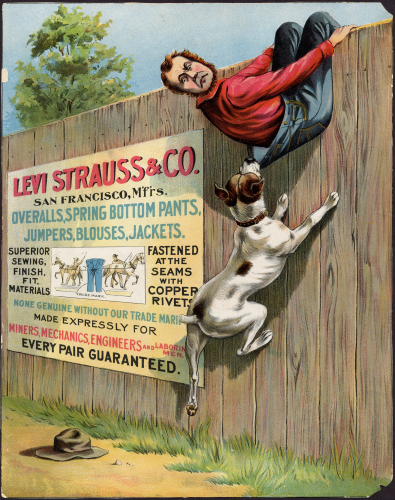 Levi's namesake company has been a global corporation for more than 150 years. Before Levi Strauss and Jacob Davis created the first jeans in 1873, Levi was a wholesaler of fine dry goods: clothing, blankets, boots, combs, etc. He arrived in San Francisco in 1853, and by the 1860s and early 1870s he had retail customers for his dry goods throughout the Pacific Rim: in Victoria, British Columbia; La Paz, Mexico; and Yokohama, Japan.
Levi enjoyed a good chuckle at his own expense. Company flyers created during Levi's lifetime depict him with his trademark beard—a feature of his younger years. The flyers poke fun at Levi, suggesting that he had a sense of humor and was willing to take a bit of ribbing. In one flyer, Levi scrambles over a fence as a dog pulls on his denim overalls. In another flyer, Levi is suspended in the air by a hook caught in his riveted pants. Dangling midair, Levi paints a sign on the exterior of a building for his famous riveted denim clothing and the words, "Every garment guaranteed."
Levi never had a retail store. Levi's specialty was wholesale distribution and he had a huge warehouse on
the San Francisco waterfront to serve his retail customers. Today, Levi Strauss & Co. headquarters (Levi's Plaza) remains near the city's famous waterfront, adjacent to the San Francisco cruise ship terminal.
Levi totally accessorized. Few photos of Levi Strauss survived the San Francisco earthquake and fire of 1906. But one rare photo shows our founder in his younger years wearing dress pants, a vest, bowtie and overcoat. The photo shows a small but noticeable chain near the center of the image. The chain is probably hanging from Levi's pocket watch—a common 19th century accessory. The watches were popular enough that LS&Co. added a special riveted pocket for it to our waist overalls. It also sat inside the larger right pocket of our 501® jeans – and remains there today.
Want to keep up with the LS&Co. Archives and other cool LS&Co. heritage news? Follow Tracey on Twitter, @TraceyPanek, and stay tuned to Unzipped!