May 11, 2017
The deYoung Museum's new Summer of Love Experience is a must-see retro ride for fashion fans of '60s style. The exhibit is a 50-year flashback located in the same spot in San Francisco where counterculture converged for concerts and community—Golden Gate Park. Here visitors immerse themselves, aided with audio narration by Peter Coyote, in the art, music and fashion of 1967 when Levi's® clothing took the spotlight.
Blue jeans—cool, comfortable, working class clothes—became ubiquitous among the rising youth culture by the late '60s. To capture the essence of the then-denim dress, I met with deYoung Costume Curator Jill D'Alessandro a year before the exhibit opened to select pieces from the Levi Strauss & Co. Archives popular by 1967.
Here's a retro rundown:
Flare Out 505®
LS&Co. introduced its first preshrunk zippered jeans in 1967 with an ad that used the word "jeans" rather than "overalls" for the first time. The 505® Levi's® on display are a Goodwill store find, rescued before reaching the Halloween bin, and sporting a leg lift—red and blue bandana hem inserts.
Jill interviewed Peggy Caserta, owner of the Mnasidika boutique on Haight, who explained that this flared style was in vogue at the time. Peggy also shared a conversation with an LS&Co. manager where she urged the company to make this new flared fit—something that would be welcomed by young clothing connoisseurs hanging out in the Haight.
Perhaps in response to Peggy, LS&Co. introduced bell bottoms one year after Peggy closed her shop in 1968.
Bell Bottom Beauty
The experimental orange Tab line was the perfect place to launch bells like the one on display. The jeans are paired with a crocheted jacket by Birgitta Bjerke, and include an interesting design detail—decorative front seams that lead the eye down the length of the leg.
Denim Art Dug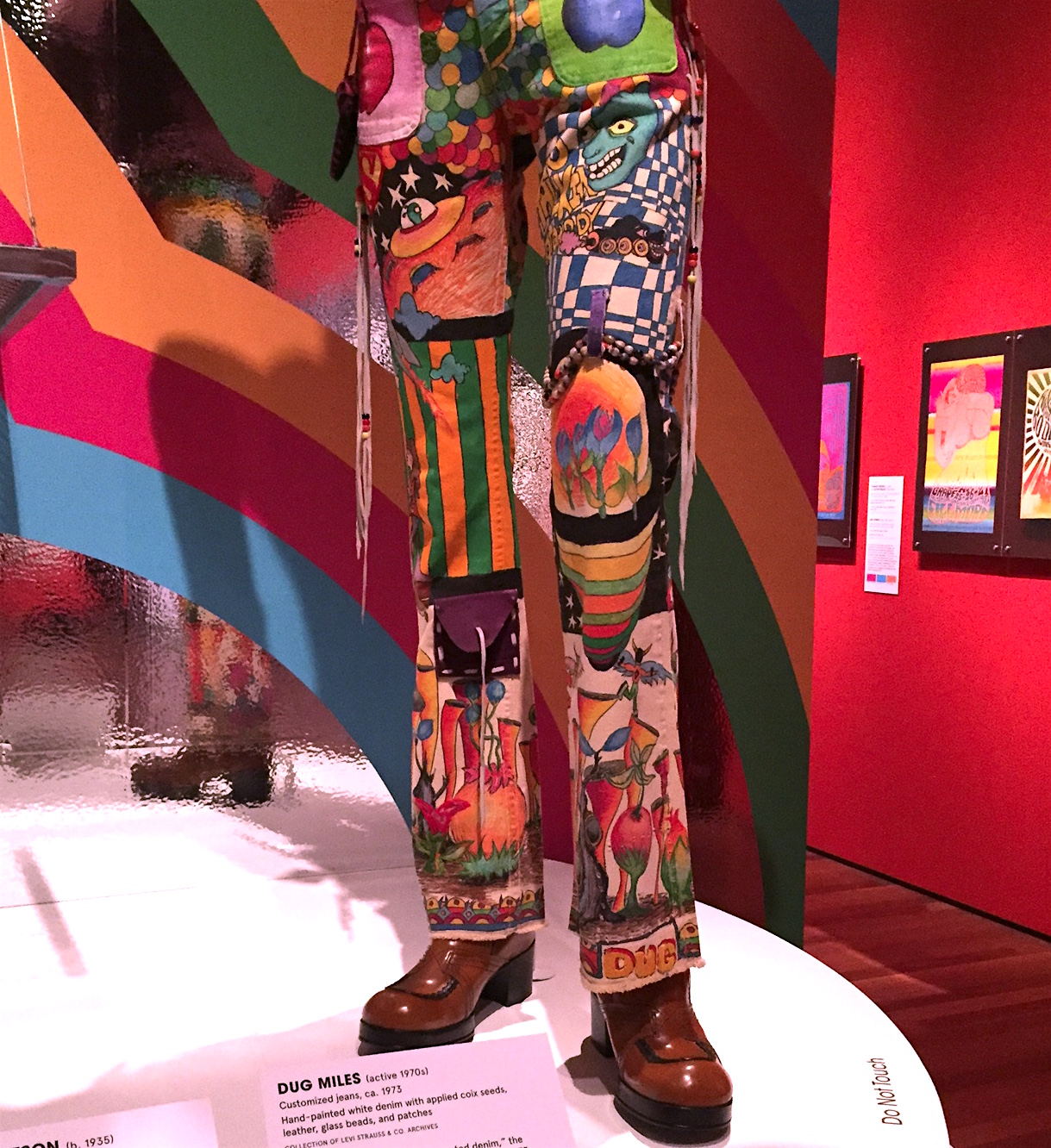 Dug Miles of Valdosta, Georgia transformed a pair of white Levi's® with embroidery, beads and paint. The colorful pants became one of the winning entries in Levi's® Denim Art Contest announced in 1973. His contest slide submission features a denim-decorated dude bending over a VW bug—a classic shot that perfectly captures the time.
Astronomical Applique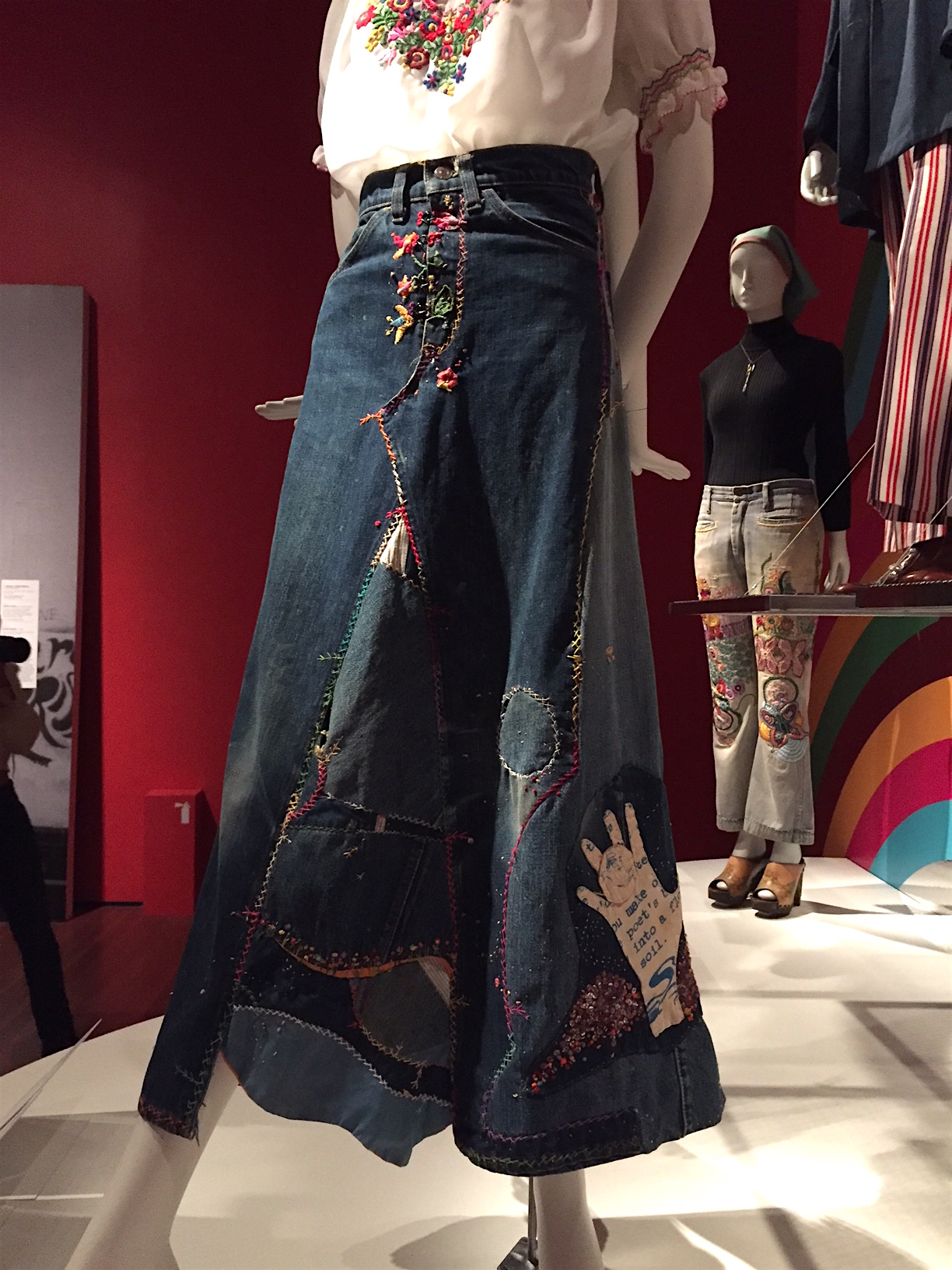 Patching tears may have been the original reason for sewing denim pieces onto pants, but in the early '70s one creative customer took this practice up a notch by embellishing Levi's® bell bottoms with crescent moons and stars.
Political Patterns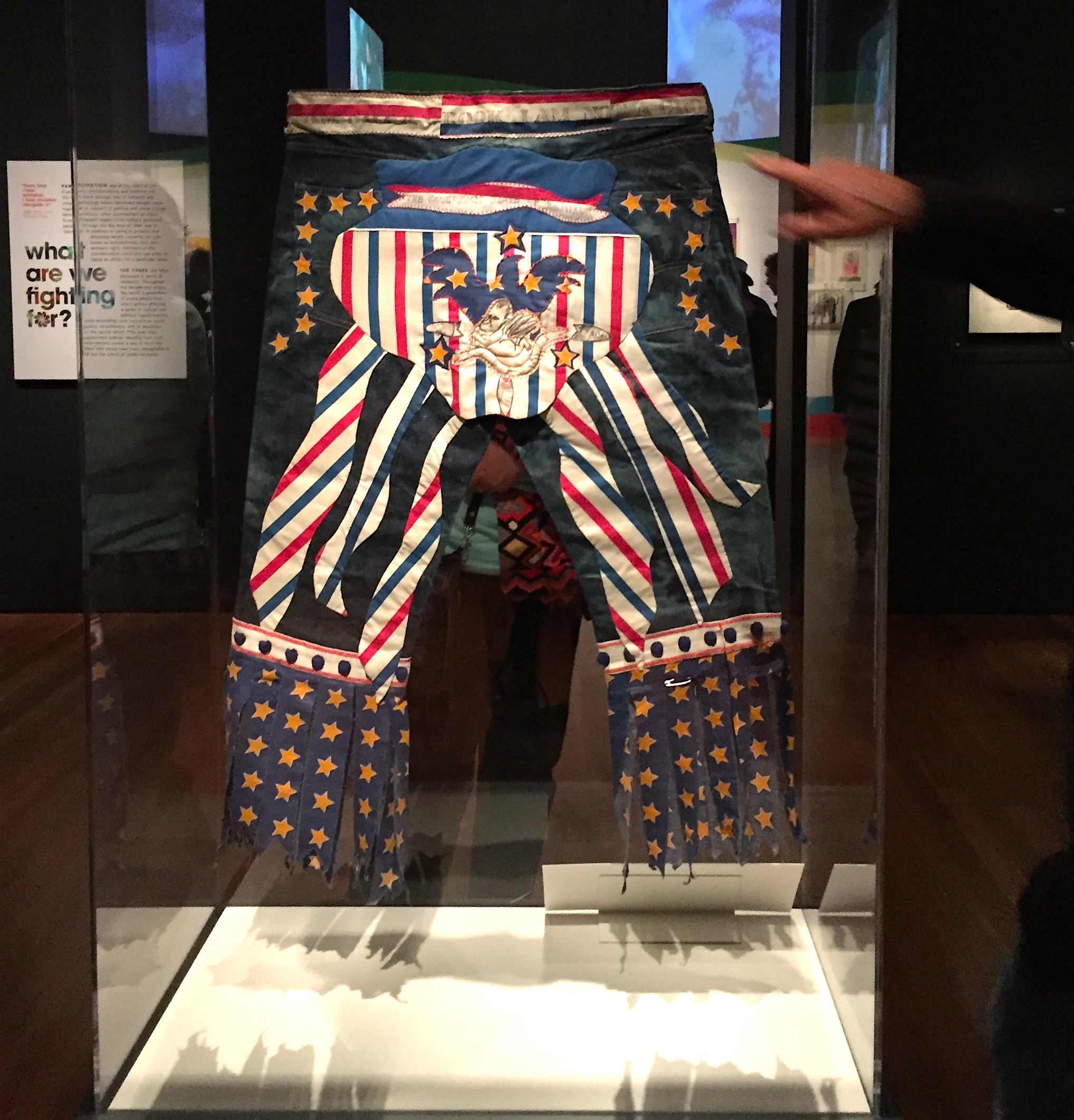 The true Levi's® showstopper on display? The Watergate jeans. Eva Orsini fashioned a pair of oversized Levi's® jeans to poke fun at the scandal that led to Nixon's downfall. Case in point, Nixon's silhouette, with his prominent nose pointed at the fly near the words, "Big Zip Up!"
Orsini's pant is another winning entry from the Levi's® Denim Art Contest that toured the country, including a stop at the deYoung, in 1974.  It was great to see the jeans back at the museum 43 years later.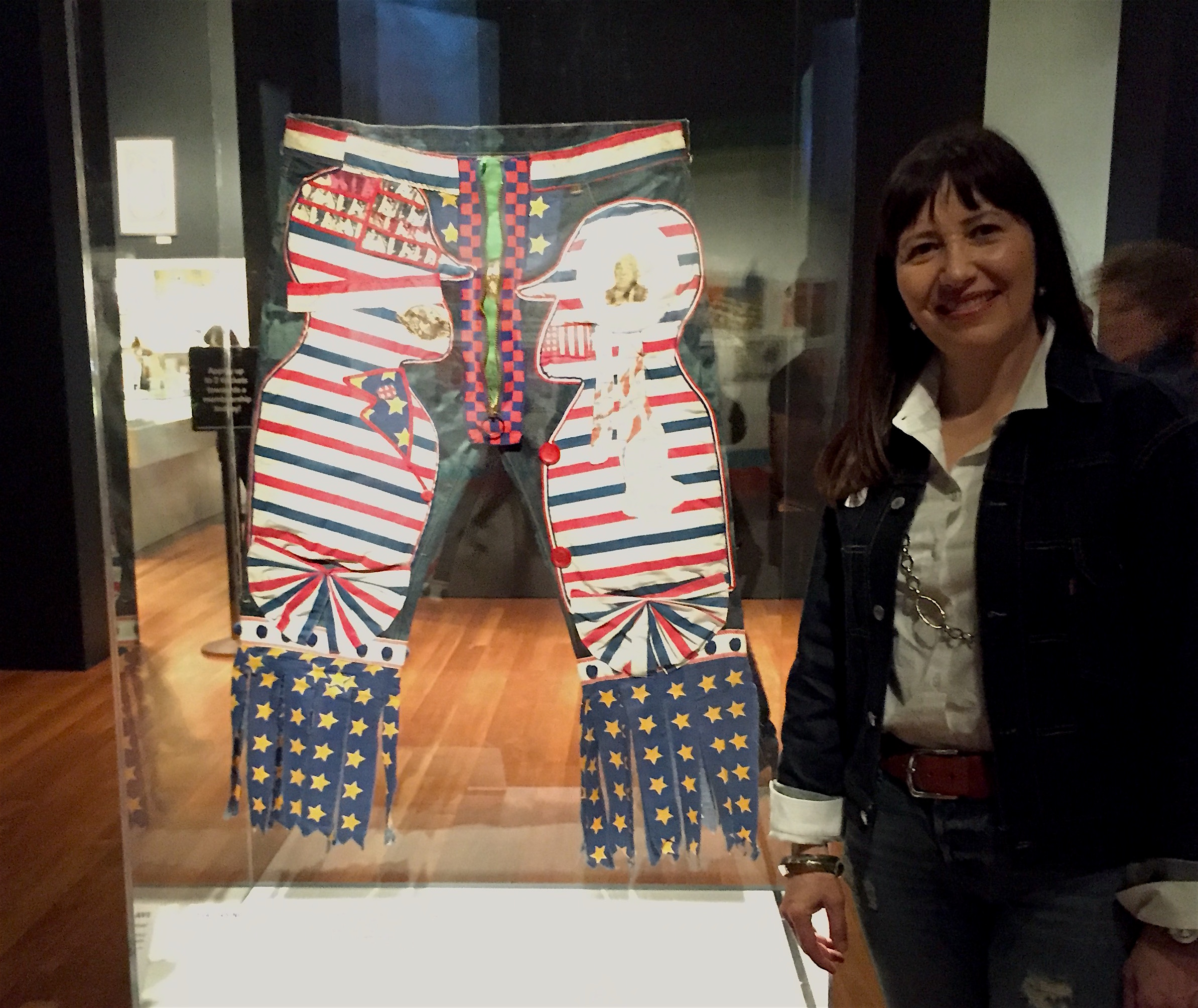 You'll also find other customized Levi's® from personal collections throughout the exhibit. Melody Sabatasso—aka Love, Melody—deconstructed Levi's® and assembled them into new creations like the denim-fringed halter and reassembled denim bottoms embellished with studs and crystals.
Skirts repurposed from the leg spread of a pair of Levi's® jeans were popular and often decorated elaborately. Colorful embroidered Levi's® created by Native Funk and Flash author Alexandra Jacopetti Hart are also exhibited.
The Summer of Love set the stage for a seismic shift at Levi Strauss & Co. when marketing focused on a new consumer – the teenager. In 1967, LS&Co. hired psychedelic San Francisco band Jefferson Airplane for its first-ever radio spot.
Along with fashion and music, the rock poster art on display features some of the same artists—like Stanley Mouse and Victor Moscoso—LS&Co. commissioned for company ads.
Trip on over to the deYoung Summer of Love Experience through August 20, 2017.
Want to keep up with the LS&Co. Archives and other cool LS&Co. heritage news? Follow Tracey on Twitter, @TraceyPanek, and stay tuned to Unzipped!