March 9, 2017
When Lady Gaga and Metallica recently took to the Grammy stage together, they harnessed the energy and excitement of a heavy metal concert – right down to the leather and battle vest.
For those familiar with the punk and metal scenes, battle vests are common attire, and are often constructed from Levi's® denim. We recently acquired a punk and a metal vest for our Archives, with both pieces capturing the unique flavor of two genres with an unusual Levi's® link that are often overlooked when compared to the more mainstream music scene.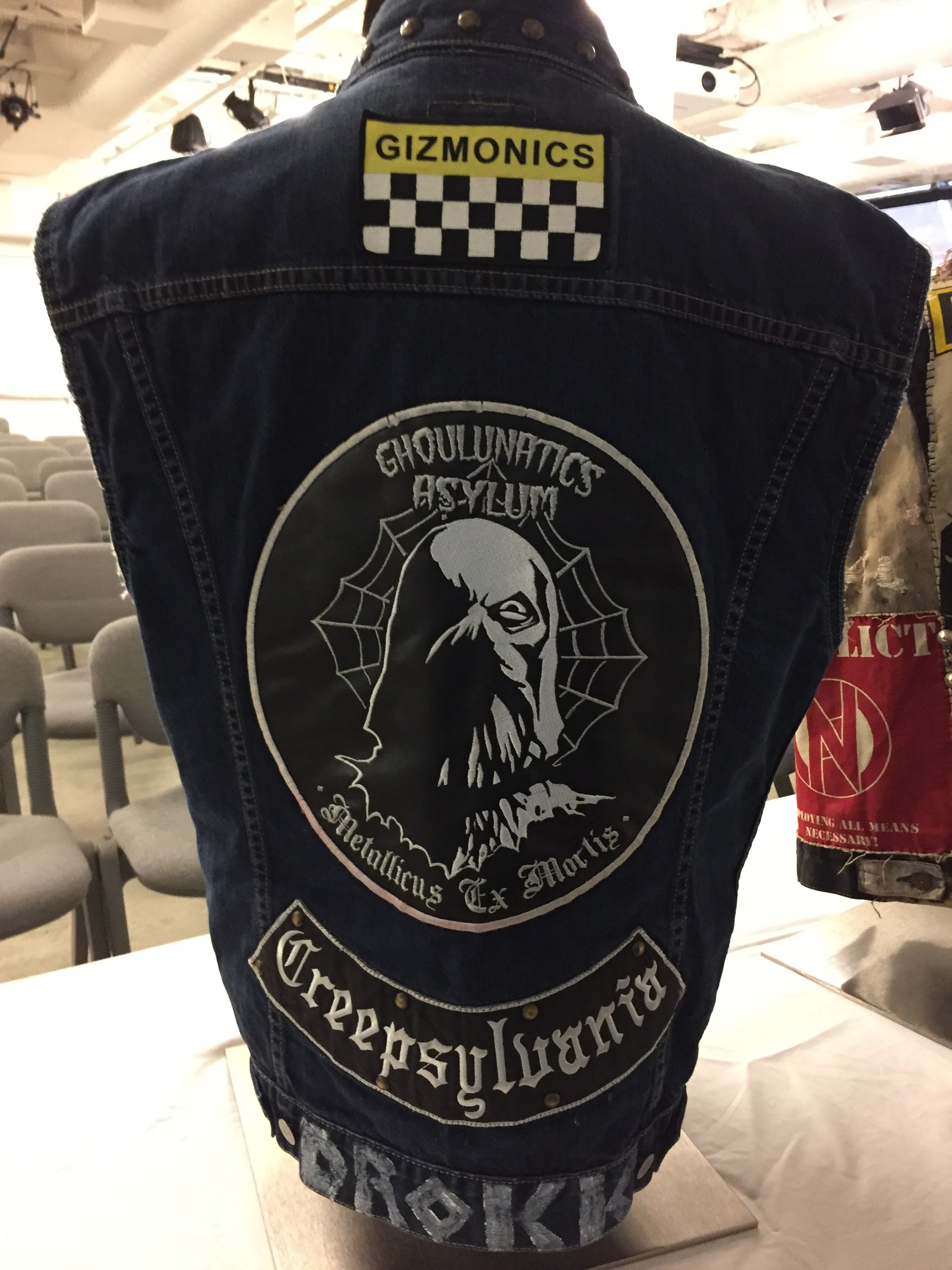 Battle vests like the one worn by Metallica frontman James Hetfield at the Grammys are typically denim jackets with the sleeves cut off. The body of the vest becomes a canvas, embellished with patches from a fan's favorite bands or concerts they've attended. They reveal individual taste when fans dye them, apply graphics, affix studs or add pieces of fabric like the leopard print on one of our new additions.
"They are essentially a scrapbook," says Jen Johnson, a metal and punk collector along with her husband, Brad.
According to the Johnsons, battle vests are inspired by elements of biker and military wear – think  aviator jackets painted with a pilot's plane, missions, countries served or the number of bombs dropped. Similarly, battle vests are embellished to reflect one's musical experiences.
Another military reference? The bum flap. Two metal rings added to the back of a battle vest secure a piece of removable material adorned with imagery. During WWI, soldiers fighting in trenches often hung thick pads off the back of their belts and used them as seating mats.
Levi's® jeans were so popular among metal and punk fans that Los Angeles police identified Levi's® as typical fan attire in 1980s reports warning of the potential threats these fans posed. Considered undesirable fringe and subculture elements, metal and punk bands were often criticized by groups—like Tipper Gore's Parents' Music Resource Center—for their excessively profane lyrics and their shock-filled concert antics.
As a brand comfortable at the center of culture, we have always been happy to embrace free musical expression, individuality, and yes—a bit of rebellion. Like Marlon Brando and other Levi's® -clad rebels and rockers of the past, we consider metal and punk musicians and fans a natural extension of our rock n' roll legacy.
Want to keep up with the LS&Co. Archives and other cool LS&Co. heritage news? Follow Tracey on Twitter, @TraceyPanek, and stay tuned to Unzipped!