August 18, 2016
Welcome to From the Archives, a behind-the-scenes look at the little ins and outs of the work we do here, and the unusual, amazing and always-interesting fun facts and tidbits we discover along the way.
Over the summer we opened an Inspiration Room, acquired
amazing new pieces, and spent time digging into the collection with designers for inspiration. Here's a peek at LS&Co.'s latest heritage happenings.
Tracey Panek

Now Showing
Louder Than Words: Rock, Power, Politics
Rock & Roll Hall of Fame
Cleveland, Ohio
Cleveland was abuzz with activity during the Republican National Convention this summer. In honor of the political happenings, the Rock Hall opened an exhibit focused on how rock and roll has played a crucial role in politics and social movements around the world. Louder Than Words: Rock, Power, Politics opened on May 20, 2016, at the Rock Hall in Cleveland, and opens January 6, 2017, at the Newseum in Washington, D.C.

If you're a Bruce Springsteen fan, you'll want to check out the original Levi's® 501® jeans that graced the cover of his Born in the USA album. They're on display at the Rock & Roll Hall of Fame in the Louder Than Words exhibit.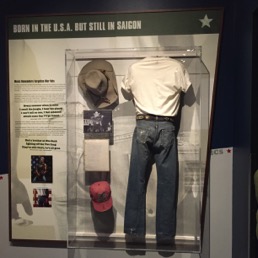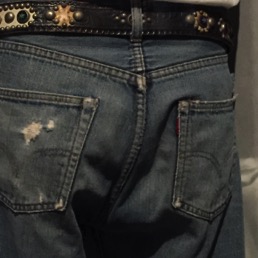 New Arrivals
Love Melody Levi's®. Intern Hannah shows off a pair of reconstructed pants, made from six pairs of Levi's® jeans (about 1971), designed by Melody Sabatasso.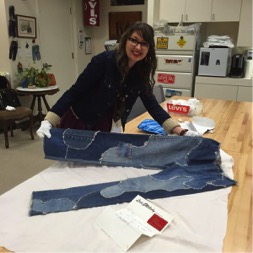 Einstein Jacket. Tracey made the winning bid for this Albert Einstein 1930s Levi's® leather jacket at Christie's in London.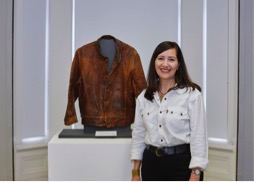 You Asked, We Investigated…
Television Trivia. Producers of Who Wants To Be a Millionaire? contacted us to ask about the purpose of the small pocket on our jeans.
Q. Can you confirm that referring to its original purpose, on a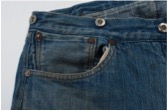 pair of Levi's jeans, the pocket now known as a coin pocket was first called the watch pocket? And can you also confirm that this pocket was NOT called the hat pocket, wallet pocket, or glasses pocket?
A. The small pocket on the front right side above the deeper pocket of our original waist overalls, the early name for blue jeans, was a watch pocket. It was not a hat, wallet or glasses pocket.
Look Who Stopped By…
The LS&Co. Archives hosts a variety of VIPs and guests. From journalists and musicians to sports stars, students and celebrities, no one is too cool to wear our white gloves.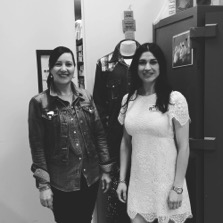 Famed NYC Fashion Archivist Julie Ann Orsini (white), poses in front of the Levi's® outfit designed for N'Sync's Lance Bass.
On the Road: Tracey's Travels
Tracey carried khaki garments, including a 1930s pair of khakis found in a cave, to Madrid, Spain to temporarily exhibit during a Dockers 30th Anniversary celebration.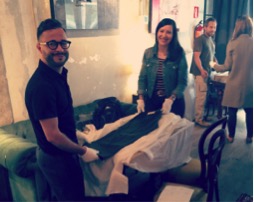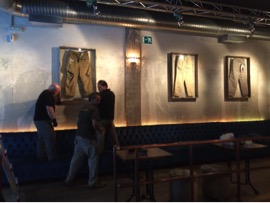 And Speaking Of…
The LS&Co. Archives often taps experts to share their knowledge and insights on LS&Co. heritage-related subjects, from fashion to civil rights. This summer we initiated an Oral-History Project where we invited LS&Co. retirees like Maurice Kelly (below) to share their memories such as LS&Co. becoming the first Fortune 500 company to grant domestic partner health benefits in 1992.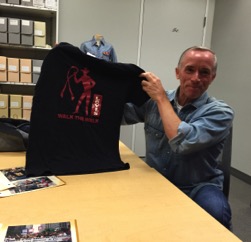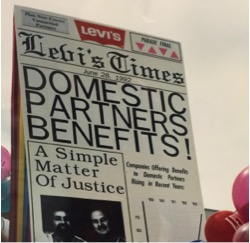 Innovation Inspiration
The Women's Bottoms Design Team was among the first groups to take advantage of our newly opened Inspiration Room. The room boasts space to display a variety of vintage garments and artifacts, and a large-screen television to view digitized television advertisements dating from the 1960s to 2010s.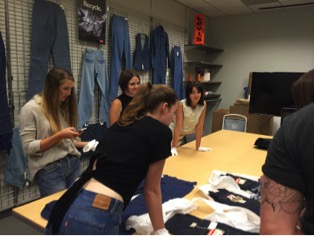 This Year in Levi Strauss & Co. History
The red Tab was first placed onto the right back pocket of our 501® jeans in 1936 to to differentiate Levi's® overalls from other competitors.
80th Anniversary of the Red Tab 


Want to keep up with the LS&Co. Archives and other cool LS&Co. heritage news? Follow Tracey on Twitter, @TraceyPanek, and stay tuned to Unzipped!