May 30, 2016
Dig into that closet. Unpack that seasonal drawer. Today unofficially marks the first day to bring that white-colored wardrobe back into play for summer! And thanks to a certain artist bringing the style back like he did "sexy," it's already a must-have look.
Or maybe it never left your wardrobe rotation? That's okay, it's totally your prerogative to Coco Chanel it all year, and rock the color whenever you please. Yes, it's an arbitrary rule, but Memorial Day is also a cool excuse to bust out the whites – particularly the white denim, according to GQ.
And, of course, Levi's® has you covered. Think classic 501® cutoff shorts, eyelet tees, button-ups, and crisp white jeans and trucker jackets in case you want to emulate Justin Timberlake's video outfit of choice.
Denim not your style? You can't go wrong with a crisp white pair of Dockers® khakis, for men and women, on those hot days and nights. And if the water is more your thing, check out the latest in swim wear from the brand.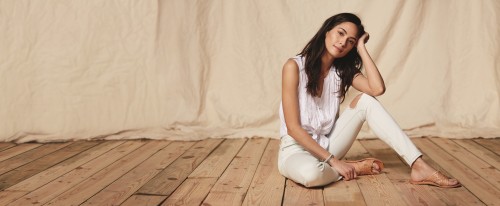 While the summer trend perfectly suits our style, we didn't make it up. Some have credited the nouveau riche following the Civil War who wanted to stand out from 'old money.' Time once speculated that the trend was likely perpetuated by fashion magazines such as Harper's Bazaar and Vogue, which reflected weather-appropriate attire for the cyclical weather in New York City, an epicenter of fashion.
Of course, white Levi's® did seize the moment in the early 1960s, as the Wall Street Journal reported this week, creating white Levi's® for resourceful teens determined to outfox high school dress codes. "In the '50s and '60s, many schools prohibited blue jeans, deeming them too casual for the classroom," Levi Strauss & Co. historian Tracey Panek told the Journal. "Students found a way around the ban by bleaching their jeans white."
Regardless of its origin, custom was to shut it all down by Labor Day by packing that white clothing back into storage. But that's 99 days away! So go ahead, rock your best whites. Everybody else is.