March 30, 2016
You can't talk about the denim evolution without recognizing the birth of the blue jean.
That credit goes to Levi Strauss & Co., when Levi Strauss and tailor Jacob Davis obtained a U.S. patent on the process of putting rivets in men's work pants. Fast forward more than 140 years since their invention and you'll see that denim has signified much more than just an item of clothing, but rather a glimpse into culture and a symbol of the times.
As reported this week in The Economist, "As far back as the 1930s, when the popularity of cowboy films helped jeans make the leap from workwear into the wardrobes of Hollywood stars, denim has been understood to stand for something larger about the American spirit: for rugged individualism, informality and a classless respect for hard work… jeans crossed lines of ideology, class, gender and race.'"
The Economist report has inspired us to share a few more gems from our archives that tell a story about Levi's jeans through the decades.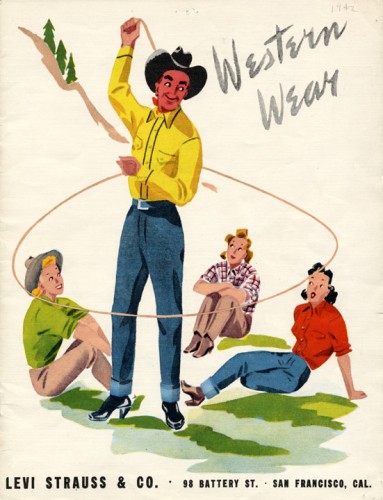 This 1942 catalog cover depicts the brand's approach at this time.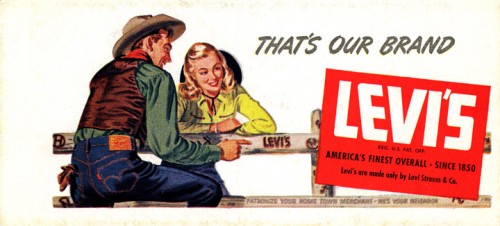 A counter card from 1950.
Read the full article from The Economist in this week's issue or online now. And check out Denim: Fashion's Frontier, on display in New York City through May 7, 2016 at the Museum at FIT.
Sign up for the Unzipped newsletter to get the best of the Unzipped blog — company news and views, employee profiles, innovation and sustainability stories, behind-the-scenes and Archives highlights — sent straight to your inbox weekly.