February 2, 2016
The month of February kicks off the 30th anniversary for the Dockers® Brand.
Over 30 years much has changed, but one thing has remained the same: Dockers' commitment to making sure that every man has a go-to style for every moment in his life.
To mark this momentous occasion, we've taken our favorite color – khaki—and developed a collection of stylish one-of-a-kind pieces.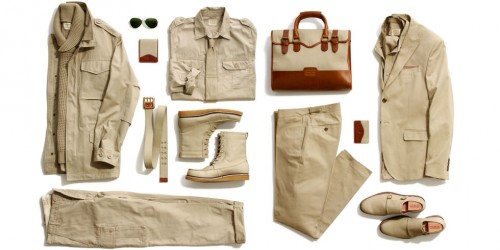 The Dockers® 30th Anniversary Collection celebrates our iconic fabric. From trousers to shirts, shoes to belts, sweaters to suits, neckwear to luggage, this unique collection uses khaki in ways you've never seen before.
Esquire.com was the first to review the collection. It earned high praise. Says Editor Jonathan Evans, "Think of it as a foolproof way into tone-on-tone dressing. Or just think of it as a bunch of understated clothes and accessories that'll work just as well together as they will with the rest of your wardrobe. Either way, you'll be right."
Go to dockers.com to learn more about Dockers "An Icon Turns 30" and shop the collection.

To kick off New York Fashion Week: Men's, last night we hosted the Dockers® Brand's 30
th
Anniversary party in partnership with
The Council of Fashion Designers of America
.
"The CFDA has hit upon perhaps the ideal sponsor for a party to begin a week of American men's fashion: Dockers. Your dad's favorite chinos brand is turning 30, so it had a reason to celebrate, anyway," noted Noah Johnson of
NYTimes.com
.
The party's attendees included celebrities, athletes and tastemakers. Notable partygoers were model and actor Tyson Beckford, New York Giants' Victor Cruz, New England Patriots' Julian Edelman, New York Mets' Matt Harvey, New York Jets' Eric Decker and wife Jessie James Decker, Victoria's Secret Model Devon Windsor, model Sean O'Pry, model Johannes Huebl, model Barrett Pall, fitness expert/motivator Shaun T., influencer Dr. Mike Varshavski, DJ Brendan Fallis, CFDA's Steven Kolb, model Alex Lundqvist and model Eric Rutherford.
2016 has already been a year of celebration for the Dockers® Brand and we're not even close to done yet. Keep watching Unzipped for more on how we're celebrating this milestone year. You can also follow us on Twitter
@Dockers
,
Facebook
, and Instagram
@DockersKhakis
.
Like this story?
Sign up for the Unzipped newsletter to get the best of the Unzipped blog — company news and views, employee profiles, innovation and sustainability stories, behind-the-scenes and Archives highlights — sent straight to your inbox weekly.