January 12, 2016
There's something incredibly special about the residents of Henderson, Nevada. Yesterday, LS&Co's Sky Harbor distribution center received Leadership in Energy and Environmental Design (LEED) Platinum rating – the highest honor in sustainable building certification. And when it comes to retrofitted warehouses, this LS&Co. facility is the first in the apparel industry, second in the country, and third in the world — as well as the largest in the world — to earn Platinum status.
Scoring LEED Platinum is no small feat, with fewer than 7 percent of the nearly 70,000 commercial LEED buildings achieving this highest honor globally. So you can see why we're so excited. Through energy and water efficiency upgrades, we now have a workplace that's not only more comfortable, but also better for the environment while leading the industry.
This is LS&Co.'s first facility to achieve the Platinum honor, and it's our hope that it will be the first of more to come. Distribution centers create nearly 40% of LS&Co.'s carbon footprint; therefore targeting the centers enables us to reduce more of our carbon footprint more quickly.
The distribution center's operations team (a self-appointed team of passionate LS&Co. employees) began implementing environmentally and socially responsible practices in 2007, and started working toward LEED certification in 2010. They aimed to do what's best for the business: keep energy and water costs down while creating a better workplace. Doing some good for the planet only further motivated them.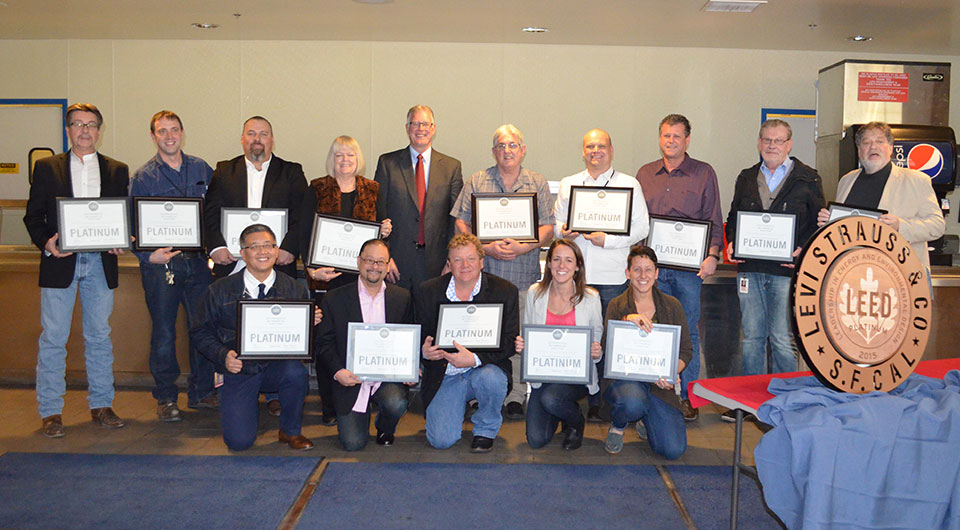 Our LS&Co. team with Henderson Mayor Andy Hafen.
"This team has set the bar high," Sustainability VP Michael Kobori said at yesterday's plaque unveiling, where the facility also received a commendation from Henderson Mayor Andy Hafen. "Without the engagement of the entire facility, this certification would not have been possible."
LS&Co.'s sustainable upgrades are good for employees, for the environment, and for the bottom line. Overall, this LS&Co. distribution center will save about $60,000 per year for the next ten years thanks to water savings, energy efficiency upgrades, and tax abatement from the state of Nevada.
Some of the key upgrades to LS&Co.'s Sky Harbor distribution center include:
Installing a highly reflective white roof, which seals against leaks, and keeps the facility cooler (alleviating as much need for air conditioning) despite the harsh heat of the desert sun — especially helpful this past year, when Las Vegas saw its toastiest summer on record, right in the middle of the LEED energy assessment period
Diverting more than 90% of its waste from landfill, opting instead for recycling and composting
Switching to LED lighting and power-saving motion-sensor lights
Restoring the property's landscape to the natural desert environment through a process called xeriscaping, beautifying the facility and saving nearly 10 million liters of water every year — enough to make 1 million pairs of Water<Less™ jeans. Sky Harbor now uses 90 percent less irrigation water than average for the region
Replacing vending machines with Energy Star kiosks that feature healthier snacks, and providing Fair Trade coffee for employees
Becoming a smoke-free facility, with smoking cessation support provided to employees
Using green cleaning supplies by the custodial staff
Installing low flow fixtures in the sinks, saving more than 325,000 liters of water per year
With all of these impressive efforts, it's no surprise that this past December, the facility received the Nevada U.S. Green Building Council's LEED Project of the Year Award for demonstrating persistence, hard work, sincerity and dedication to building a more sustainable community. In addition, the facility received official Energy Star Building certification, indicating that the facility now operates at a level of energy efficiency that is in the top 25 percent of all warehouses in the United States.
So what's next? Our LS&Co. sustainability team plans on applying lessons from this project to identify upgrade opportunities across our owned-and-operated network — continuing to pioneer and push for progress through our environmental leadership.

Like this story?
Sign up for the Unzipped newsletter to get the best of the Unzipped blog — company news and views, employee profiles, innovation and sustainability stories, behind-the-scenes and Archives highlights — sent straight to your inbox weekly.