October 19, 2015
In less than two months, world leaders will convene in Paris for the Conference of the Parties to the United Nations Framework Convention on Climate Change (COP21). At the meeting, leaders from 196 countries will come together to sign a new climate change agreement — a deal which could potentially lead to ambitious outcomes in tackling climate change.
At LS&Co. we believe addressing climate change is vital to the long-term success of our business, and the health and well-being of the people who make and buy our products. It's why we today joined the American Business Act on Climate Pledge. In doing so, we come together with more than 80 companies from across the American economy in standing with the Obama Administration to demonstrate an ongoing commitment to climate action and to voice support for a strong outcome at the COP21 Paris climate negotiations.
We applaud the growing number of countries that have already set ambitious targets for climate action, and recognize that delaying action on climate change will be costly in economic and human terms. In this context, we support the conclusion of a climate change agreement in Paris that takes a strong step forward toward a low-carbon, sustainable future.
With a long-held commitment to reduce our environmental impact, our vision is to reduce carbon dioxide and other greenhouse gases through maximizing energy efficiency and using 100 percent renewable energy — first in our operations and then throughout the supply chain – and to continue to build sustainability into everything we do.
Specifically, Levi Strauss & Co. has committed to reduce our climate impact and put forth our pledge as follows:
Reduce greenhouse gas emissions 25 percent by 2020 in our office, retail and distribution locations.
At our owned and operated manufacturing plants, reduce greenhouse gas emissions 5 percent annually per product shipped.
Purchase a minimum of 20 percent of our energy from renewable sources by 2020.
Ensure that no forest-based materials that originate from the world's ancient and endangered forests enter into our supply chain by 2020.
We have also been, and will continue to be, outspoken champions for public policies aimed at reducing greenhouse gases. We are founding members of Business for Innovative Climate and Energy Policy (BICEP), a coalition of businesses advocating for meaningful climate and energy policy. We've been vocal supporters of federal efforts to reduce carbon emissions, including the U.S. Environmental Protection Agency's Clean Power Plan, as well as efforts like California Senate Bill 350 to reduce carbon emissions and increase energy efficiency and renewable energy in our home-state of California.
We're proud today to stand alongside dozens of companies that are committed to acting to address climate change. We encourage others in the apparel industry and beyond to join the White House pledge and voice their support for a strong global climate deal later this year in Paris.
ABOUT THE AUTHOR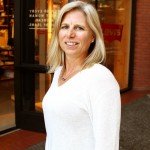 Anna Walker is the senior director, global policy and advocacy at Levi Strauss & Co., supporting LS&Co.'s business strategy and strengthening the company's reputation by anticipating and shaping external public policy and stakeholder initiatives. Prior to joining LS&Co. in 2004, Anna was senior manager for international labor affairs at the U.S. Council for International Business, establishing USCIB's corporate responsibility program and representing U.S. business at the International Labor Organization. She has a master of arts from Johns Hopkins University Paul H. Nitze School of Advanced International Studies and bachelors of arts degrees in international relations and Spanish from the University of California, Davis.
Like this story?
Sign up for the Unzipped newsletter to get the best of the Unzipped blog — company news and views, employee profiles, innovation and sustainability stories, behind-the-scenes and Archives highlights — sent straight to your inbox weekly.