September 1, 2015
When Danes bike to work, they pedal on an elevated cyclist-only path over the Copenhagen Harbor. When the Dutch need to leave their bikes at the subway, they do so in a 4,200-bike capacity underground bicycle parking lot. Across the Pacific, cities from San Francisco to Minneapolis to Boston are starting to become more cyclist-friendly by investing in infrastructure for biking.
At LS&Co., we're excited to be part of the cycling movement. For Levi's® fans, there's the Levi's® Commuter collection, which was designed for and by cyclists. The stylish, cyclist-friendly pants, jackets, and shirts repel dirt and water, and offer coverage, comfort and climate control for a cycling-based lifestyle. For LS&Co. employees, commuting by bike has been folded into the corporate wellness program. In San Francisco, our Bike Commuter network maintains a secure room for bike parking. The group also hosts occasional events for employees to get a free bike tune-up and learn more about the benefits of bike commuting.
If you're in need of some bike-related inspiration, take a look at some of the ingenious infrastructure innovations popping up around the globe.
1. Underground Parking That's Outta Sight
City drivers and cyclists both know the torture that is looking for parking. Lucky for some Japanese cyclists, Shinagawa Station in Tokyo has an automated underground bike parking system in which a machine whisks bikes away until cyclists return with their ID cards to reclaim their bikes.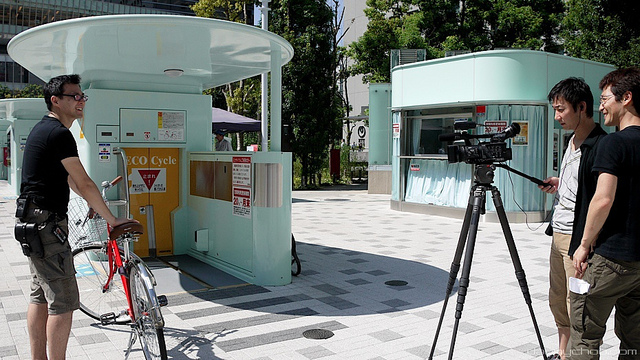 The Dutch city of Utrecht is following suit with an underground bicycle parking facility in the Netherlands' largest train station. This three-floor structure currently accommodates 4,200 bikes, with construction underway to make room for an additional 12,500 bikes. The space includes rows of parking with lighted signs indicating the number of available spaces in each row.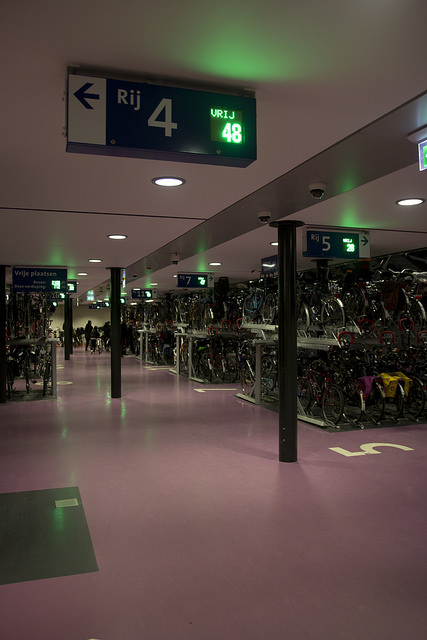 2. Floating Paths That Will Put You On Cloud Nine
The Hovenring in the Dutch city of Eindhoven is a safe solution for cyclists looking to cross a multi-lane highway. Suspended above the roadway, the Hovenring, nicknamed "the floating saucer," is a safe, fast option for the thousands of cyclists going to and from wherever they need to be. Eindhoven's love of bikes also includes a 'Starry Night' inspired path to top off a wonderful bike commute, and help you see the way when the sun goes down.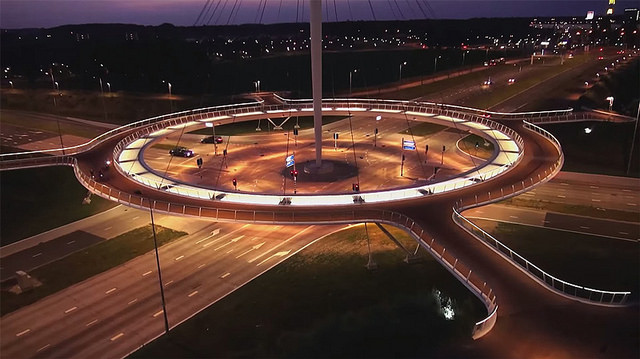 Cyclist mecca Copenhagen in Denmark has created an elevated bike path that's both visually striking and carefully designed. The Cykelslangen, or Cycle Snake, is a bike-only path over Copenhagen Harbor that allows cyclists to ride above the pedestrian-clogged street. The curving path changes elevation gradually so riders aren't left with a steep ride.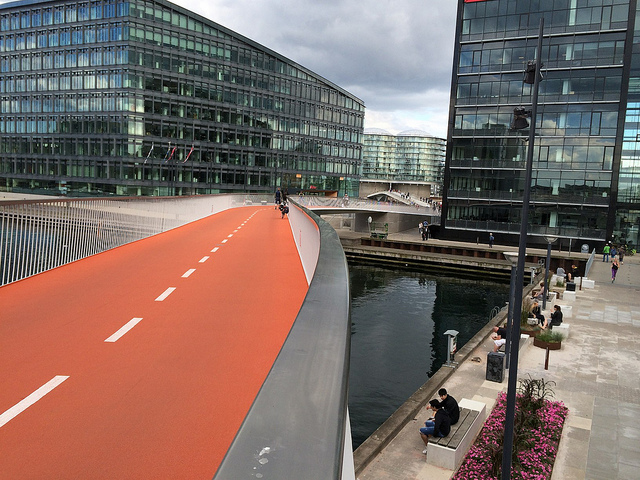 3. Striking Bridges That Go The Distance
Cupertino, California, lays claim to the beautiful Don Burnett Bridge (also known as Mary Avenue Bridge) traversing 11 freeway lanes and supported by 44 white cables. The bridge, exclusively for cyclists and pedestrians, offers a convenient, enticing solution to drivers who would otherwise be stuck in traffic.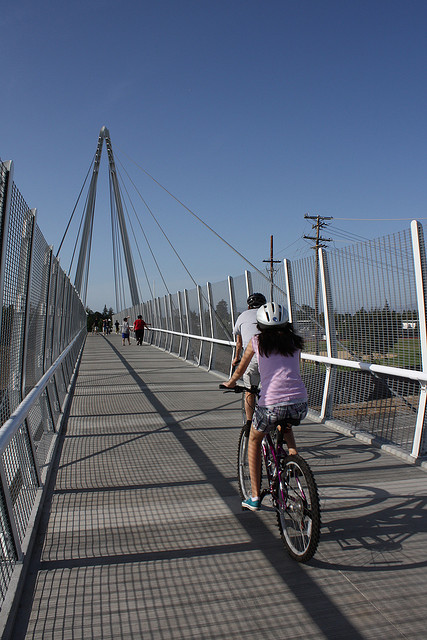 Other visually stunning bridges include Amsterdam's Nesciobrug, the longest bike bridge in Amsterdam at approximately 0.5 miles long, and the Big Dam Bridge in Little Rock, Arkansas, the longest bike bridge in North America at 0.8 miles long.
4. Art and History To-Go
After a long fight, Amsterdam's cyclists rejoiced at the news that the bike bike path through the Rijksmuseum would remain despite museum renovations. Dutch cyclists can cut through the center of the museum on foot or bike, infusing daily commutes with a bit of art and culture. The underpass was included in the museum's design when it opened back in 1885—yet another reminder that the Dutch are seriously commuter-friendly.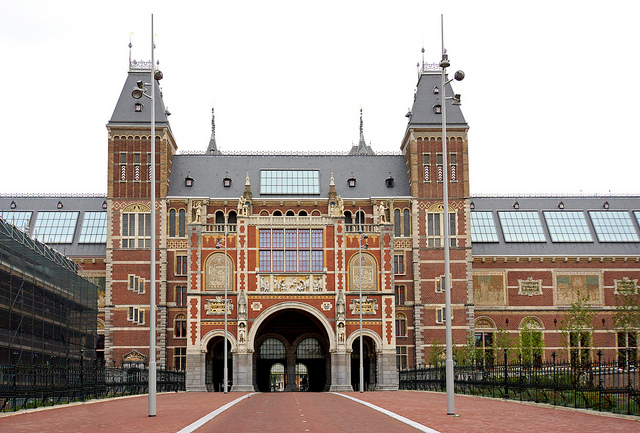 For history lovers, the Minuteman Bikeway provides cyclists a path from downtown Boston to the suburbs, and follows the path Paul Revere rode to announce the start of the Revolutionary War. A revolutionary bikeway!
5. Riding the Green Wave
Sick of waiting for red lights to change? ? Bike paths in Copenhagen are lined with green lights that appear when cyclists maintain a constant speed of 20 km/hr. The idea of "catching the green wave" and signal optimization has also been implemented along Valencia Street in San Francisco, so if you catch a green light at 16th and pedal at 13 mph, you could be straight cruising until 25th.
6. Adorable Bike Lanes
A small innovation that could make a big impact is being piloted in Ottawa, Canada. Cyclists in constant fear of injury by way of a car door opening into the bike lane can now rest easy. A "dooring zone" spaces cyclists far enough from car doors to avoid collision.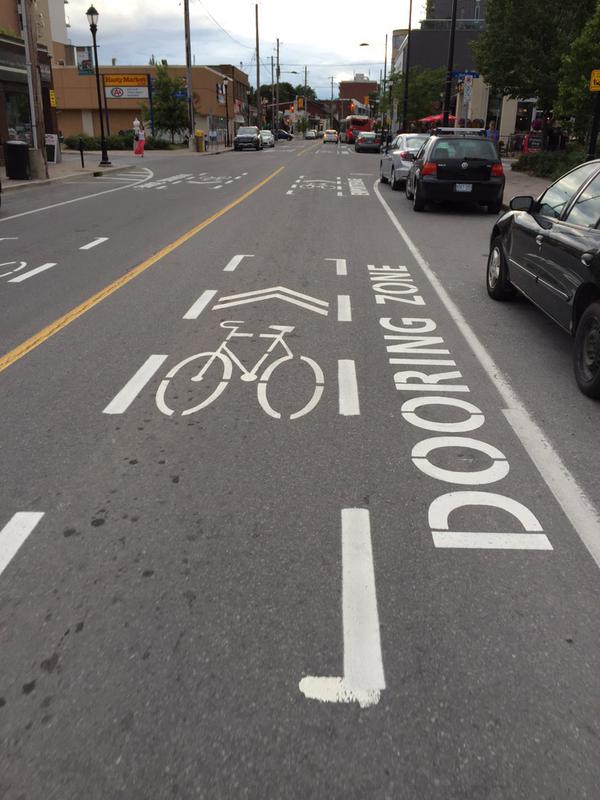 Like this story?
Sign up for the Unzipped newsletter to get the best of the Unzipped blog — company news and views, employee profiles, innovation and sustainability stories, behind-the-scenes and Archives highlights — sent straight to your inbox weekly.
Image credits: Tokyo Times via Flickr CC; Fietsberaad via Flickr CC; Federation European Cyclists via Flickr CC; surelars via Flickr CC; Naotake Murayama via Flickr CC; The botster via Flickr CC; Dennis Jarvis via Flickr CC