August 7, 2015
Shelley Parsons is a bit taken by the Dockers® guy. Not in a romantic way, or anything. She just really respects and appreciates him. He wants to look good, but doesn't take himself or his style too seriously. Comfort is key, but so is having the right look for every occasion.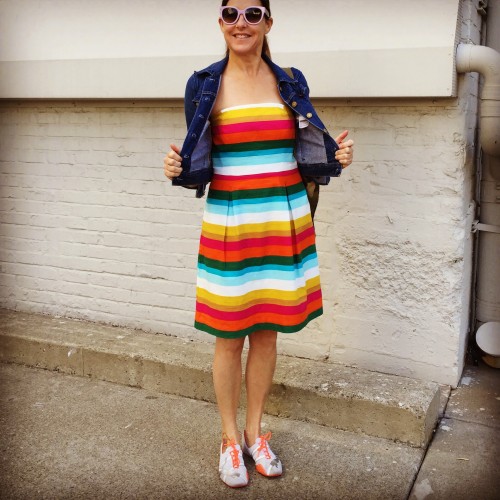 Being willing and able to see the world through his eyes helps her on a daily basis. As global creative director for the Dockers® brand, Shelley is charged with finding creative ways to engage consumers — whether that's through eye-catching photos, quirky viral videos or ads that change his perception about the brand.
Shelley's role spans a variety of creative endeavors, including design, art direction, and photo shoots, with a little writing sprinkled in. She also collaborates closely with the brand's marketing, ecommerce and brand environment teams. And it's all with an eye towards creating a consistent, authentic and elevated expression of the Dockers® brand globally.
If that sounds like a big task, that's because it is. At any given time, Shelley usually has four seasons on her radar. So a typical week could involve reviewing current on-floor or online creative, wrapping up next season's campaign and concepting for the next two seasons on the horizon.
We had the chance to chat with the Aussie-turned-San Franciscan about how she landed at Dockers®, where she gets her inspiration and her approach to viral campaigns.
How'd you get your gig at Dockers?
After an early misstep into economics/law, I found my true calling in graphic design and art direction. My first job was with a large magazine publisher, and then I jumped ship to join the Mad Men ranks. I was lucky enough to work in the creative department of some of the world's biggest ad agencies creating campaigns for some of the planet's biggest brands — P&G, Heineken, Capital One, Hershey's, J&J, ConAgra.
Prior to starting at Dockers®, I spent 6-months creating a Facebook-integrated app and blogged about the entire experience in a series called "Diary Of An App". This ended up being infinitely more fun and satisfying than getting the app into the AppStore!
I'm a graduate of the Australian Writers & Art Directors School (AWARD) and British D&AD. My working-walkabout has taken me from Sydney to London, New York and San Francisco. And I've worked with celebrities, kids, animals, mermaids and the Charmin Bears.
What's the best thing about working for the Dockers brand?
Collaborating with wonderfully talented, inspiring and dedicated people at every turn. Honestly.
What's one part of your job that might surprise people?
I can fold 500 pants in a less than 2 hours.*
(*Available for special Dockers floor sets only)
Where do you turn for inspiration?
I have an unnatural obsession with typography — I weep for great and wail over bad, so I take particular notice of trends and interesting examples of type design and fonts. Don't get me started on Comic Sans…
What campaign are you particularly proud of?
Definitely our Dockers® Dugout Pants / "What's in Hunter's Pants" campaign starring the Giants' Hunter Pence. We had such a fun product, but such a wee budget, so everything we did had to be nimble. We pulled a shoot together using Dockers® peeps and decked out the Dugout Store and staff in a day. But I had this idea that we needed a player to really get some buzz… enter Hunter Pence. We wrote a series of videos that played on his quirky personality and showcased the unexpected details in the pants. Hunter shared a behind-the-scenes clip from the shoot that garnered over 200k likes in 4 hours.
What's your thought process when directing a campaign you hope will go viral?
What I've learned is that virality is not something that can be guaranteed, regardless of the idea or enthusiasm for it. At the core, there has to be a truth. Actually, that goes all creative expression, viral or not. #StopDadPants had the benefit of tapping into an established truth about Sarah Harbaugh's frustration regarding her husband Jim's bad pants. We capitalized on it, and the result was over a billion impressions and a lot of good juju for the brand. The thought process for #DadJam was slightly different. We didn't want to shine a spotlight on the problem again, rather celebrate Dads of all ages who wear fatherhood with style. Casting the right talent was key — Taye was a dad first, and then a celeb. He wanted to have fun with the concept and of course, he looked great in the product. I still have the #DadJam song stuck in my head!
If you didn't have this job, what would you be doing?
Professional tennis player. I still daydream about running away to join the pro circuit (although I would definitely need to work on my backhand). Hit me up if you want to hit!
What's your personal motto?
No worries. Partly because I'm an Aussie, and partly because I'll do whatever is needed for our brand to succeed.
Like this story?
Sign up for the Unzipped newsletter to get the best of the Unzipped blog — company news and views, employee profiles, innovation and sustainability stories, behind-the-scenes and Archives highlights — sent straight to your inbox weekly.