July 21, 2015
At Levi Strauss & Co., our sustainability thinking has traditionally begun at the cotton  stage of the product life cycle. The cotton is picked, ginned, spun, and woven into fabric. The fabric is cut, sewn, and finished into a pair of jeans before being sent to a distribution center, then on to your favorite store where the jeans are sold to you.
You'll wear them. Live in them. Love them. Make them your own. And after a few years with that perfect fit, you'll probably toss them. That's it. The life of a pair of Levi's. On average, that life lasts a little over three years (although they'll last for decades if you take care of them in the proper way).
What's wrong with this picture? It's entirely linear. It's birth to death. And it's wasteful. At Levi Strauss & Co. we want to change that by taking another step forward on our journey towards a circular economy.
And that step involves you, the consumer. That's why you can now bring all your old clothes and shoes to any Levi's store in the U.S. We'll collect them and reuse, repurpose or recycle them with our partner I:CO.
We'll help divert some of the 24 billion pounds of clothing, shoes and textiles Americans add to landfills every year. The clothes we collect will be transformed into things like insulation for buildings, cushioning material and new fibers for clothing. And it's that last piece — transforming old jeans into new ones — that holds both the greatest opportunity and challenge for us.
The opportunity is tremendous. We're aiming to establish an infrastructure that supports closed loop products by 2020. Our vision is to recycle your old Levi's into new ones. And by doing this, we'll reduce the impact of cotton agriculture by harvesting the denim from people's closets that would otherwise end up as landfill.
To bring our circular economy vision to life, we need to continue R&D efforts to establish ways to separate denim made of cotton – polyester blends so these fibers can be recycled. We'll also have to partner with our suppliers to research and develop cotton fiber that is strong enough to be recycled and still meet our high quality standards.
In spite of these challenges, we continue to explore innovative business models and ways to support a circular economy, taking the slow fashion approach our CEO Chip Bergh talks about, rather than chasing the fast fashion trends in retail today.
While brands consider metrics like customer lifetime value, we are constantly thinking about concepts like product lifetime value and the systems needed to support those concepts. For example, in more than 80 Levi's stores globally, we have tailor shops that can repair, resize and restyle your denim. These shops extend the life of your jeans, so you can hang on to your favorite pair and won't need to consume a new pair as often. It's another one of the steps we're taking toward realizing a circular economy.
Today, those steps remain imperfect. We have a long way to go and we can't do it alone. We're collaborating with our network of suppliers and the Sustainable Apparel Coalition on how we can better design, produce and recycle our products while collectively shifting consumer behavior to effectively participate in a circular economy.
Ultimately, I am confident we will create a system that supports closed loop products. You can help.  Bring us your old jeans that are no longer wearable.  That simple action will influence others and send the consumer demand signal to the apparel industry to establish a circular economy for our products.

ABOUT THE AUTHOR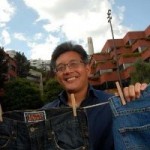 Michael Kobori is the Vice President of Social and Environmental Sustainability at Levi Strauss & Co. He leads the development of LS&Co.'s environmental vision and strategy, our efforts to collaborate with other brands on sustainability, and extend our standards throughout the supply chain, including mills and sundry suppliers. Follow him on Twitter @KoboriGrillsCSR.
Like this story?
Sign up for the Unzipped newsletter to get the best of the Unzipped blog — company news and views, employee profiles, innovation and sustainability stories, behind-the-scenes and Archives highlights — sent straight to your inbox weekly.
Infographic Sources:
1,3,4 http://www.epa.gov/osw/nonhaz/municipal/pubs/2012_msw_fs.pdf
2 http://www.weardonaterecycle.org/
5 http://goldengatebridge.org/research/crossings_revenues.php
6 http://ddoe.dc.gov/sites/default/files/dc/sites/ddoe/publication/attachments/GHGinventory-1205-.pdf
7 https://www.virginamerica.com/cms/corporate-responsibility/transparency
8-10 http://www.epa.gov/osw/nonhaz/municipal/pu bs/2012_msw_fs.pdf; Glass bottle based on weighing empty 12 oz bottles of reeds ginger bear and plastic bottle based on weight of 20 oz Coca-Cola bottle weights (without caps), 2015
[Feature Photo Credit: Terrell Lloyd, San Francisco 49ers]