March 17, 2015
Today LS&Co. announced a milestone we're really proud to share — we've saved one billion liters of water since 2011 through our Water<Less process, which reduces the water used in garment finishing by up to 96 percent.
Nope, that's not a typo. One BILLION liters of water!
To put that into perspective, that's equivalent to:
165 million toilet flushes
Or 10.56 million 10-minute showers
Or 3.9 million bath tubs
Why is reducing water use so important to us? Water is essential to our business: every step of the process to create a garment requires water — from the cotton fields to manufacturing facilities. And in an era of increasing water scarcity, we recognize that water is essential for communities, agriculture, and a multitude of other industries.
A New Environmental Impact Study
As part of our ongoing water conservation efforts, we're also sharing a new Product Lifecycle Assessment (LCA), which is an update to our groundbreaking 2007 study on the environmental impact of our products.
Our new study analyzed the complete product lifecycle of a pair of jeans. It probed deeper into the environmental impacts of cotton in key growing regions, apparel production and distribution in a range of locations, and consumer washing and drying habits in key markets.
The LCA found that cotton cultivation continues to consume the most water over the lifecycle of a jean (68 percent). To reduce the impact of cotton consumption, we're working with the Better Cotton Initiative® (BCI) to train farmers to grow cotton using less water. We plan to continue working with our global suppliers, with the goal of sourcing approximately 75 percent Better Cotton by 2020, up from six percent today.
Beyond cotton, the LCA findings serve as a foundation for our company's ongoing sustainability efforts. Our 2007 study led to the launch of our Care Tag for the Planet initiative. Likewise, innovating around the constraint of reducing water in the jean manufacturing process led to the creation of our Water<Less process and the apparel industry's first  Water Recycle/Reuse Standard.
Considerations for Consumer Care
But we can't do this alone. Our latest LCA findings underscore the need for people to start rethinking the daily tasks they do out of habit, like washing jeans after every wear. Of the nearly 3,800 liters of water used in the lifecycle of a pair of jeans, consumer care has the second-highest impact on consumption, after cotton. We found that by wearing jeans 10 times before washing, American consumers can reduce their water and climate change impact by 77 percent, UK and French consumers by 75 percent and Chinese consumers by 61 percent.
In order to help consumers better understand their environmental impact, LS&Co. created the "Are You Ready to Come Clean" quiz. By sharing some basic information about your washing and drying habits, you can find out how much water and energy you use compared to average consumers in the U.S., U.K., France and China. After taking the quiz, we hope you'll click our #WashLessPledge and commit to washing your jeans less often (or not at all!) between World Water Day and Earth Day.
When it comes to conserving water, no action is too small. So go ahead, squeeze a few more wears out of your favorite blues. Together we can do our planet and future generations a favor by working to protect this limited resource.
ABOUT THE AUTHOR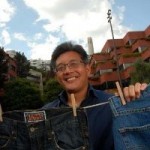 Michael Kobori is the Vice President of Social and Environmental Sustainability at Levi Strauss & Co. He leads the development of LS&Co.'s environmental vision and strategy, our efforts to collaborate with other brands on sustainability, and extend our standards throughout the supply chain, including mills and sundry suppliers. Follow him on Twitter @KoboriGrillsCSR.