September 4, 2023
San Francisco is our home — since our founding in 1853, the city has shaped Levi Strauss & Co. into what and who we are today. That's why we're more committed than ever to be a positive force for change here in our hometown.
As our city emerges from a once-in-a-lifetime pandemic and grapples with new challenges, LS&Co. is reaffirming our ties to San Francisco — and we're taking action to demonstrate our commitment, with the help of our fellow community members.
Over the next two years, we plan to distribute $500,000 in grants to local nonprofits, rally the business community to join us in supporting revitalization and harness our people power by creating volunteering opportunities through which employees can help drive positive change within San Francisco.
We have already taken significant steps in this endeavor. For instance, we renewed our office lease at Levi's® Plaza, bringing employees back to our headquarters and contributing to local businesses. We've also awarded multiyear grants to local nonprofits and established a partnership with the Civic Space Foundation (CSF), a grassroots community organization dedicated to piloting innovative approaches to revitalizing San Francisco neighborhoods through music, cultural events and ongoing community volunteerism.
Earlier this year, as part of our partnership with CSF, LS&Co. "adopted" the 500 block of Larkin Street (between Eddy Street and Turk Street) in the city's Tenderloin district, committing to numerous community-based volunteer projects on the block throughout the year. Though the area certainly has it challenges and is often pointed to as evidence of San Francisco's failings, the neighborhood is also home to amazing small businesses such as the iconic Phoenix Hotel, Chambers Eat + Drink, SF OrganiCA, Emperor Norton's BoozeLand and lunch-counter institution Saigon Sandwich. CSF believes, as do we, that targeted funding, volunteer efforts and initiatives to drive traffic to the neighborhood can support these businesses and provide a boost to the local community.
To that end, earlier this month, dozens of LS&Co. employee volunteers met at the block to help prepare the corner of the Phoenix Hotel for a new fence and community mural, projects that will be visible to neighborhood residents and visitors alike. In addition to our efforts on the ground, we awarded a $100,000 grant to the CSF that will support other businesses on the block by providing $5,000 stipends for physical upgrades like installing new awnings, replacing windows, adding security gates and installing new lighting and public art.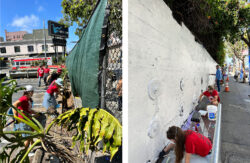 "These efforts are important to bring joy to local communities and let them know others are supporting them," said Alexis Bechtol, LS&Co.'s director of community affairs. "They're also significant to our employees, who are able to give back to the city in meaningful ways and really feel the deep connection between LS&Co. and San Francisco in action."
As recently highlighted by the San Francisco Chronicle, this work is making a difference for the businesses in the block and the broader community. We'll be doing more work in the neighborhood — and in the city more generally — in the coming months. We believe in San Francisco as strongly as we did when we started more than 170 years ago, and we will continue working with our partners to support this city that we love.