January 12, 2023
Much like the blue jean, giving back is part of LS&Co.'s heritage. It is embedded throughout our business and is how our company and employees show up authentically in our communities.
Each year, employees across corporate, retail and distribution give their time, voices and financial contributions to the causes they care about. Whether they donate, use their paid time off to volunteer, rally their teams to volunteer together or raise their voices to advocate for their communities, LS&Co. ensures their efforts make an outsized impact.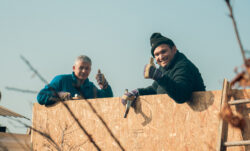 In 2022, LS&Co. employees came together to give back time and time again. Here are just a few examples of how they contributed to our communities over the past year:
Starting off the year, employees in Asia honored the Lunar New Year by pledging to donate $88 to organizations serving local communities. The number 8 signifies luck and prosperity in Chinese culture!
Employees in Europe stepped in to help some of the more than 3 million people displaced by the conflict in Ukraine. Corporate employees offered shelter to those who needed it and more than 700 employees at our factory in Plock, Poland, sewed bags for medical kits and collected needed items for refugees.
During our first in-person Community Day since 2019, thousands of employees in 50 cities, from Paris to Sao Paulo to San Francisco, rolled up their jeans in support of community organizations. In Chile, for example, employees helped build housing for vulnerable families, and our India team followed suit by helping increase access to clean water infrastructure.
U.S. employees once again showed their commitment to civic engagement by volunteering at the polls and helping friends, family and colleagues register to vote in more than 160 U.S. cities. Our voting captains helped lead these efforts by assisting nearly 500 voters with registration, polling location information and ballot overviews.
Levi's® retail employees continued to redefine the role of a store leader by rallying colleagues to volunteer with local organizations every month. In addition to volunteering, the U.S. and Canada retail teams collected over 6,000 pieces of donated clothing and hygiene products for homeless shelters and collected and distributed more than 1,380 backpacks for students. As New York store manager Marc Pendell said, "We don't just sell jeans."
To close out the year, employees stepped in during the holiday season to help address hunger, support vulnerable communities and support organizations advocating for civil rights and social action, with over $250,000 in donations on Giving Tuesday. Retail teams collected 27,500 cans of food for local food pantries.
In 2022, an incredible one in four employees gave back and helped drive almost $2.2 million to over 1,600 community organizations around the globe. This includes $1.9 million in employee donations, an additional $357,000 in team volunteer grants and over 18,000 volunteered hours.
LS&Co. employees continue to demonstrate our values and make our profits through principles approach a reality. To our wonderful employees, we thank you for continuing to show up for your communities and for one another, and for being incredible LS&Co. ambassadors.