June 7, 2022
Throughout LS&Co. history, we've been a vocal supporter of equality and nondiscrimination. We've demonstrated this by taking action — like our decision to desegregate our factories a decade before it was mandated by law or when we extended health benefits to domestic partners over 20 years ago. Our unwavering commitment to responding to the ongoing HIV/AIDS crisis is a natural extension of how we take a stand against discrimination.
The early years of HIV/AIDS were marked by fear, and no one talked openly about it, especially in corporate America. But LS&Co. broke the silence in the hope of making it "safe" for other companies to join in the fight to end the epidemic. This month, one of our local nonprofit partners, the National AIDS Memorial Grove, will mark the 35th anniversary of the AIDS Memorial Quilt with a historic outdoor display in San Francisco's Golden Gate Park on June 11 and 12 featuring nearly 3,000 hand-stitched panels of the quilt. Stitched into the quilt are several Levi's® panels commemorating those lost.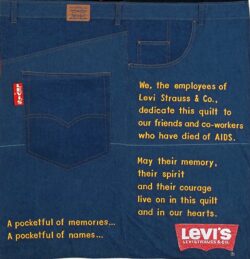 "For me, the quilt is a powerful symbol of the magic that happens when people take action in a very grassroots and authentic way, putting aside their differences and uniting to create community with a shared sense of purpose," said Maurice Kelly, co-chair of the LS&Co. AIDS Action Group.
The quilt, considered the largest community arts project in the world, has surpassed 50,000 individually sewn panels with more than 110,000 names stitched into its 54 tons of fabric. The quilt continues to connect the history of the HIV/AIDS epidemic to the ongoing fight against stigma and prejudice through hundreds of community displays throughout the country and educational programs that reach millions of people each year.
Since 1983, we've invested $80 million from the Levi Strauss Foundation and the company into frontline HIV/AIDS nonprofits in more than 40 countries around the world. Through these local grassroots efforts, global policy changes and human rights advocacy, LS&Co. is committed to working toward an HIV/AIDS-free world.