May 9, 2022
Coming back to the office has looked different for every company – but last week, for Levi Strauss & Co., it was like we never left. On May 5, thousands of retail, corporate and distribution center employees gathered in person to give back for our 22nd global day of service, Community Day.
This year's Community Day was our first in-person day of service since 2019. Employees in 50 cities, from Paris to Sao Paulo to San Francisco, supported global community partners with over 2,500 volunteer shifts equating to about 7,000 volunteer hours. As a result of employees volunteering, nonprofits received over $100,000 in grants from the Levi Strauss Foundation.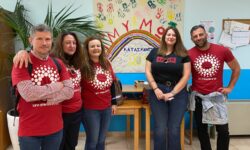 "Community Day has been a part of Levi Strauss & Co. for more than 20 years and is one of the ways our employees feel empowered to stand up, speak out and give back," said Chip Bergh, President & CEO of Levi Strauss & Co. "While coming together has looked different in the last few years, being able to engage our communities in person this year is something our people across our corporate, retail and distribution centers were really looking forward to, myself included. Volunteer spots filled up within hours, and I am proud to see us getting together to make an impact in our communities."
In San Francisco, where LS&Co. is headquartered, nearly 600 employees volunteered at 19 projects to support a variety of organizations that needed extra hands. From beautifying green spaces in Bayview, to distributing food in North Beach, to putting together care kits for seniors, employees connected with organizations that have been supporting our communities for decades and have been feeling the absence of volunteers over the last two years.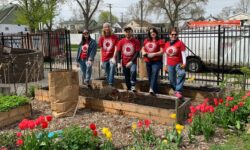 We are proud of our employees who showed up to help nonprofits around the world and are excited to see how they continue to raise their voices and stand together to make an impact, long after Community Day is over.
For LS&Co., getting together to give together is not a new thing — it's always been in our jeans.