March 28, 2022
Levi Strauss & Co. employees in Europe have stepped in to help some of the more than 3 million people who have been displaced by the conflict in Ukraine. While the company announced humanitarian aid and a 2:1 matching gift campaign at the outset of the crisis, and is continuing to assess the needs on the ground in partnership with our nonprofit partners – including donating product and offering employment opportunities to refugees — the number one priority aside from financial donations is housing.
That's why we're partnering with Airbnb.org to connect employees with refugees who need temporary shelter. Airbnb.org has been working to establish partnerships with international and regional nonprofits active on the ground who are responsible for booking and coordinating stays for refugee guests, regardless of nationality, race, ethnicity, or how they identify.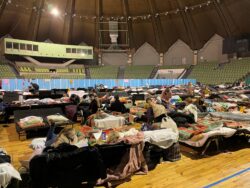 Levi Strauss & Co. employees can help in these efforts by offering temporary stays for free or at a discount. Employees from Warsaw to Miami can sign-up to host refugees, providing individuals and families fleeing war-torn countries with a warm home. The Red Tab Foundation, LS&Co.'s emergency assistance fund, is also standing by to support employees who have taken refugees (family or otherwise) into their homes and it has created a financial hardship.
As is often the case at LS&Co. though, employees have already graciously offered shelter to those who need it or have banded together to support in other ways. Employees like Tomasz, an employee in Warsaw who opened up his apartment to house six Ukrainian families, or the more than 700 employees at our factory in Plock, Poland, who sewed bags for medical kits and collected needed items for refugees. We talked with some of our employees to hear how they're helping.
Tomasz, Warsaw, Poland
After seeing people flooding into Warsaw, Tomasz couldn't stand by doing nothing. "It is paralyzing, it makes us speechless, it takes away appetite and strength, and it makes us feel helpless." Tomasz said. "That's why we are obligated to help." A director of Sales based in Poland, Tomasz moved out of his family home to offer housing to six Ukrainian families. He is also volunteering alongside other LS&Co. employees at a local shelter for people who don't have other housing.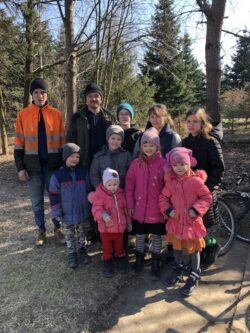 LS&Co. Factory Employees, Plock, Poland
In Plock, all 710 employees have been doing what they can to support Ukrainians, coming together to support their neighbors. The team collected funds to purchase a washing machine for a hotel where a number of refugees are being housed, and they are making donations to organizations on the ground. Employees also sewed 1,000 bags for medical kits for first responders and pulled together clothing donations.
Teddy, Plock, Poland
Teddy is a case manager for the Red Tab Foundation who processes requests for help from employees across Europe. Teddy's day job is to help LS&Co. employees who need emergency assistance, but over the last few months, as he was meeting people in his town who were fleeing war-torn countries like Ukraine, he felt like he needed to do more.
"Together with my friends, we transferred a family of 11 from Ukraine to Poland. Their father came to Poland three months ago to work, we got to know him, and he told us about his family (nine children), poverty and lack of safety. We decided to help them by bringing all of them to Poland. When the crisis was getting closer, we took a decision to do it immediately. They came to Poland one week before the conflict broke out with only their documents, the clothes they had on, a guitar and accordion — instruments the two eldest children play." Teddy has also found a house for them to live in, where they joined a refugee couple from Georgia that he has also been supporting.
We thank all of our employees around the globe who have stepped up to help refugees fleeing Ukraine and other countries.