December 1, 2021
Every December 1, we recognize World AIDS Day to bring attention to the HIV epidemic, increase HIV awareness and push for the eradication of the disease.
At Levi Strauss & Co., we have always recognized that HIV/AIDS is more than just a medical condition. We have also shown an unwavering commitment to confronting the injustices that fuel the epidemic: racism, homophobia and transphobia, gender inequality, poverty, stigma and discrimination.
In recognition of this important day, we sat down with LS&Co. Chairman Emeritus Bob Haas to reflect on the efforts of the company and his own role in the fight against this epidemic.
What inspired you to respond in the way that you did to the emerging AIDS crisis in the early 80s?
In 1982, a number of employees raised concerns about a little-known and potentially fatal disease. Although unnamed at the time, it would eventually be called HIV/AIDS. In keeping with our company's longstanding commitment to employee well-being, I joined employees who were handing out educational materials about HIV/AIDS at our corporate headquarters in San Francisco.
What did you hope to accomplish?
My primary goal was to demonstrate the company's full support for employees impacted—directly or through loved ones—by the epidemic.
Those early years were marked by fear. No one talked openly about HIV/AIDS – especially in corporate America. However, we understood that keeping quiet about AIDS was part of the problem. In response, we began to break the silence in the hope of bringing others along and making it "safe" for other corporations to join in the fight to end the epidemic.
We also knew that to make a real difference, we had to employ a wide-ranging approach to address HIV/AIDS in the workplace and around the world. This included education, policy change and robust community engagement. Since 1983, we've invested $80 million from the Levi Strauss Foundation and the company into frontline HIV/AIDS nonprofits in both the U.S. and more than 40 countries around the world.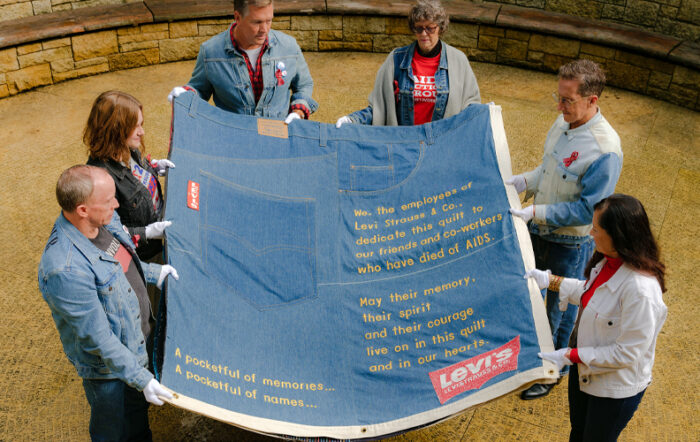 How have your pioneering efforts on HIV/AIDS changed not only the company, but also corporate response to social issues?
We believe that HIV/AIDS is more than a medical condition. It's also a problem compounded by politics, racism, homophobia and transphobia, gender inequality, poverty, stigma and discrimination—in other words, HIV/AIDS is a social justice issue.
Until very recently, most corporations were afraid to wade into social justice issues. But over the last 18 months the COVID-19 pandemic and the spotlight on racial justice have changed the landscape. Many companies are beginning to realize that they have a moral obligation to take on the issues and events of our time on behalf of their employees, consumers, shareholders and communities. While this is new territory for most, our integration of our U.S. sewing factories in the 1960s and 40-year fight to end HIV/AIDS demonstrate that we aren't afraid to take risks and serve as an example for others to follow.
More recently, we were among the first to use our voice and philanthropic investments to curb gun violence and bring more people into the democratic process through voting. Now hundreds of companies have joined our efforts.
What do you feel is the biggest challenge to ending this crisis once and for all?
Too many people are still dying from AIDS-related illnesses. Unfortunately, the COVID-19 epidemic has drawn attention and resources away from fighting HIV/AIDS. We risk losing hard-earned gains in eliminating HIV/AIDS as the world battles two pandemics. Both affect the most marginalized in society and are enabled by structural racism, stigma, discrimination, and unequal access to health care. While we've made great progress, the fight is far from over.
Hear more from our employees on this issue over on levi.com.