August 12, 2021
Shared values are a key foundation to any great relationship.
According to the co-founders behind Beyond Yoga, it was those foundational values that brought the premium athletic and lifestyle apparel brand and Levi Strauss & Co. together. The two companies jointly announced last week the signing of a purchase agreement for the sale of Beyond Yoga to LS&Co.
"I have always had one goal: to make women feel good in their bodies. Beyond Yoga was created with this mission in mind, and it has served as the touchstone of the company," Jodi Guber Brufsky, founder and Chief Creative Officer said last week. "It was important to me that when the time came, the company would move into the hands of someone whose values matched ours. We are so excited about this partnership and look forward to a successful future."
Now that Beyond Yoga is officially joining the LS&Co. family, we sat down with brand co-founders Jodi Guber Brufsky and Michelle Wahler to talk about the recent acquisition announcement and what it means for the future. 
What initially appealed to you about our company?
Jodi: When the Levi's® "Circles" commercial came out, it totally spoke to us on so many levels because we saw that the company stood for diversity and inclusivity across all areas — gender, age, size, race, etc. — all the things that we are about. It really touched our hearts and minds. So, when Levi's® reached out to us for this partnership, it reignited all the feelings in our heart and mind and we knew it was right.
Michelle: Levi's® is iconic, but not just because of the brand and clothing, but for the emotion and feeling it evokes. It speaks to quality, living life your way and being true to yourself. You don't wear Levi's® products because someone tells you to. You wear them because you want to. A brand where both teenage girls and Willie Nelson can wear the brand is exactly what we want for Beyond Yoga. No matter your age, lifestyle, religion or where you live in the world, we are all connected via Levi's®. We want Beyond Yoga's mission to transcend just like Levi's® — everyone is welcome, everyone fits in with us.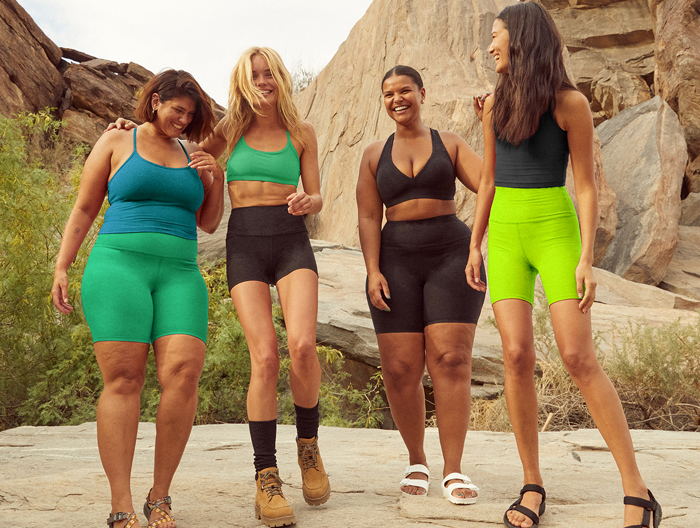 What excites you most about this endeavor?
Michelle: I am most excited for our team and brand. We are all in on female empowerment, and I want our team and future members of our team to have more resources to grow and amplify our message. We are always careful to select amazing fabrics, fits and styles, and when it came to choosing a partner, we were just as careful. It was critical to us that we found a partner that would not change the ethos of our company and would honor the things that are important to us. We are looking forward to creating more brand awareness, expanding our physical footprint and expanding our product offering. My role is to ensure this amazing team and our brand have the resources needed to achieve their goals professionally, and I am probably the most excited that we are helping secure a foundation and partner for that growth.
Jodi: Besides everything!? I said to Michelle when I first met her, "The universe is in support of Beyond Yoga." I know that's going to sound hokey, but it really did from day one. I used to send stuff to celebrities like Cindy Crawford and Reese Witherspoon and they would be like, "No, no, we're going to go buy it. We want to support you." We've just always been really, really supported. And this endeavor only builds on that support.
What can Beyond Yoga consumers expect with this move?
Jodi: More of the awesomeness that we already offer — and standalone stores, which consumers have been asking for a long time. We have been very, very strategic about waiting while we've built up our ecommerce business, and we wanted to make sure that we were strong and stable. Our future brick-and-mortar stores will deliver the full brand experience and will finally be an opportunity to go to one place to touch, feel and experience the Beyond Yoga brand.
Michelle: I hope not much. Our consumers love our buttery soft products and rely on a certain level of quality from Beyond Yoga. Not only are our clothes comfortable, they also have technical properties that withstand the test of time. That will never change. It is what my team obsesses over, and what makes us unique. We hope to gain more consumers and new accounts and expand our line to meet the needs of a world ready for a company like ours. I think a lot of the changes will be focused on that expansion and how we execute our business. I think we have a lot to learn about sustainability and innovation from LS&Co. I think those insights will help our team to be even stronger, move faster and, if I am being honest, make fewer mistakes since we now have 150 years more of experience to draw from!
Why this is a great opportunity for both brands?
Michelle: With everybody working from home right now and the casualization of how people are dressing, I think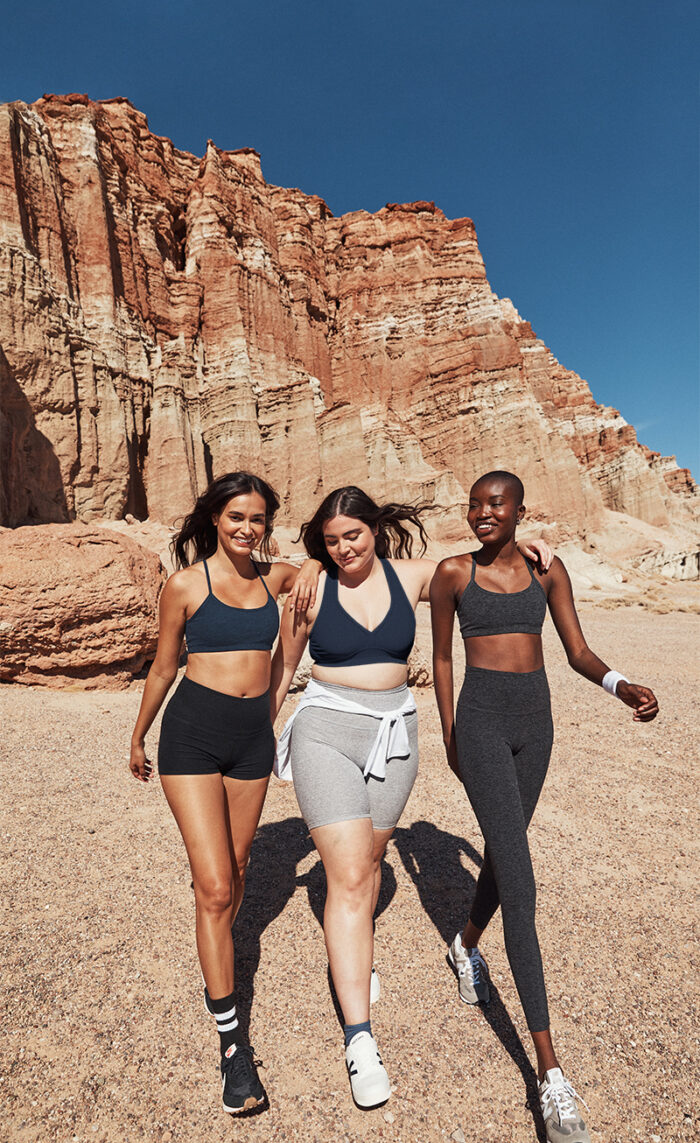 Levi's® and Beyond Yoga are in a prime spot to reach more consumers and become a staple of everyone's wardrobe. Most people are not wearing leggings exclusively, and most people are not wearing jeans exclusively. So, I think we have a nice opportunity to cross market and make sure everyone's wardrobe is made up of both. Then they don't need anything else — it's leggings and Levi's®.
Beyond Yoga offers a wide range of products that supports a California casual lifestyle, from athleisurewear to activewear. Our tanks and tops are a great layering piece to wear with jeans or matching leggings alike. We've always been a brand that keeps you comfortable as you move throughout your day, wherever your day takes you, much like Levi's®.
We also look forward to giving our consumers a physical location to touch and feel our products as we roll out retail locations. With the expertise of the Levi's® team, we can use data to make smart decisions that set us up for success.
For Levi's®, they are staying true to their brand in knowing what they are good at: denim. This partnership will expand their portfolio into the athleisure market that has become so popular after this last year of working from home.
Beyond Yoga is defined by its approach to body positivity, a movement that has really gained momentum in the last few years. How will you continue to build on that momentum as a brand under this new acquisition?
Michelle: Body positivity and inclusivity have been the core foundation of the Beyond Yoga brand since it was founded. they are part of who we are, how we build our team, how we design the line to fit people of all shapes, sizes and backgrounds. Under the LS&Co. umbrella, we will have the opportunity to magnify our message of inclusivity further and reach a larger audience. We love that brands are joining this movement, but it's just that — a movement, and not a moment. We want people to understand this isn't just a slogan, this is more than 17 years of hard work to build a company that not only creates amazing products but does so in a manner we are all extremely proud of. Partnering with a company like LS&Co. is only going to show our team, consumers and other partners how seriously we take these beliefs and that we want to ensure Beyond Yoga can continue to do this for the next 20+ years. I look forward to a time when Beyond Yoga's core beliefs of body positivity, female empowerment and inclusivity are commonplace in the fashion industry and our world.
Jodi: The initial goal of our brand was to celebrate — to celebrate women, their bodies and self-love and encourage them to love who they are right now, today. It's really important to us to get the messaging out so more people can experience the authenticity and integrity of what the brand is and be part of our family.