August 4, 2021
We are nothing without our people. The people who are driven each day to build upon the long legacy of Levi Strauss & Co. Since 1873, our jeans and those who contribute to their design and production have been an inspiration — and a symbol — for unwavering originality. We're 'In Good Company.'
Ella Clausen has a particularly unique role with Levi Strauss & Co. — as she puts it, it's her job to tap into the kindness of the company.
As communications and grants coordinator for the Red Tab Foundation (RTF) — our in-house nonprofit organization that provides emergency financial assistance to employees and retirees in need — Ella is responsible for not only ensuring employees across the globe are literally getting support, but also telling the story of the foundation. And it's a story she's all too happy to share.
"As I see it, RTF is a catalyst for kindness between employees. We're the connective tissue that channels this good energy from people who want to care for others in their community," Ella said about the foundation that is funded largely by employee, as well as shareholder and retiree donations. And while not all donors are grantees, many often can be both. "We make that ask or facilitate that kindness between those who want to give and those who need help or some assistance."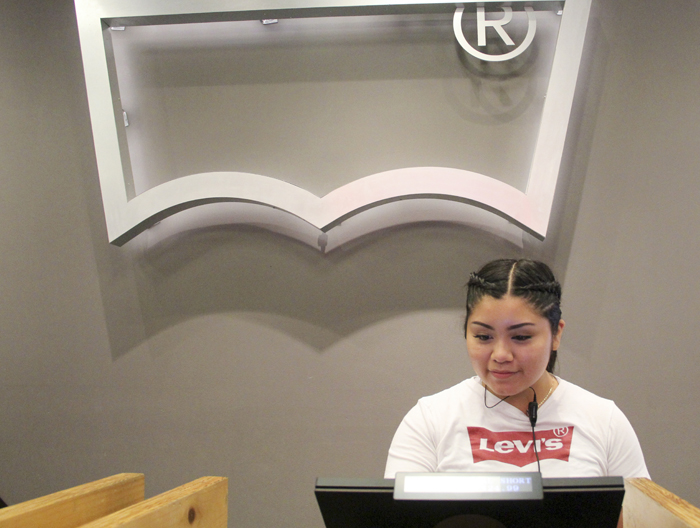 That work has never been more critical. COVID-19 shifted needs in ways that required RTF to be agile. When the pandemic was in full swing, the foundation quickly tweaked grant guidelines to address requests unique to the pandemic. Think of an employee needing to cover costs for new modes of transportation when public transit was no longer an option or someone grappling with higher childcare costs when kids could not go back to school.
Then there was the mother of two who faced one hard knock after another. The financial strain caused this employee to hit a breaking point where she was about to be evicted from her home. So, she reached out to RTF which was able to help with back pay for rent and groceries so that she could regain her financial footing. It's stories like these that speak to Ella on a personal level.
"I grew up with a single mother who raised two of us on her own and just worked so hard as a nurse without a lot of help and without a safety net," Ella recalled. "So, when I see that RTF is helping some of these single mothers… those stories really hit so close to home for me. I understand how tough it can be to raise a family on a single income. People's financial lives are so fragile, especially these days. I'm so glad that we're able to help people before their financial downturns can spiral out of control."
Whether they know it or not, that help is available to all LS&Co. employees and retirees. Many can't fathom the fact that the foundation is solely there as a safety net for anyone in our LS&Co. community. But that was precisely the goal of our founder, stock boy-turned-executive Jerry O'Shea, and 40 years later the foundation is going strong.
When she started back in March 2020 right before lockdowns were implemented, Ella said she had no idea how relevant her work would ultimately be. "I didn't know that RTF would be such an integral part of the company's response. We've doubled the amount of giving from before COVID-19. So, it was really serendipitous to join the organization at a time when our work was so needed and relevant."
Of course, the pandemic also forced Ella to navigate her new job entirely remotely. Like many of us, she picked up a side hobby — learning to sew and make clothes, which puts her in good company to connect with those who do the same for LS&Co. someday. But her unconventional working environment never caused a chasm between her and the job at hand.
"I've just always wanted to make a positive impact," she said. "And I love that the foundation so tangibly makes a huge difference for people. Getting to be a part of people's lives and touch people individually — it's what inspires me every day."
Hear more from Ella on her role: