March 24, 2021
In recognition of International Women's Day and Women's History Month, a few of our women employees shared how Levi Strauss & Co. managed to support them through a year rife with struggle and a global pandemic — all while they kept their day jobs.
"The first thing we can continue to do is be aware of the challenges that women are continuing to face," said Elizabeth A. Morrison, Chief Diversity, Equity and Inclusion Officer at Levi Strauss & Co. "We need to become more versed in the particular challenges of our employees and build solutions that will help them to navigate those challenges and really provide a better quality of work-life and life."
Whether it was giving these women a platform to use their voices or providing useful benefits to balance personal challenges, here's what they shared about the different ways the company helped them in recent months.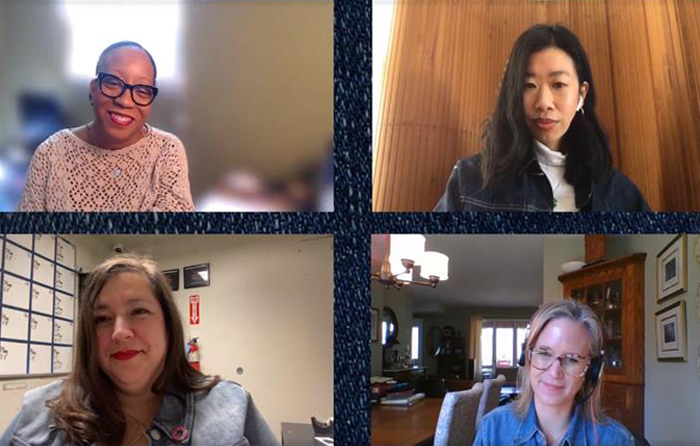 Connecting through shared values
Sadly, Covid-19 was not the only horror to surface in 2020. With the virus came an increase in anti-Asian discrimination that shook Carly Yu to her core. "I remember watching the videos of the 91-year-old Chinese man shoved to the ground in Oakland's Chinatown and the 84-year-old Thai grandfather pushed so hard into the pavement that he died from this injuries. It just absolutely gutted me," she said.
So, Carly leaned on her community, including the one she's found here at LS&Co. through our Asian Employee Resource Group. Carly and the ERG were instrumental in finding the right ways to help our employees better manage racial trauma and stress. They worked with leaders to ensure mental health resources were in place, bystander intervention trainings were set up for employees, and that our allyship with Asian-American communities were demonstrated through grants from our company and the Levi Strauss Foundation.
While the recent events have been a trigger for many in the community, it's also been a catalyst for more conversation, action and change, and it's a critical moment for the AAPI community. Our voices are louder than ever." – Carly Yu, Brand Marketing
The benefit of paid leave
The course of Kate Wagner's personal life shifted long before COVID-19. In 2019, she was nearing the end of an assignment leading our European Corporate Affairs team out of Belgium when her father was diagnosed with a serious lung condition call idiopathic pulmonary fibrosis. She, her husband and their two teenaged kids had a decision to make.
"We were really struggling with how we could re-shape our lives and be there for my parents," Kate said. "It was a difficult decision, but we ended up moving back in with them in Maryland."
It was a decision she says she was only able to make with the support of the company's benefits. "I felt supported and empowered to make that big life decision in large part due to our paid family leave program, which allowed me to think flexibly and differently about how I would balance that challenging time of taking care of my kids through an international move, a global pandemic and being able to help take care of my parents," Kate said.
The move ended up giving her time to properly say goodbye to her father, who passed in 2020, as well as the chance to retain her career with LS&Co. "There are times when I have absolutely been all in on work… but there have also been times when I've had to shift focus and be all in at home and with my family. And choosing a role and a team and a company that not only makes that possible but supports and encourages it is as important to me as any title or success I will achieve."
Finding support through community
As Becky Pogers recalled it, it was one of the longest commutes home of her life. It came in 2014 following a doctor's appointment for her youngest son, Gabriel, who was diagnosed with both autism and ADHD. "In 2014, I was at the top of my game from a career perspective and I'd like to think from a mom perspective. I'd figured out how to juggle it all," said Becky, a Levi's® outlet store manager based in Milpitas, California. That all changed that day.
Following the diagnosis, she started to wonder how she'd regain her personal and professional equilibrium. Becky began to research and reach out to those within the local special needs community looking for solutions. She also looked to her employer and learned that she could cover some of her son's therapies through LS&Co.'s benefits program.
Then someone turned her attention to another benefit. "A family friend asked me, 'Well, have you spoken to your ERGs?' I had never even heard of an ERG."
Becky became a quick expert, however, and last year she became actively involved in our new Families with Disabilities ERG. The ERG is dedicated to helping LS&Co. employees navigate the challenge of caring for a family member with special needs while balancing their careers. It's turned into a great resource for Becky, in more ways than one.
"On a personal level, this work has really just fulfilled me in a way I really didn't even know I needed until I started to kind of work with all of my partners on my ERG," she said. "I cannot fix autism. I cannot fix my son. So, I have to accept what I can do to live in this sort of arena. But I have been blessed to have this beautiful community around me and friends, family and extraordinary teachers who have helped us along the way."
Here at LS&Co. we are proud to provide benefits and support to all our employees who are navigating personal challenges so that they can better balance all aspects of their lives, both at work and at home.