February 26, 2020
Every year, we celebrate Levi Strauss's birthday by awarding a grant to an organization that reflects his legacy of profits through principles. As this is both an election year in the U.S. and the 100th anniversary of women's right to vote in this country, it's only fitting that we're presenting a Levi Strauss Legacy Grant to IGNITE in support of its campaign to get young women educated, registered and to the polls.
It's a cause we think Levi, an ally to women during his time, would be proud of. In fact, half of the recipients of the first Levi Strauss Scholarships at the University of California, Berkeley, were women — and that was in 1898, more than 20 years before women had the right to vote in the U.S.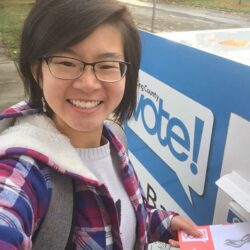 IGNITE, the largest and most diverse young women's political leadership program in the U.S., is a nonpartisan 501c3 organization that trains and mobilizes more than 10,000 young women across 30 states to flex their political power each year.
As part of its work to engage Gen Z women and their families in the democratic process, IGNITE has launched the #IGNITEtheVote campaign, which activates Gen Z women on college campuses and neighboring communities and gets them to participate in voter engagement and get-out-the-vote efforts. The end result? IGNITE women registered voters at three times the rate of their Gen Z peers, encouraged their peers to vote at two times the rate of their peers and a whopping 90% of IGNITE women voted in the 2018 midterm election compared to 35% of the Gen Z population.
Along with our corporate support of #IGNITEtheVote in 2020, U.S. consumers visiting Levi.com can choose to donate to IGNITE at checkout throughout March and April. IGNITE college women will deliver nonpartisan interactive ballot education sessions at LS&Co.-hosted venues and on their college campuses. And last but certainly not least, we'll also line up volunteer opportunities for our employees to participate in voter engagement efforts alongside IGNITE leaders. Stay tuned for more ways to get involved in the coming months.