November 11, 2019
This Veterans Day, we honor the sacrifices of our veterans and active duty military members as well as recognize those who take care of them when they come home.
The official statistic is 129,972. That's the number of people in California experiencing homelessness on any given day, according to the U.S. Department of Housing and Urban Development. Of that total, 10,836 are veterans.
A San Francisco Bay Area resident, Nancy Lacsamana has long been concerned with the homelessness crisis, spending the last 25 years supporting Larkin Street Youth Services and Compass Family Services to address youth and family homelessness. So, when she heard that the nonprofit Mercy Housing was constructing Veterans Village, the first veterans-only housing facility in the Bay Area, she knew she had to get involved.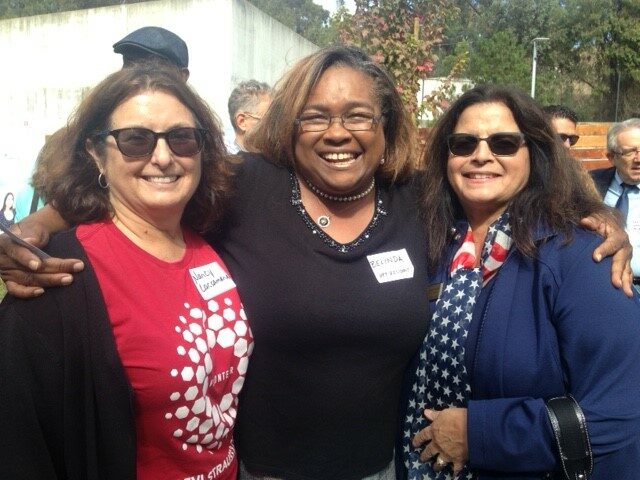 "I've always been interested in seeing what can make a difference with the homeless population," Nancy, a senior planner for Levi's®, said. "My ears perked up when I heard that this facility is 100 percent affordable housing for a specific population that has been marginalized."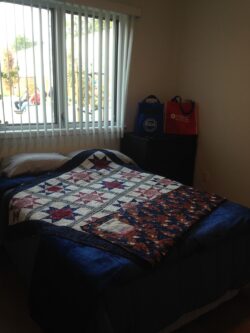 The 65-unit Veterans Village opened this past August in Colma and offers low-income military veterans a community that is both vibrant and "extremely affordable," with rent capped at just 30 percent of the resident's income. Each unit comes with a bed, table and microwave as well as some bath and kitchen supplies. It also provides wrap-around services to its residents, including on-site social workers, substance abuse counseling and referrals to primary, preventative and behavioral healthcare.
Because many veterans were moving in with few basic necessities, the organization called on the local community for donations — and that's where Nancy stepped in.
She started by contacting major retailers and charity groups. No one said no, which was "the fun part," Nancy said, but contributions were only a few hundred dollars at most. Hoping to make a bigger impact, Nancy contacted the Levi Strauss & Co. Community Affairs team and received $60 vouchers for each veteran to use at Goodwill.
"The vouchers are perfect because each person is coming with a different need," Nancy said. "Some may need clothes right away; some may need kitchen equipment. The vouchers allow them to get items at their own leisure and make their own decisions on what to buy."
Nancy took the vouchers home and attached notes to each one with directions to the nearest Goodwill. She put them in bags she had acquired from a local public transit company, along with educational materials on how to apply for a metro card and some groceries. Adding a personal touch, she provided succulent plants for each unit, giving the new homes a little extra life.
"When we can find ways to support veterans who have given and sacrificed so much for all us, we are saying thank you in a more personal and meaningful way," Nancy said. "It was an extremely rewarding experience to hear their stories, their obstacles and how they are working to move forward."