June 25, 2019
Equality and nondiscrimination in the workplace are core values to Levi Strauss & Co. and integral to how we do business.
Ensuring inclusivity in our workplaces and communities is both the right thing to do and simply good business, which is why we continue to stay engaged in the battle for equality on many fronts, with a long history of supporting the LGBTQ community.
We have been advocating for the rights of the LGBTQ community for nearly three decades, and as we celebrate Pride Month, we proudly look back at the ways we stood up for equality and nondiscrimination in the past year alone.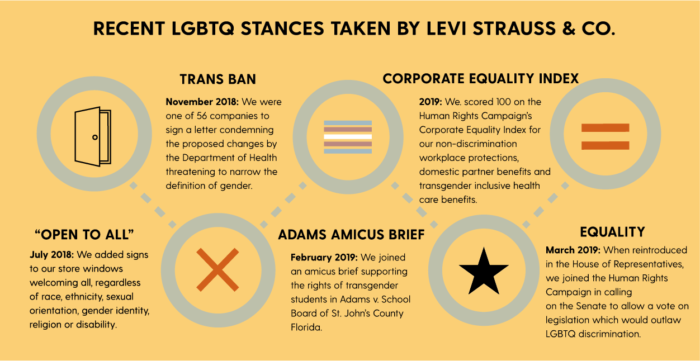 Open to All
In July 2018, nearly 200 of our Levi's® and Dockers® stores nationwide added an "Open to All" sign to their windows. The message is simple: Everyone is welcome, regardless of race, ethnicity, national origin, sex, sexual orientation, gender identity and expression, religion or disability.
Transgender Ban
In November 2018, after the New York Times published a story that the Trump administration's Department of Health and Human Services was considering "narrowly defining gender as a biological, immutable condition determined by genitalia at birth," LS&Co. was one of 56 companies to sign a letter condemning the proposed changes while expressing support for the transgender community.
Adams Amicus Brief
In February 2019, LS&Co. joined an amicus brief before the Eleventh Circuit supporting the rights of transgender students in Adams v. School Board of St. John's County Florida. Drew Adams, a transgender boy, filed suit against his local school district after being denied access to the boys' bathroom. 
Corporate Equality Index
LS&Co. scored a perfect 100 on the Human Rights Campaign's Corporate Equality Index for the 16th year in a row. Companies are evaluated based on their LGBTQ-related policies, including non-discrimination workplace protections, domestic partner benefits and transgender inclusive health care benefits.
Equality Act
When introduced in the U.S. Congress in July 2015, we were one of three companies to publicly endorse the Equality Act. When it was reintroduced in the House of Representatives in March 2019 (failing to pass twice before), we joined the Human Rights Campaign (HRC) and 160 other corporate sponsors in calling on the Senate to allow a vote on this crucial legislation, which would outlaw LGBTQ discrimination.  
Supporting Nonprofit Partners
We continue to provide grants to the organizations engaged in the fight for LGBTQ equality. As part of the Levi Strauss Foundation's Rapid Response Fund we supported the Transgender Law Center who mobilizes advocates against discriminatory legislation.
Inspired by the power of emerging youth leaders, we also partnered with the Human Rights Campaign to fund the HRC Foundation Youth Ambassador Program. These youth are engaging in advocacy on the most pressing issues LGBTQ youth face and are serving as powerful voices in support of the Equality Act.
And for the third year in a row, we provided a grant to Project One America to support HRC's effort to expand LGBTQ equality in the South through ongoing campaigns in Mississippi, Alabama, Arkansas and Texas.
Building on our legacy of support
Throughout our history we have been on the frontlines of social change, from integrating our factories in the south before it became law to extending health benefits to unmarried domestic partners in 1992 – the first Fortune 500 company to do so.
While we are proud to be part of the progress toward equality, more work needs to be done. Until everyone has a fair chance of success, LS&Co. will continue to speak out – and encourage others to do the same.
If you'd like to contribute to this cause, shop our 2019 Levi's Pride Collection now. One hundred percent of proceeds will go to OutRight Action International, which works to advance the human rights of LGBTQ people around the world.