May 24, 2019
Every year, employees who drive purpose into their roles both inside and outside LS&Co.'s walls get an opportunity to step out of their day to day jobs and comfort zones to experience life in the communities where we manufacture our products. Through the Levi Strauss & Co. Service Corps, employees get to witness first-hand the innovative programs that are improving the lives of those who are making our apparel at our facilities around the world.
The Service Corps immersion program has been connecting employees from across the company with the workers in our supply chain since 2015. This year, select employees will trek to Vietnam to see how our profits-through-principles approach to business fuels our commitment to improving the lives of the people who make our products –including seeing our Worker Well-being initiative in action and teaching the importance of clean, safe, drinking water via the Project WET curriculum.
In recognition of the program's fifth year, we asked employee alumni to share their experiences:
"Service Corps is a mind-expanding program that turns on the lights and shows the world to be much bigger and much better than expected. I came back more energized and committed to helping our leaders move forward by keeping them informed on our latest sustainability data and always keeping our company efforts top of mind!"
– TJ Toce, account planning manager (Service Corps Sri Lanka 2016)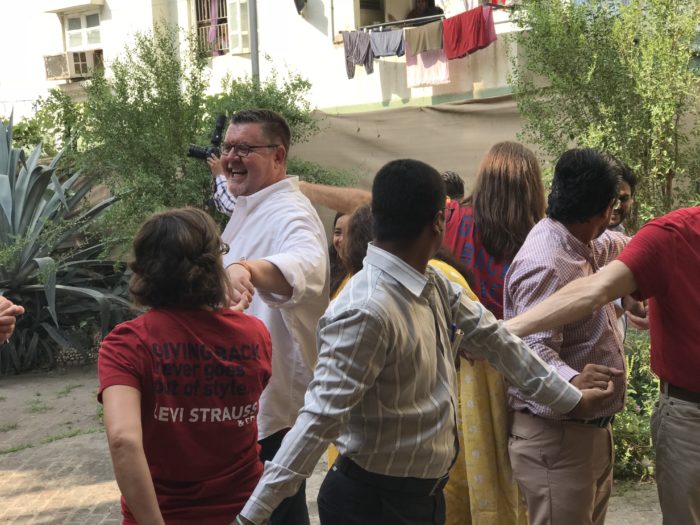 "I absolutely believe the trip has had a long-lasting impact on me! I have NEVER looked at the use and consumption of water the same … I think about how long I let water run, how much water I use when I shower, how fortunate I am to have clean drinking water, and on and on."
– Paul Highfield, senior manager, marketing (Service Corps India 2018)
"It's a fantastic, once-in-a-career opportunity! The Service Corps experience connects the dots between what we do at work every day and what the organization does at work every day. It truly gives you the chance to take an up-close look at profits through principles and the way we show up as an organization all around the world. And, on a more personal level, it definitely creates a stronger sense of global citizenry for the attendees, triggering a deeper sense of empathy after having the opportunity to be immersed into a community other than your own."
– Nicole Veach, district training store manager (Service Corps Mexico, 2018)
"It's a trip to put life into perspective … Putting yourself in an unfamiliar situation, where you are slightly uncomfortable or challenged, is where you will grow the most."
– Alison van Scheers, visual merchandiser (Service Corps India 2018)
"I applied to join the Service Corps in Mexico with great expectations in terms of what I could learn from the LS&Co. business by visiting a factory. I was not expecting, though, how much I could learn from the colleagues that I met on the trip. Being part of this experience together with them was very enriching and it gave me a new perspective on the business that I could not have imagined."
– Giulia Rosetti, digital marketing manager (Service Corps Mexico 2018)
Want to learn more about the program? Take a minute to hear from Kelly McGinnis, senior vice president of Corporate Affairs for LS&Co., whose team was responsible for the program's creation.