May 15, 2019
Located within Cape Town, South Africa is the industrial area known as Epping, where Levi Strauss & Co. has an owned and operated manufacturing facility and distribution center. Between the two facilities, more than 450 employees work here, but their needs go beyond just collecting a paycheck.
Recognizing the needs of our employees, the company has invested crucial resources, including an occupational health clinic on site with a full-time nurse to address immediate medical and occupational needs; a doctor and a social worker who visit the clinic on a regular basis; and a very robust skills development and training plan in place, among other amenities.
But despite all of these resources, employees here frequently face circumstances at home and in their communities that stretch them beyond their capacity to cope. That is where the Red Tab Foundation (RTF) comes in. The foundation – funded by employees, retirees and other company shareholders – provides education and proactive programs to employees in need to help them maintain their financial health. And at the heart of the Epping program is Lavinia Crawford Browne.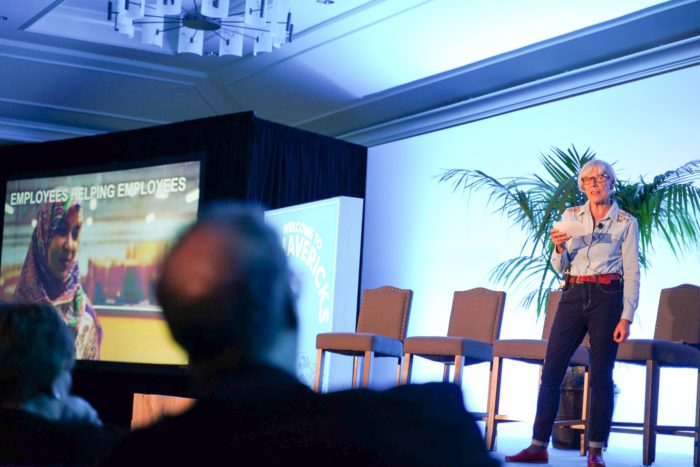 A Resource and Confidante
As the resident RTF case manager based here, Lavinia is not only seen as a critical resource by employees, but also a support system and a confidante. "That confidence and confidentiality I maintain between myself and these employees is very important because there are often personal things happening in someone's life that they don't want, say, Human Resources to necessarily know about," she said.
Lavinia's compassion was nurtured over decades working alongside one of the world's most preeminent activist leaders, Archbishop Desmond Tutu. She spent more than 20 years working for the South African theologian and continues to serve as a corporate liaison for the Desmond Tutu HIV Foundation when she's not at the Epping plants for her part-time RTF job. This week, Lavinia is showcasing her work to select LS&Co. employees who are taking part in a four-day immersion trip to see the foundation's work in action.
"What I really try to convey is that Red Tab is support, it's not the whole solution. And I think that's really very important because when people are in need, whatever the problem might be, they want that problem to go away," Lavinia said. "We may not always be able to do that, but there's always no harm in people coming and asking. And I think that's the important thing, that they feel that they can ask."
A Cycle of Support
Since 2008, RTF has made over 500 grants to support Epping employees and their families facing financial hardship. Through the schoolbooks and scholarship programs, more than 260 children of factory workers have furthered their education. RTF's tagline is "employees helping employees" and workers here not only ask, they contribute – nearly 40 percent of workers give money to the foundation, which allows everyone to feel truly invested into their own well-being.
"When I joined Red Tab two years ago, I found some of the very same values I learned working alongside Archbishop Tutu," Lavinia said. "Like LS&Co., Tutu also believes that every job is a service that should be recognized. He sees all people as equal. And that's what Red Tab does. It says to our employees, whether you're working in the head office or on the factory floor, we see you. We appreciate you and your service is meaningful."