May 9, 2019
Before she became the face of one of the nation's largest grassroots movements to combat gun violence, Shannon Watts had never stepped foot into a statehouse or shown up for a rally.
"I knew relatively nothing about my state or federal gun laws. I just knew that our nation was broken when it came to commonsense gun laws, and I wanted to be a part of restoring the responsibilities that go along with gun rights," Shannon said.
Her passion propelled her to action, leading her to found Moms Demand Action for Gun Sense in America, an organization linked with Everytown for Gun Safety which is the largest gun violence prevention organization in the country, boasting more than 5 million supporters to date.
As part of Levi Strauss & Co.'s gun violence prevention efforts, the company is partnering with Everytown to form a coalition of business leaders who believe business has a critical role to play in staunching the gun violence epidemic in this country.
Shannon spoke at our company's San Francisco headquarters this week for its annual Community Day, where employees around the world took the day to volunteer with various nonprofits in their communities. That included United Playaz, a San Francisco-based violence prevention and youth development organization connected with Moms Demand Action.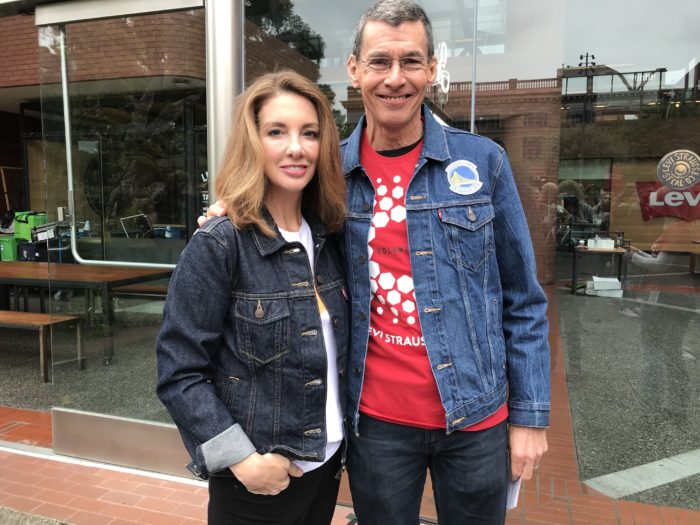 We had a chance to ask a few questions of Shannon, including how she remains motived in her work and what she considers some of her biggest accomplishments to date.
Since you began this movement, there has been some significant progress, but it also feels like gun violence now borders on an epidemic. How do you stay focused and optimistic when it comes to tackling this issue on a daily basis?
I wouldn't wake up every day and do this work as a full-time volunteer if we weren't winning. So often our work in statehouses and boardrooms – both offense and defense – gets lost in the media's desire for a cathartic moment in Congress. What I've learned since starting Moms Demand Action is that Congress is where this work ends, not where it begins. I always tell our volunteers that this is a marathon – not a sprint. Political change doesn't happen overnight – you have to build power and momentum and then you have to force change state by state, lawmaker by lawmaker, influencer by influencer. It's painstaking, but it works. 
What are your sources of inspiration?
I'm inspired on a daily basis by the gun violence survivors I work with; to me, there's nothing more heroic than gun violence survivors who fight to prevent perfect strangers from experiencing the same pain they've endured. I'm also inspired to keep my kids safe. One of my daughters is gay, one is a daycare teacher, one works at a retail outlet. Because of who they are or what they do, they're each vulnerable to experiencing gun violence. That's why so many volunteers get involved with Moms Demand Action – they experience a lockdown drill when their kids first go to school and they realize that we shouldn't live this way, and our children sure as hell shouldn't die this way. 
What are you most proud of when you think about what you've been able to accomplish related to the issue of gun violence prevention?
Moms Demand Action has passed laws to help disarm domestic abusers in 28 states since we started working on legislation in 2013. It's impossible to know exactly how many lives we've saved as a result but given that over 50 American women are shot and killed by former or current intimate partners each month in the United States, I'm sure it would be an astounding figure. Many of those laws were hard fought, multi-year battles, and I'm so impressed that our volunteers never give up – despite setbacks, they keep moving forward, year after year.
Here at Levi Strauss & Co., our CEO and the company has joined the fight against gun violence – how important is it to have leaders and corporations speak out alongside groups like Moms Demand Action/Everytown?
When I started Moms Demand Action in 2012, we were much like the marriage equality movement 20 years ago – influencers were afraid to touch a controversial issue. But just six years later, we're so grateful to have seen companies like Levi's make gun safety a part of their corporate policy platform. And other influencers are getting off the sidelines, too. This willingness to engage turbocharges our momentum as a movement and means we'll accomplish our goals that much faster. And time matters when American lives are on the line.
What advice do you have for those who want to make an impact on an issue that is important to them, yet aren't sure how their sole voice can make a difference?
I think I am living proof that someone who has no experience as an activist can make a difference – I was just a really angry mom of five living in Indiana when I got off the sidelines. The same goes for our chapter leaders – especially those living in states where their statehouses are run by lawmakers beholden to the gun lobby. Bottom line: If you're passionate about an issue and you just keep showing up (and you convince people to join you along the way), you will force change.