December 19, 2018
Customers at the new Levi's® Store in Times Square will find a few surprises for the holidays. Besides jeans and jackets, the store is selling tiny denim Christmas tree ornaments and a special denim Santa hat. The sherpa-trimmed hat with its red Levi's® Tab was inspired by a Santa hat worn by Levi Strauss & Co. Chairman Emeritus Bob Haas, or as he was better known during the holidays—Santa Haas.
"When I became CEO, I made an annual habit of going around the Plaza to each building and work station and shook everyone's hand," says Bob, "thanking them for their work." He made the rounds among employees at LS&Co.'s headquarters in San Francisco, visiting with company staff and making personal one-on-one connections. Bob recalled that it sometimes took one week to play Santa and greet workers.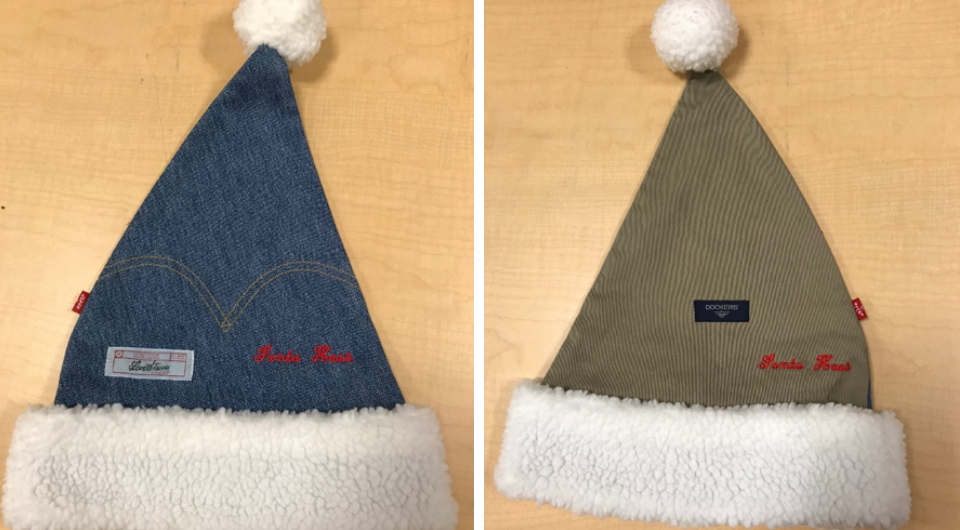 When he first started the tradition as Levi Strauss & Co. CEO in 1984, Bob wore a conventional red Santa hat, but later switched to a denim one. Once LS&Co. launched its Dockers® brand in 1986, famous for its khaki bottoms, Bob began wearing a hat with Levi's® denim on one side and Dockers® khaki on the other. The final touch? His name, Santa Haas, was embroidered in red.
Bob's annual custom made the holidays a little brighter. "People looked forward to this tradition," he recalled. Bob stepped down as CEO in 1999 but his personal connection with employees made a lasting impression people still recall fondly.
The Santa Haas hat is now part of the Levi Strauss & Co. Archives. The story, and the hat it inspired, will no doubt bring smiles to folks today, just as the original Santa Haas and his hat delighted folks then.