October 17, 2018
Our Quick Qs series is a chance to get to know more about new leaders at LS&Co. Meet Amy Yang, our new Managing Director of Greater China.
1. What attracted you to LS&Co.?
For me, nothing beats the thrill of joining Levi Strauss & Co., one of the world's most-loved, iconic apparel companies. It is an honor to embrace our rich heritage and to be able to engage Chinese consumers. As we all know, China is the #1 apparel market, however our size of business here is really small today. I cannot imagine a more fascinating challenge than this.  My past 20 years have equipped me with some fantastic experiences working with some amazing teams to deliver incredible breakthroughs and I am convinced that this is a historical moment in transforming the LS&Co. China business by building a high-performance team and delivering world-class results.
2. What does success look like in your job?
My vision for Greater China is to become a true market driver and deliver exponential growth through what I call FAST, which stands for:
Future: Be the fastest growing market and a growth engine for the future of Levi's®
Aspiration: Building brand aspiration and a true love of the brand for Chinese consumers
Sustainable growth: Claiming an indisputable leadership of the market
Talent: Building a world class team to lead China and beyond. Winning in China will not be easy but with world-class talent we CAN do it.  I strongly believe that the Greater China growth journey will be a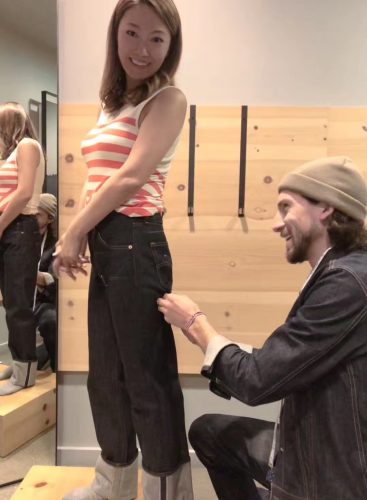 transformational process for both the business and the organization.
3. What is your Levi's® love story?
For me, it will be my own style transformation from a "dress & heel" Chinese girl – who was always in high heels and dresses – to a denim head.  I finally had my first pair of jeans tailor made at Lot 1.  I chose high rise, scarlet and rich gold stiches, alternating copper and silver rivets with a coin pocket up … a unique pair of jeans that expresses my personality and hugs my contour.  I have no doubt that it will spark a lot of conversations about this truly iconic brand in fashion-forward market like China.
4. What was your first job?
Two decades ago, I joined P&G as the China Tide Assistant Brand Manager.  The brand only had a 1.2 share of the market, did not make any profit for years and was at a point where it was going to exit the market.  Working with a group of talented men and women in the company, we reinvented the business completely. I personally led the innovation in what we called the China 3 sector (i.e. towns and villages) and designed a superior laundry detergent at 3.5 RMB (50 cents) to delight the low-income consumers who primarily hand washed their clothes.  At the same time, we started to explore liquid detergent to win over affluent China cities like Shanghai and Beijing.  Our portfolio strategy paid out and enabled Tide to become #1 in the market and was able to make a profit within three years.
5. What would be the title of your autobiography?
"Dream, Dare, Do." This is my favorite 3-D theme that is true to my personal and professional life.
6. How do you unwind?
I unwind in several ways:
Wine tasting – I believe that life is too short to drink bad wines. I've done wine tasting across countries. I actually met my husband in one of my wine tasting trips in Burgundy, France over a glass of Gevrey-Chambertin, which is still one of my favorite wines!
Travel and adventure – one of the best ways to unwind is to take adventures. I took a sabbatical from work in 2014 and had many adventures, including living in the Ice Hotel and waiting for the northern lights alone within the arctic circle of Sweden. Now the sense of adventure will always follow me.  Going to Antarctica will be the next one!
Photography – I am a trained professional photographer driven by a strong desire to capture the beauty of the world (landscape or people) and prevent a precious moment from running away.
Church and community – To be able to devote some time to our local church (ICS in Shanghai) and community has been a huge blessing for me and my family. We spend most of our weekends serving our church, cell groups and communities.  It recharges our spiritual battery and reminds me and keep us anchored.
7. What makes you happy?
I developed my mission statement when I was 25.  I have not changed a word since then.
Live a Full Life
Love Unconditionally
Learn Continuously
Leave a legacy of Truth, Beauty and Kindness
For me, life is about the 4 "L's" and as long as I am doing them, I am utterly happy.