July 26, 2018
When it comes to gun violence in the U.S., it's more than an issue, it is a crisis – particularly in underserved urban communities where homicide rates often reach 10 times the national average. Overall, 96 Americans are killed every day by guns.
The Levi Strauss Foundation is proud to support an effort that is working to change that: the Peacemakers Partnership, a national campaign to fight gun violence in communities of color. One of the founding leaders of this movement is Pastor Michael McBride, a member of the Levi Strauss Foundation's Pioneers in Justice program supporting the next generation of social justice leaders in the San Francisco Bay Area.
In an opinion piece published recently by the Washington Post, Pastor Mike lauded the courage of the Parkland High School students who have become vocal advocates for gun reform. But, he added, "We shouldn't forget that the Parkland activists are part of a broader choir of youths – from Columbine to Ferguson to Baltimore – who have harmonized their voices to plead for an end to violence in all its forms … We must also take every opportunity to help the public learn to hear what youths of color have to say about stopping the violence."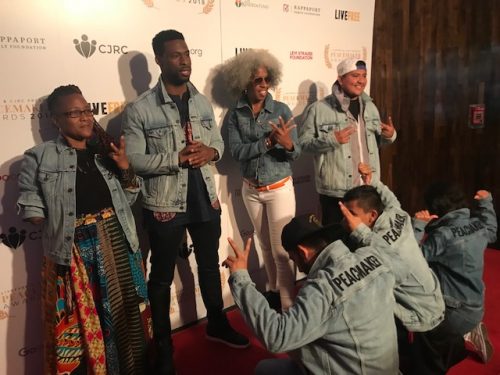 Pastor Mike heads the Live Free Campaign, a movement of inter-faith organizations and congregations committed to addressing the causes of pervasive violence and crime in communities of color, which partnered with the Community Justice Reform Coalition to launch the Peacemaker Partnership Campaign.
Last month, the Peacemaker Partnership Campaign hosted their second annual Peacemaker Organizing Summit & Awards. The awards highlighted both innovative programs and passionate leaders committed to making their communities better, including the I Will Not Die Young Campaign out of Milwaukee and young leaders from Chicago, New York, Los Angeles and Florida working to prevent gun violence. Levi Strauss also provided the awardees with customized Levi's Trucker jackets.
"The work of peace-making is of critical importance given the many ways our communities are fracturing under the weight of our social and political climate today," Pastor Mike said of the event. "To gather these heroes, and amplify their stories and work, reminded me that there are many more people of good will than ill-will. As Martin Luther King Jr. says, 'We who love peace must learn to organize as effectively as those who love war.' May our love for peace and those who make peace always guide our work."
Here at LS&Co., we have a long history of taking bold stands on the issues of our times, and supporting leaders on the front lines of social change. We have been outfitting pioneers since 1873, and we are honored to have done the same with this year's Peacemaker Partnership Award winners.