March 23, 2018
The history of Levi Strauss & Co. and our products is often told through men—founder Levi Strauss who gave blue jeans to the world; working men, from cowboys to miners, who wore our riveted waist overalls; or the salesmen who travelled by horse and buggy to deliver our goods.
But the contributions of women here were just as crucial to the company's success. In honor of Women's History Month, we look back at some of those who impacted LS&Co. in ways big and small. Today's segment looks at women who shaped their careers—and the business—by working their way up.
Womenswear Merchandising Manager Barbara Clemens-Pitre. Starting out in the San Francisco mailroom in 1959, Barbara Clemens-Pitre rose steadily through the ranks during her 20-plus-year career at LS&Co.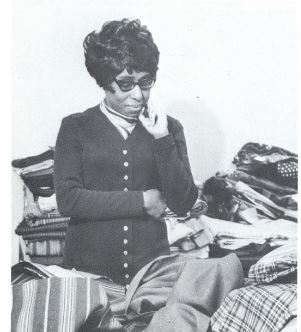 Barbara moved from her assignment as a mail clerk into one of the company's Western Wear clothing lines within six years. "Spikes S-T-R-E-T-C-H Lamé is a new item by the Western Wear Department guaranteed to spark up your Spring '66 wardrobe," she reported in Saddleman's Review in October 1965. "The glittering, eye-catching pant … is a must for those who want something so 'far out' that it's 'in.'"
LS&Co. faced a challenge in staffing up to tap into the explosive growth in women's wear during the late '60s and early '70s. Managers recognized Barbara's talents, promoting her to the new Levi's® for Gals group in 1969, composed mostly of women. "Levi's for Gals is the first product division of Levi Strauss & Co.," Saddleman's Review reported in June 1970, "and the fastest growing part of our business! LFG sales in 1970 will be about five times 1968, making LFG a dominant factor in the American women's sportswear market."
In the same year that the company forecast expansive growth in women's clothing, Barbara assumed the role of Levi's® for Gals Product Manager of Casuals.
From her experiences, Barbara had a keen sense of Levi's® look and feel combined with women's wear know-how. She continued building up LS&Co.'s women's business through the 1970s. Barbara was named Merchandising Manager of the Womenswear Division in the late 1970s, where she finished out her career.
First Assistant Plant Manager Alice Jones. Alice Jones, who proudly described herself as the "first lady assistant plant manager," was a legend among LS&Co.'s plant workers. During her 27 years at the company, she taught, mentored and supervised hundreds of employees in the Tennessee plants where she worked.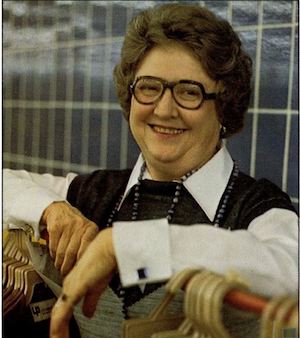 Alice began at LS&Co. in 1953 as an operator in the company's first Knoxville facility on 11th Street. She was promoted to assistant supervisor, and then supervisor. "I just plunged into different jobs when I wasn't supposed to and then they found out I could," Alice said. "I thought I could do it and then I did it. I wanted to. And I try to teach the operators the same."
When Alice called in operators to work overtime during crash production periods, she often surprised the crew by cooking them a traditional Southern breakfast—cornbread biscuits, baked ham and sausage.
"Alice is my mom," said Wayne Colvin, one of many trained by Alice, when he was named Vice President Manufacturing Sportswear in 1978.
In 1971, Alice was promoted to the Sportswear Plant's Assistant Manager. By 1974, she was supervising 500 employees to maintain production of 32,000 units weekly in the vests and jackets department.
Managing among men in a male-dominated field did not intimidate Alice. "I speak my word and they do theirs, and then we're okay," she explained. "It's the same way with the operators – we may have words, and then the problem is solved before I leave this plant at the end of the day."
Alice inspired many young women starting out at the company. When these workers got frustrated with the high productivity demands, Alice would encourage them with her own story. "Now everything hasn't always been rosy for me," she'd say. "You feel like going home and not coming back –but tomorrow will be a brighter day; tomorrow is going to be better and things will work out."
Alice resolutely believed in her workers. One day an instructor confided in Alice that an operator would never make it. "I said, 'If you give up on her she will never sew … This lady has to eat just like we have to, and you may have to do more with this operator, but this operator can sew.'" Alice recalled of the conversation. "I don't give up on anybody."
Alice's perseverance paved the path for future female plant managers at LS&Co. Two years before her retirement in 1980, two women were named LS&Co.'s first female plant managers—Eileen Buckholt of the Youthwear Amarillo, Texas plant and Elena Gilliam of the McAllen, Texas Womenswear plant.
Human Resources Vice President Donna Goya. Donna Goya began her studies at the University of California, Berkeley in 1965, when the campus was a hotbed of political protest. "Sometimes there would be curfews imposed by the National Guard," Donna recalled. "I would go out on the balcony and could hear the loudspeakers going, 'Everyone off the streets.' It was the school's heyday and it was crazy."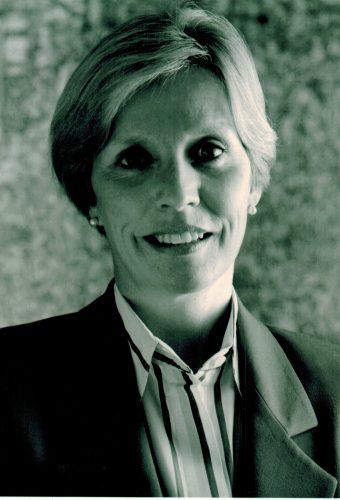 Donna made it through her studies at Cal and, after a short stint in Silicon Valley, planned her next move. "If you're going to move to San Francisco you have to go to work at Levi's," she recalled someone telling her. "It's the best, most open-minded employer up there that takes care of their employees." When a job opened up at LS&Co., Donna jumped at the chance. "I opted to go to Levi's in 1970 and never, ever regretted it."
Donna started out as a clerk, and then became a compensation analyst. "My boss quit not much longer thereafter . . . and they made me the manager of compensation, which I thought was incredible," said Donna. "They had the faith in me."
When asked about her early years at LS&Co., Donna admitted that there weren't any women in the management training program then, but company leader Bob Haas encouraged her career ambitions. She and Bob eventually worked together on progressive policies that improved the lives of women and employees generally.
"We [created] a lot of policies that made [working] easier," Donna told me. One involved flex time, giving employees personal sick leave or time to care for dependents like an aged parent or a child – something she had first-hand experience with as a working mother. "You didn't have to make up that you were ill," she explained.
In the early 1980s, when the AIDS epidemic raged in San Francisco, Donna helped guide the company through a challenging health crisis. Donna recalled visiting someone in a hospital room with a skull and crossbones above the door, advising danger. "AIDS didn't even have a name at that point in time," she said. "But it started affecting our employees."
Donna urged the board to offer benefits to domestic partners devastated by the epidemic – which they eventually agreed to do in 1992.
As Vice President of Human Resources, Donna, Bob Haas and other executives also helped educate employees about AIDS, exemplifying the kind of compassion and real understanding that was needed to reduce the stigma around the disease.
"That's why . . . working at Levi's in HR was incredible, because we got to do things that were right that paved the way for other companies."
Want to keep up with the LS&Co. Archives and other cool LS&Co. heritage news? Follow Tracey on Twitter, @TraceyPanek, and stay tuned to Unzipped!