December 18, 2017
Vanessa Moses grew up wanting to become a teacher. But after experiences in multi-racial and black student organizations in college, another path for empowering communities beckoned. "When I was introduced to organizing," she reflected, "it became really clear that I would dedicate my life to it."
It's a revelation shared by many others in recent years, punctuated by movements like Occupy and Black Lives Matter, and spurred by the political upheaval and polarization brought on by the current U.S. administration. Seeing scores of others galvanized by the current climate – often unexpectedly and for the first time in their lives – Vanessa is deeply encouraged as she takes on a new challenge: heading up the Oakland-based nonprofit Causa Justa::Just Cause (CJJC).
Fighting for Housing and Beyond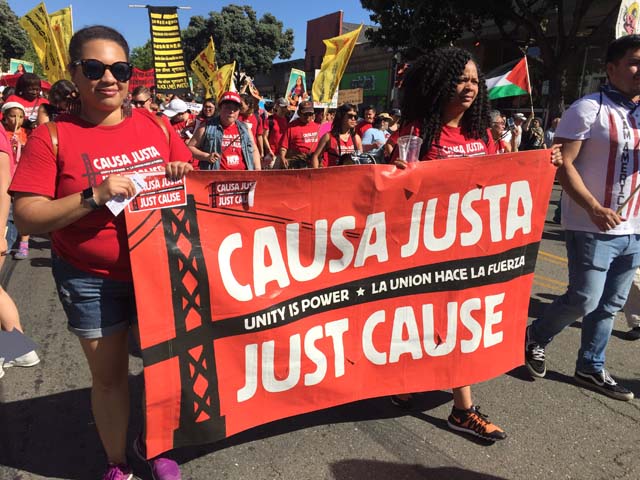 The organization has earned a signature reputation over the years as a fighting force for housing justice and tenant rights in the Bay Area. But today, it finds itself as a lightning rod at the intersection of issues and movements that reach far beyond housing – including immigration rights, youth empowerment, living wages and voter mobilization.
The product of several mergers of Bay Area groups deeply rooted in the black and Latino communities, CJJC is uniquely positioned to lead the pivots that many social justice organizations and movements are calling for in the wake of the 2016 election.
"It couldn't be more important for communities of color to come together right now," Vanessa said, "in this period of ascendancy for alt-right, white supremacist and xenophobic forces, which use divide-and-conquer tactics that are often really effective."
CJJC continues its core housing justice work, pushing for housing rights measures and working with other Bay Area groups coalitions in their fights (there were nine Bay Area cities engaged in housing fights last fall, legislatively and at the ballot), and organizing tenant rights clinics modeled after the service approach of the Black Panther Party. But it now finds itself playing an anchor role connecting organizations across the Bay Area and the state – alliances that are coming together to confront tough issues facing immigrants and communities of color. These include Oakland Rising, San Francisco Rising and Bay Resistance, a network of local organizations ensuring rapid responses to discriminatory policies from the current administration. One of the most powerful examples was the response to the initial travel ban last January when it sent out alerts that drew hundreds of Bay Area residents to protest at local airports.
Those ties to broader networks and movements, and the ability to leverage those connections to make a bigger impact, demonstrate why Levi Strauss Foundation selected CJJC for its Pioneers 2020 program.  This initiative regularly convenes seven next-generation social justice leaders in the Bay Area and supports their efforts to create greater impact.
Vanessa, whose credentials range from political campaigning to the Black Lives Matter movement, joined their ranks when she took over leadership of CJJC in March.
Path to Leadership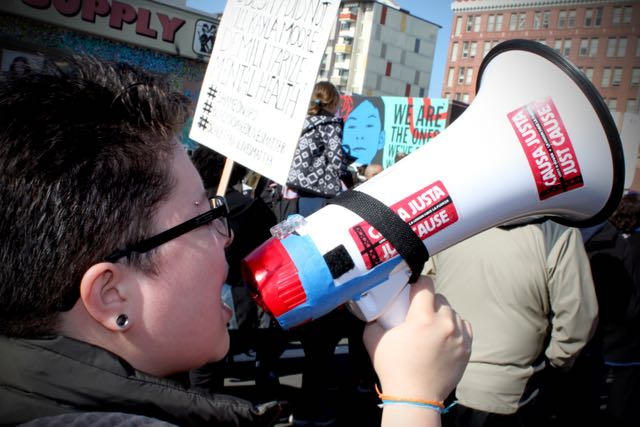 Although Vanessa refers to herself as a "late bloomer, politically," her roots in social justice reach back to her upbringing. "I grew up in an interracial and non-traditional family," she said. "I think the politicizing parts of my life started when I was young, especially vis-a-vis race. But it wasn't until many years later that I had the language and concepts to name some of those dynamics."
Her focus sharpened while working at the Ella Baker Center for Human Rights, where her job was to answer hotline calls from citizens reporting abuse by the police. "That was profoundly impactful and politicizing," she said. "After months of listening to these horror stories and not being able to do something about it, a group of peers encouraged me to apply for a six-month program to be trained as an organizer."
During that training, she spent four hours a day riding buses and talking to people about realities of race in the transport system, including how decisions were made about access and how folks were treated. "I got to directly participate for the first time," she recalled, adding, "there was no going back."
Joining the staff at Causa Justa::Just Cause as an organizer in 2006 and becoming a member of the leadership team in 2012, Vanessa emerged as a natural choice to succeed longtime executive director Maria Poblet upon her departure earlier this year.
"There are definitely parts of me that miss just knocking on people's doors," she said, reflecting on her career evolution. "It's inspiring and motivating. But my love of organizing still gets plenty of expression in the ability to train and support the development of others to do this work."
Main photo courtesy of Eurydice Galka Photography.