December 7, 2017
"Just the basics" has the potential to be anything but with Levi's® and Junk Food Clothing's newest retail concept by Lua Sol Agency: Tees & Jeans.
Located on Abbot Kinney Boulevard in Venice Beach, Calif., it's a simple model born of each brand's core products, yet allows for a unique store experience perfect for customization.
"This is an exciting opportunity to do something innovative with a great partner," said Simon Haskell, VP of Market Transformation at Levi Strauss & Co. "And it makes absolute sense for the Levi's® brand, known for its classic American style, to create an experience that fosters a person's ability to accentuate their individual style."
Personalization is at the heart of the store itself. When consumers walk in, they come face to face with a visually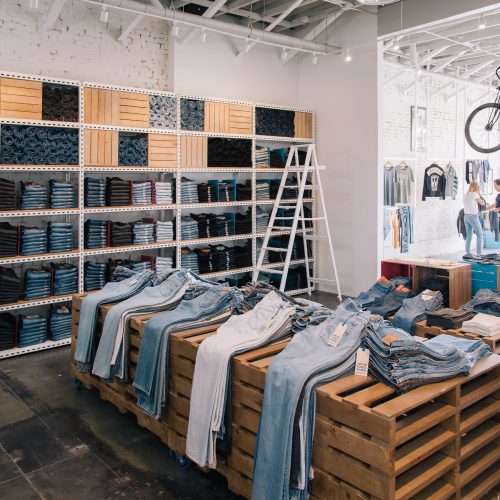 engaging activation in a gallery-like setting, complete with apparel items designed with fonts, pins, patches and graphics. The store's current activation feature focuses on the birth of skateboarding and Craig Stecyk, writer of the documentary "Dogtown and Z-Boys."
From there, consumers are encouraged to fill in the blanks. Blank tees, jeans, denim jackets and cutoff shorts are available for customizing, and a Tees & Jeans Levi's® Tailor Shop is on hand to help shoppers further make those clothes their own.
The store is the kind of collaborative concept that centers on the experience as much as the resulting products. "This is a brand-new retail concept. It's a new relationship between Levi's and Junk Food and it is truly the best ingredients with unlimited possibilities," Blair Digiacomo, Lua Sol Direct-to-Consumer general manager, recently told Women's Wear Daily.
In an effort to keep the concept the focus, the brands are working with Square, a payment and point of sale solutions company, to negate the need for cash registers on site.
While Tees & Jeans has only just opened, both brands are already talking about the future.
"Levi's® is cool. Tees & Jeans exemplifies that, and provides the platform that allows us to show up in a youthful and innovative way," Simon said. "And the potential for what this can be is limitless."
Stay tuned!