October 5, 2017
It's as distinct as the "red Tab" or the Arcuate design on the back pockets of your Levi's® jeans.
The Levi's® logo – known as the Batwing – turns 50 this year, a trademark symbol that continues to endure and distinguish the brand today.
Devised in 1967 at time when the brand was refreshing its image, the classic red design shape with the inset "Levi's®" makes for a "youthful, yet timeless" feel, according to Levi Strauss & Co. Historian Tracey Panek.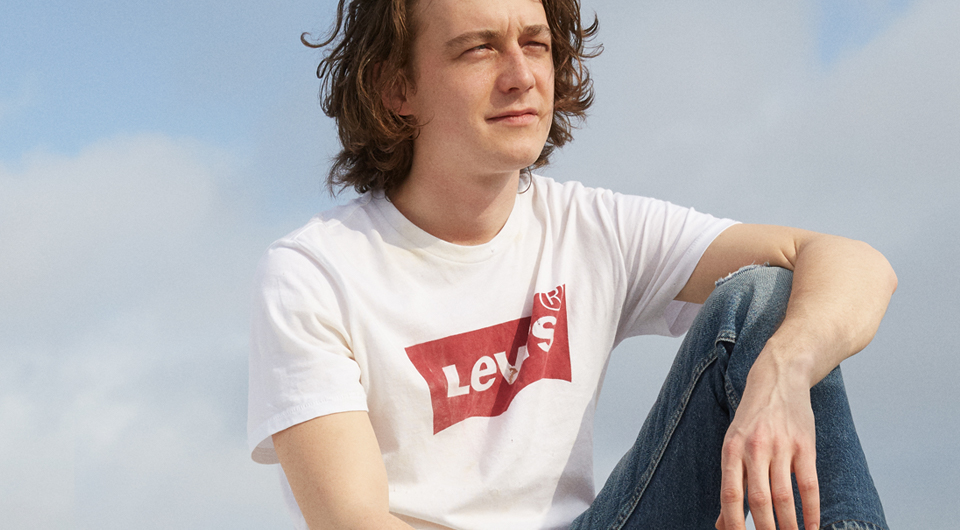 And so, in honor of the logo's 50th, here are five fun facts:
1. The Batwing is based off of the design of your Levi's® back pocket. According to Tracey, the outline of the logo comes straight from our 501® pockets. Go ahead, look closely at that back pocket – you should see the batwing just above the arches of the Arcuate design.
2. The same folks who gave us the Batwing gave us "Levi's®." Walter Landor and Associates created our famous housemark. The design was created in red, the color of our signature Tab on the right back pocket of our 501® jeans. Previous logos featured the word "LEVI'S" in all capital letters, but Walter Landor suggested that our corporate identity should use our founder's name properly, with a capital "L" only. Within a few years of the new housemark, we changed our red Tab lettering to match.
3. The origins of the logo's nickname remain a mystery. It's unclear when those around here started calling the logo the "Batwing" but the nickname has stuck. Yes, it does resemble a certain comic superhero's symbol, but it truly is anyone's guess!
4. Red, white, and other hues. The logo was first introduced in the same vibrant red of our Tab device, but it has since shown up in various shades – from white, to orange to rainbow for our annual Pride collections.
5. The logo remains one of our biggest sellers. It's true – the Batwing is only getting hotter with age with consumers. In the first half of this year alone, more than 3 million Batwing T-shirts were sold. That's a lot of Levi's® logo love!
Bold, youthful and timeless, the Batwing housemark has become the iconic symbol for Levi's® the world over. Happy Birthday, Batwing!