October 2, 2017
1967 was a game-changer for the Levi's® brand. So this week we're looking back at some of our milestone moments from that year and celebrating 50 years of music, innovation and style.
That Levi's® denim jacket as you know it today? It's 50 – and as fashionably fabulous as ever.
Identified in 1967 as our Lot No. 70505 denim jacket, the Levi's® Type III Trucker has become almost as iconic as our blue jeans. First ubiquitous during the Summer of Love, with every decade that followed, celebrities and other style makers continued to embrace the jacket, giving it its own kind of star power.
As we celebrate today's launch of its latest iteration — the Levi's® Commuter™ Trucker Jacket with Jacquard™ by Google, one of the most stylish wearable tech achievements to date — we look back on the evolution of a classic.
Introduced in 1962 as Lot Number 557, the Levi's® denim jacket was assigned Lot Number 70505 in 1967 to match what would be its companion piece, the new 505 zipper fly jean. Jack Lucier designed the jacket, sketching it out on a note pad. (Fun fact: Jack's father, Chris Lucier, is the creator of our iconic red Tab!).
Jack did away with pleats and copper rivets—key elements of LS&Co.'s denim jackets since the 1880s — and drew out two V seams that gave a pleasing symmetry to an otherwise boxy shape.
The resulting design was very flattering — for everyone.
"It's very slimming, and I think that's one of the reasons the jacket is so popular," Tracey said. You get these lines that draw the eyes and accentuates a triangle shape on top."
Side pockets were added in the 1980s around the same time the term "Trucker" was coined by collectors in the Japanese vintage market. Additional inside pouches make the denim jacket even more functional.
Recognizing the fundamentals of a classic fit, the basic design of the Type III jacket has remained constant since its inception. With minor changes to the pockets, you'll continue to find the same elements in what is now simply known today as the Levi's® Trucker. Of course, it does come in several styles, from corduroy to leather to suede and beyond.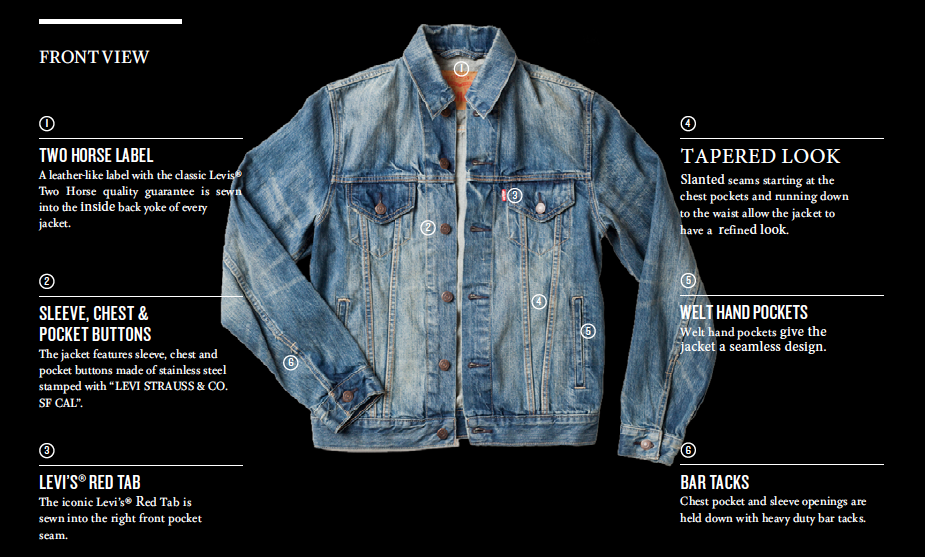 There are also versions for every season (the Sherpa-lined Trucker tends to sell out every winter), and its versatility is hard to beat as it looks great on everyone from infants to great-grandparents, and every generation in between.
"You can wear it dressed up or dressed down in the same way that our pants can be," Tracey says. "You can wear it with heels — you can go just about anywhere in it."
Age really is nothing more than a number when it comes to the classics. Here's to many more decades of that Trucker style.