April 17, 2017
We are nothing without our people. The people who are driven each day to build upon the long legacy of Levi Strauss & Co. Since 1873, our jeans and the people who contribute to their design and production have been an inspiration — and a symbol — for unwavering originality. We're 'In Good Company.'
Melanie Rumpel is usually burying herself in the minutiae of a patch job you may never notice.
Often, it's something as simple as a thread pop — a detail that doesn't deter from the beauty of the finished product for most people, but immediately draws this tailor's eye.
"For me, with customization, it's about the little teeny, tiny details," says Melanie, an in-house tailor at one of the Levi's® brand's newest store locations here in the San Francisco Bay Area. "When you do a turn [by machine], some of the thread will kind of pop up and your eye will go to that. So, I now make a point to hand stitch that down so it lays flatter."
Asked what compels her to fixate on such a small step, and she eases into a smile with a slight side-eye. "Perfectionism. What makes me a perfectionist is knowing you can always improve on something. And I always want to do the best that I can."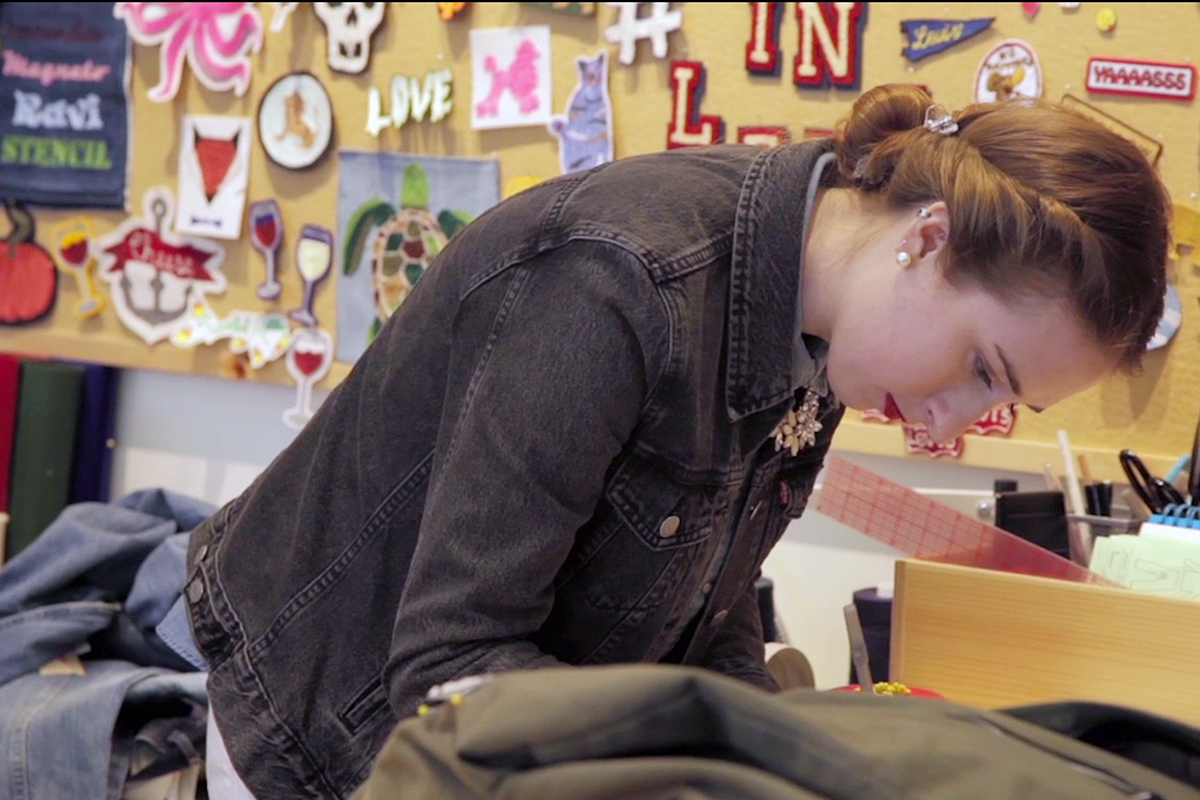 It's a left-brained methodology translated through an artisan's flair, an inherent trait Melanie honed over the years since first finding her way to the sewing machine when she was just 7 years old.
Melanie's grandmother, who owned an outdoor camping and restoration business, was her first teacher. They would often spend time hunched together, making alterations to camping essentials like sleeping bags and tents. Melanie was hooked. She decided it wasn't going to be a mere hobby, but a career path. She eventually attended San Francisco's Fashion Institute of Design and Merchandising, and just six months after graduation, found herself joining the Levi's® family with the promise that she'd be able to, well, tailor her position.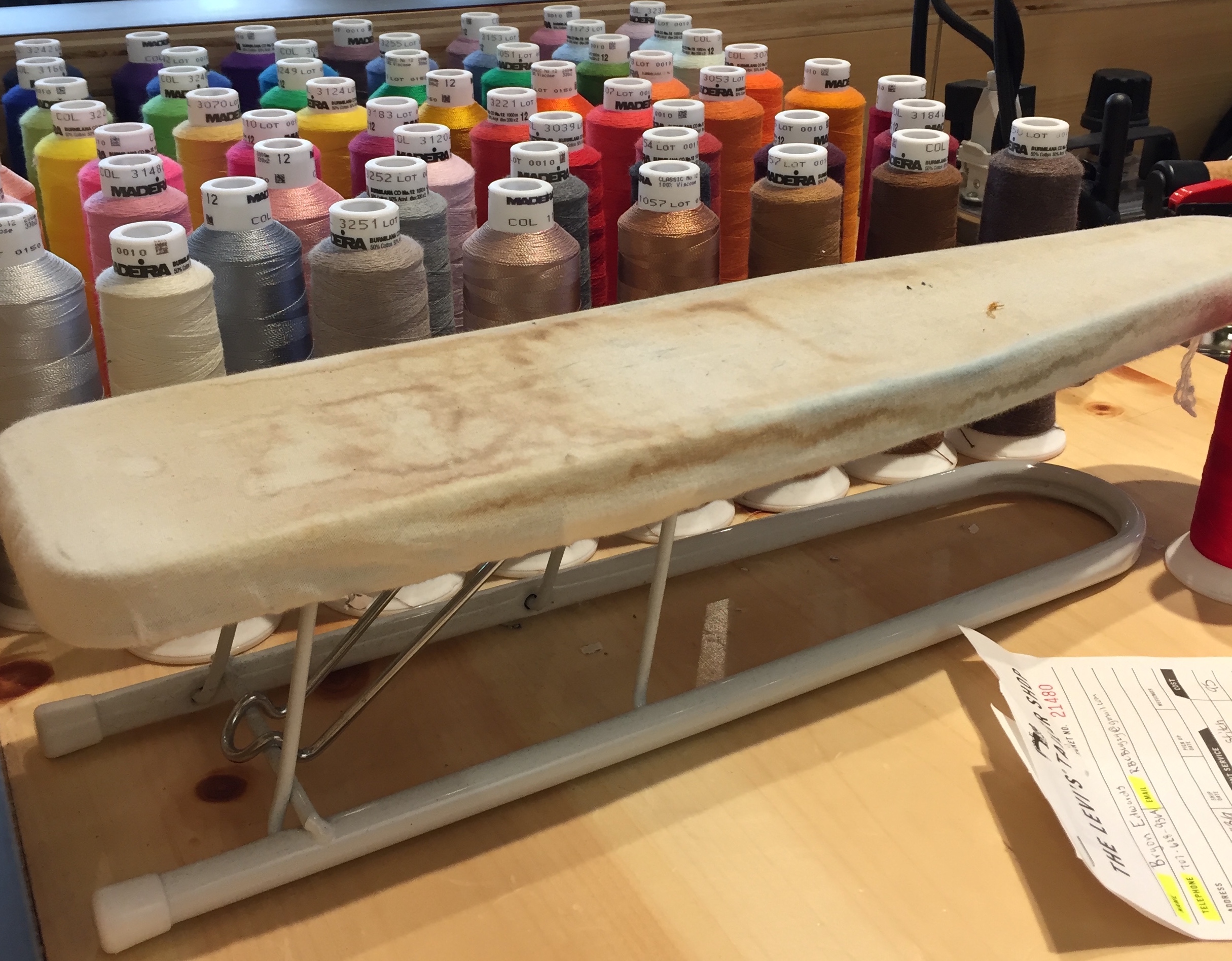 Wearing their heart on their sleeves
Today, Melanie holds center stage in a space she helped craft.
Within the confines of a workspace approximately six by eight feet in size, set against a backdrop of custom patchworks and a signature "Levi's® Tailor Shop" neon sign, sewing and chain-stitch machines flank opposite sides of the counter. Pockets of thread spools rise from the corners in mounds of greens, grays, pinks, blues and more. There is space carved out for customer consultations. Rolls of fabric are easily accessible. It's a tight spot, but Melanie doesn't let it cramp her stitch style. Instead, she funnels her passion into works of art so personal to customers that she likens their choices to "tattoos for their clothes."
"They're creating their own design and having it immortalized on their jacket or their jeans. And you get to go through this process with people to truly make something they're in love with totally their own," she says. "I really try to perfect that customization and really capture what the consumer wants."
Every customization comes with a story, and Melanie has heard plenty. People are often coming in to lock in a moment in time or immortalize a memory — sometimes good, sometimes bad, but always poignant. There was the daughter who had her mother's old Trucker jacket emblazoned with a pink ribbon and the Tupac Shakur-inspired lyric "Ain't a woman alive that can take my mother's place" in memory of her passing from breast cancer. There were the people pouring in after the 2016 election requesting favorite protest slogans and even Barack Obama's face.
"These were such hard times for a lot of people, but I felt like I was able to empower them and give them a voice, in a way," Melanie said. "They walked away with something they could just wear down the street and be proud of because they had their emblems on them and could express how they felt without speaking a word."
These intimate experiences allow Melanie to emotionally reach customers through needle and thread. She's not just a tailor, she's an artist providing a true service to those seeking a chance to express themselves, whether it be through something as simple as a pin or as elaborate as a favorite pet's face brought to life in a detailed crocheted patch.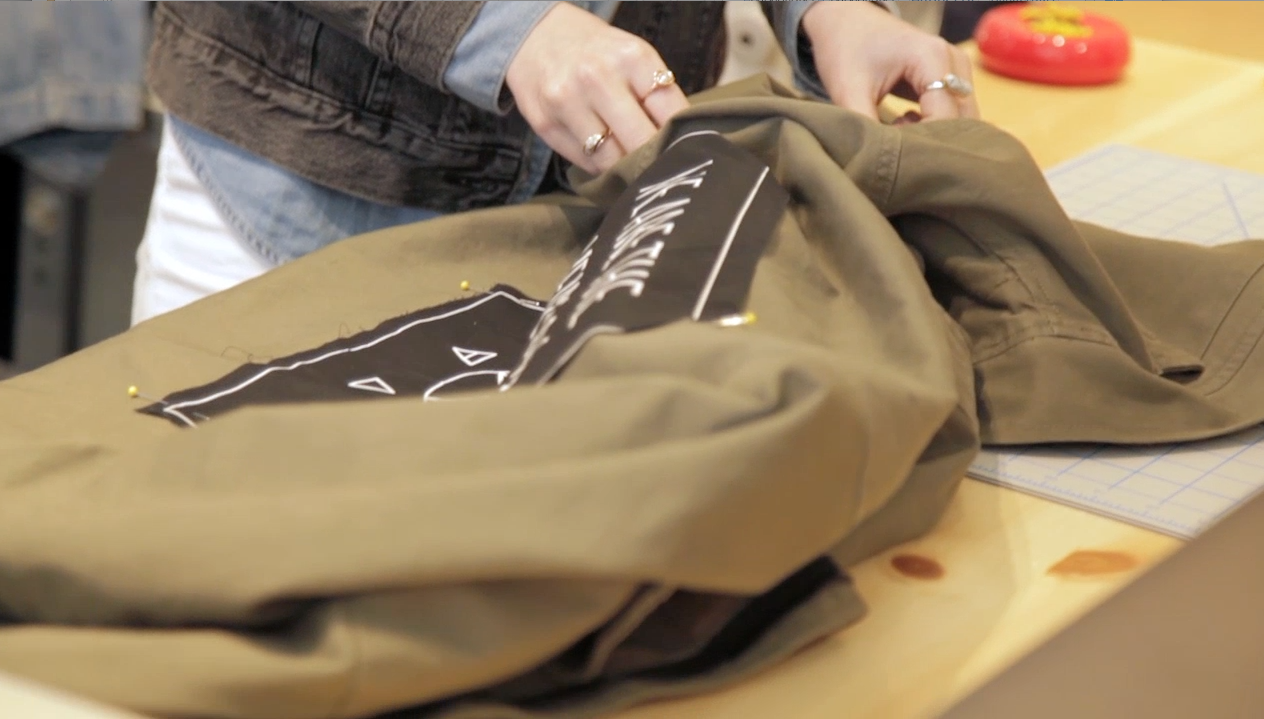 Now trending …
Customization is definitely having its moment, and Melanie happily occupies that sweet spot as part of the Levi's® Tailor Shop team. Located in select stores around the world, these shops patch, inscribe, hem and rip Levi's® products to a customer's taste. And for those looking for an ultra-personal touch, Levi's® even allows customers to buy custom-fitted denim, choosing everything from materials to fit to the design details.
In her process, Melanie speaks in pattern blocks, right angles, shades and structures. She finds inspiration in fabric because she's "obsessed with how it drapes and how it lays." And, of course, she's discovered a love of working with denim, referring to the Trucker jacket as the ultimate blank canvas. Most importantly, she's able to do what she loves most as her actual day job.
"I feel like I am living my Levi's® story now. I love the experience. I love the team that I work with … and I love the fashion and the creativity that I get to bring to work every day" she says. Of course, she adds that her best days come customer-approved. "When they come to pick up their alteration, I want them to initially be like 'Oh, my God.' Just being able to wow them is so much fun."
Like this story?
Sign up for the Unzipped newsletter to get the best of the Unzipped blog — company news and views, employee profiles, innovation and sustainability stories, behind-the-scenes and Archives highlights — sent straight to your inbox weekly.