June 3, 2016
What do you get when you combine contemporary art with classic denim? Sartorial magic. That's what happened when the Levi's® brand collaborated with pop-expressionist artist Jay West.
Like many great partnerships, this one started in a lab. Located less than a block away from our San Francisco headquarters, the Levi's® Eureka Innovation Lab is a development facility dedicated to design ideation and prototyping – basically, a space for creating high-tech, cutting-edge fashion. To celebrate the beautiful contrast between timeless designs and modern art, the brand has invited artists to customize their own denim creations.
Enter Jay West. His cool east coast vibe and penchant for expressing himself through art made this project a match made in denim heaven – with the iconic Levi's® trucker jacket serving as the canvas.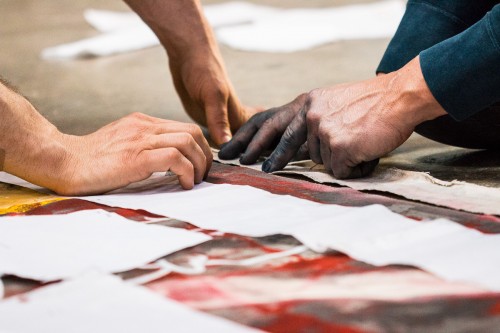 "With Jay West, we saw in his work the pop-art, hip hop, street-punk aesthetic that reminded us of a 21st century Basquiat," Jonathan Cheung, Levi's ® SVP of Global Design, said. "Like with all our collaborators, it helped that Jay is a big Levi's® fan. Watching him and Bart riff off each other was a joy."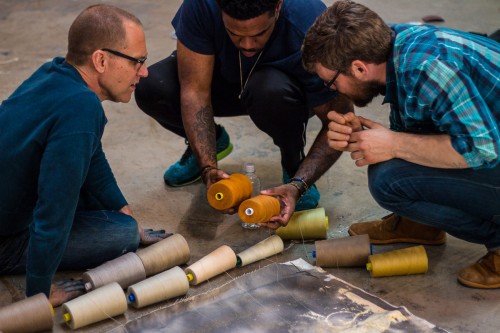 Inspired by one of his previous paintings, West used acrylic paint in black and primary colors on the off-white jacket to create this eye-catching masterpiece. "This piece means growth, a testimony of my progression as an artist and a reflection of where I started," he explained. "The piece relates to Levi's® in the sense that it's right on path with what Levi's® is about as a brand — innovative and authentic."
West worked with Jonathan and Levi's® VP of Technical Innovation, Bart Sights to create his abstract, bespoke trucker jacket. His unique design was also applied to a selection of 501® jeans using a laser technology at the Eureka Lab (20 were given away via a contest between Hypebeast and the Levi's® brand).
"Levi's® is all about customization and what I got to do is the ultimate expression of that," Jay told us.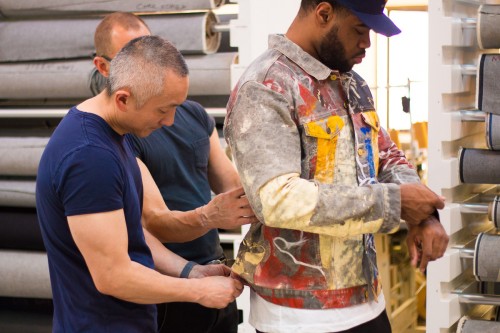 "We often talk about our jeans being blank canvasses for human expression," Jonathan said. "With Jay, we took that literally – art creates art and Eureka worked its magic on Jay's painting and the two-dimensional painted canvas came to life."
Follow @TheeJayWest on Twitter for more information.