May 27, 2016
Within minutes of sharing their story, Toni Gibbs, 24 and Ruben Weaver, 23 were already finishing each other's sentences.
The couple hasn't even been dating a full year, but that hasn't stopped them from embarking on a journey across the United States together, attempting to visit every National Park during this year's National Park Service Centennial. Their total so far? Ten down, 49 to go. They're documenting their adventures via a shared Instagram aptly titled "Our Wild Love."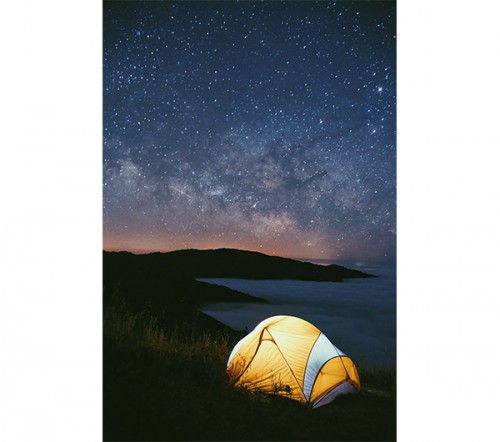 Their other shared love? Levi's®. The pair met in downtown Austin, Texas last year when Ruben got hired at a local food market where Toni worked as leader of the bike delivery program. It took some time for Toni to learn Ruben's name—referring to him instead as "the cute Levi's butt"—members of the bike team were known for wearing Levi's commuter jeans.
"It took me a few months to admit to Ruben that that's what we would call him," Toni giggled. Ruben laughed too.
A friendship soon blossomed, which grew into something more, as the duo became increasingly inseparable.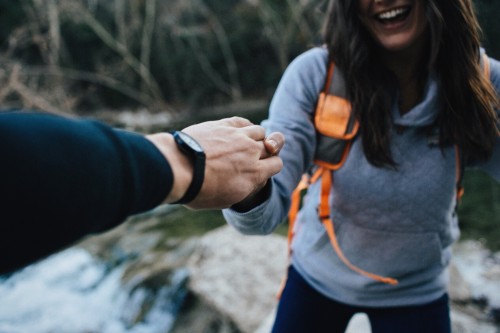 "We started hanging out all the time, riding bikes for work and then outside of work and to concerts in Austin," Toni explained.
It was the last day of summer 2015 when Ruben and Toni met for coffee and started hatching a plan.
"We were getting more and more serious as the days went on," Ruben recounted. "We started talking about ways to maybe see America, just adventure and have a stress-free, nomadic lifestyle."
Toni continued: "We wanted to create our own little story."
Ruben and Toni spent the next few months saving up money and preparing for their trip. They said goodbye to their homes on Jan. 31, setting off for the first park on their list: Great Basin National Park—one that Toni called particularly "gruesome."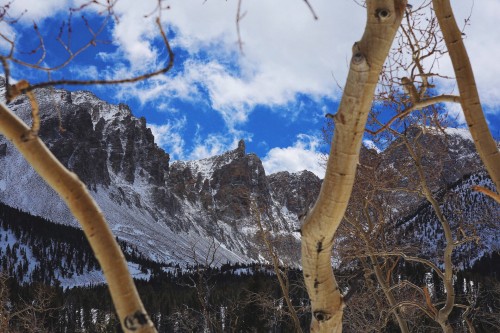 "There was four feet of snow at the top of the mountain that we tried to hike," she began.
"We wanted to summit it, but we didn't bring snowshoes," Ruben added. "I think we got almost 10,000 feet up and the peak was…" he couldn't remember.
"13,500 feet." Toni interjected. "But yeah, we didn't have snow pants or anything. We both wore our Levi's."
So goes their travel attire of choice. "Fancy, technical hiking pants?" Not their style. "Really, denim is everything we need," Ruben explained.
"We've gone from hiking a mountain in snow in the same Levi's that we were wearing while climbing boulders in Arches and running through water on different hikes," said Toni. "We have our little traditions on the road now. Even down to our clothes. Wearing Levi's is a tradition."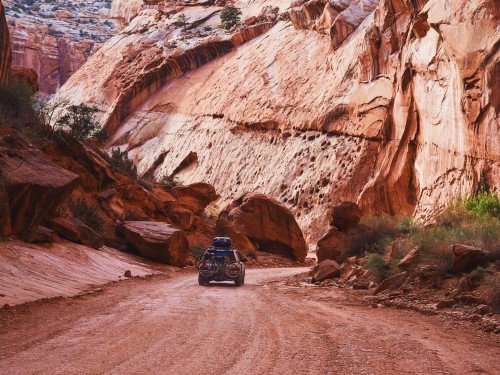 The duo knows their lifestyle is anything but glamorous—sleeping in their car when they can't set up camp or taking a rare-but-coveted shower in their bathing suits at state parks. But as they reflect on their adventures, they smile, laugh and talk about every moment like it's a privilege.
"This is something that at one point we didn't think was really doable," Toni admitted. "But we were just so passionate about it and wanted to keep it moving forward. We used all of our resources from friends to work to our parents."
Ruben agreed. "It really helps to have a supportive family."
The two explorers will venture on, traveling next to Glacier National Park and then on to Yellowstone. They're hopeful to hit every park before the centennial year is up.
"Toward the end of it, we want to make a book or something to motivate people or show them that you can really do this without a huge bank account," Ruben said. "We wanted to relay that into something to share with people. We're just trying to…"
"Bring it to life," Toni finished, ending this portion of their story the same way they began.